In order to take advantage of Apple's services and products, or even purchase or download things off the App Store or iTunes, you are required to have an Apple ID. Your Apple ID is an email address and password that Apple identifies you with. If you are reading this article, you are probably researching how to reset iCloud password. Your answers are contained here if you forgot iCloud password.
Top iPhone Passcode Unlocker:

iMyFone LockWiper

Windows/macOS, $29.95
Part 1. What is iCloud Password?
Before getting to the parts where we perform the iCloud password reset, I will ensure that we are all on the same page. First of all, while Apple ID and iCloud ID are commonly used interchangeably, they are not quite the same.
Apple ID is your identifier for Apple services. We have already looked at Apple ID at the beginning of this article. iCloud, on the other hand, is one of Apple's most popular and most essential services. Your iCloud ID allows you to use services for synchronizing data between iOS devices. That means thanks to your iCloud account syncing files, contacts, and even media files like pictures and music is seamless.
Part 2. Methods to Reset Forgotten iCloud Password
This section is for you if you forgot iCloud password to your account. Read this to the end to discover how to recover iCloud password with your email, security questions, using the "My Apple ID" page, a software, and how to reset iCloud password online.
Method 1. Reset Forgotten iCloud Password with Email or Security Questions
Forgot my iCloud password? One way to get back your forgotten iCloud password is to perform an iCloud password reset using your email address or answering your security questions. You can only use this method if two-factor authentication is not enabled for your Apple ID.
Step 1. Get an internet browser and go to iforgot.apple.com.
Step 2. Next, type in your Apple ID email address and hit "Continue."
Step 3. Mark the "I need to reset my password" option and click "Continue."
Step 4. Next, you can either click on "Get an email" or "Answer security questions." Here, we will go with the first option – Get an email. Select that option and click "Continue."
Step 5. Finally, hit "Done."
Step 6. Apple will send you the requested email. So, now you have to go check your email inbox for an email from Apple, titled "How to reset your Apple ID password."
Step 7. Open the email item and find and click the "Reset now" link. It will open the web page in your browser immediately you hit the link.
Step 8. On the web page that opens, simply type in a new password. Enter the password again for confirmation.
Step 9. Finally, hit the "Reset Password" tab below to submit the request and reset your forgotten iCloud password.
Method 2. Reset Forgotten iCloud Password with "My Apple ID"
You can also reset your forgotten iCloud password using the "My Apple ID" page. This iCloud password recovery method is a little more straightforward than the first method we treated. Simply follow the steps below:
On an internet browser, open the website applied.apple.com.
Next, find the "Forgot ID or password" link and click on it to begin the iCloud password reset.
Enter your Apple ID email and then click "Next."
Just like in the previous step, you can now choose whether you with reset the iCloud password by answering security questions or receive an iCloud password reset email from Apple.
Select any option you prefer.

If you choose to answer your security questions, you will be required to provide your correct date of birth, as well as the preset security questions you selected while setting up your Apple ID. Enter the information requested and click "Next."

For the email method, you will receive an email from Apple. The email will contain instructions and a link for the iCloud password reset. Click on this link.

Next, you will be redirected to a new web page. Here, enter a new password for your iCloud, type it in again, and then click "Reset Password to confirm the change.
Method 3. Remove iCloud Account with an iPhone Passcode Unlock Software – iMyFone LockWiper
Notice that method 1 and 2 are similar because they are just different routes to get to the same reset password page. To skip all those steps, you might be better off handing over the heavy lifting to a professional software called iMyFone LockWiper. LockWiper is excellent at removing all kinds of passwords from iOS devices.
NOTE that iMyFone LockWiper will only reset iCloud passwords of activated iPhones. If this is your device, then continue reading to next method. Read full iMyFone LockWiper review here.
Key Features:
It entirely removes all traces of the iCloud password, so that you can change to a new one and set it up.
After the iCloud password reset, no one will be able to track your iPhone using the old iCloud password.
Straightforward usage and no tech skills or experience is required.
It supports all iPhones, despite the iOS version or model of the device.
LockWiper User Guide:
Step 1. Launch the program
Download iMyFone LockWiper, install it and launch it on your computer. To begin, select the "Unlock Apple ID" mode.
Next, connect your iPhone to the computer and unlock the screen. If you haven't trusted your computer on the iPhone, tap "Trust."
Step 2. Reset the iCloud password
After connecting the iPhone and unlocking it, go back to the computer and click "Start to Unlock." This will trigger the iCloud password reset, and LockWiper will begin the operation.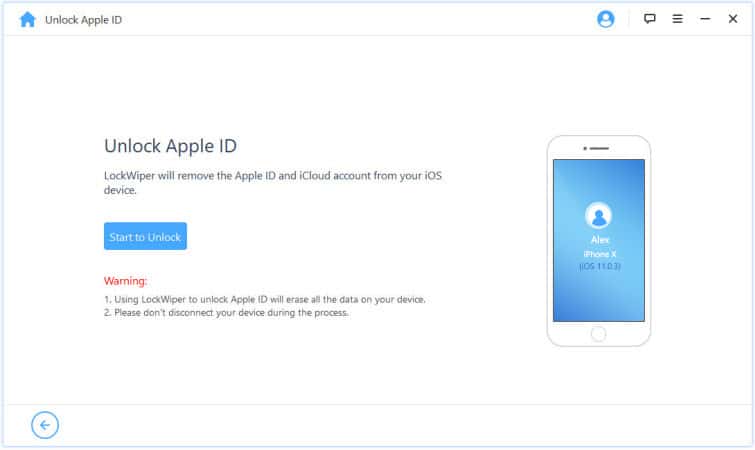 If "Find My iPhone" is not enabled on the iPhone, the iCloud password reset will commence immediately, and the progress will be displayed on the screen.
Alternatively, if the "Find My iPhone" feature is enabled, then you must first reset the iPhone manually. Find the "Reset All Settings" button here – Settings > General and tap on it. Once the iPhone is reset successfully, then LockWiper will automatically begin the iCloud password reset. There will be an on-screen guide for doing this, as shown in the screenshot below:
Method 4. Remove iCloud Account Online
If I forgot my iCloud password and do not have time for installations, I would definitely be interested in doing it online. Doctorunlock.net presents handles forgot iCloud password in a different way. Instead of providing the iCloud password reset as a downloadable program, this platform offers it as a service. How to remove iCloud password using this method is the easiest of the four techniques provided. All you do here is submit the IMEI number of your iPhone, and they handle the rest.
Key features:
No download necessary as the iCloud removal is handled remotely.
The tool is completely free of virus es and malware.
It removes the iCloud password from your iPhone permanently. With this, you can configure a new account for the iPhone.
The iCloud password removal may take days to complete.
How it works:
Step 1. The first step is to get your iPhone IMEI number. If you do not know how to find the IMEI number of your iPhone, here is how to get it:
For activated iPhones, simply dial *#06#. Alternatively, you can get it from your Settings app. Navigate to Settings > General > About.
For non-activated iPhones, you will find the IMEI number from the activation screen. Click the "i" you see on the screen and it will reveal the IMEI number.
Step 2. With your IMEI number handy, you are good to begin the iCloud password reset. Next, on the doctorunlock website, enter the iPhone IMEI number, choose the phone model, and then hit "Unlock now."
Step 3. Next, you have to make the required payment and then they will send you an email to confirm your successful payment.
Step 4. After a few days, your iPhone will be rid of the iCloud password, and you will get another email to confirm this.
Step 5. Restart your iPhone and set up a new iCloud password, because the old one you forgot has been completely removed from the iPhone. Cheers!
Conclusion
Hopefully, this article has answered your question, forgot my iCloud password, how do I recover it? Following the steps outlined here closely, you will now be able to reset your iCloud password quickly. There may be some other clever techniques for the iCloud password reset, but while some handle the job expertly; most others will only be a waste of time. I recommend that you use either of the methods explained here for the best results.