Are you going to sell your iPhone and suddenly come to know that you have forgotten the iCloud ID or Apple account password? At this point, you may think that you have surrounded around unsolvable trouble and can't remove the previous logged iCloud account at all. Well, that's not true.
All you need is an iCloud unlock software that can bypass the Apple ID and give you access to the phone again. I certainly noticed that a large number of people are usually looking for iCloud unlock deluxe though it is not so much reliable software and usually unable to download. So, I decided to write a detailed guide on iCloud unlock deluxe download for those who are looking for a way to unlock the iCloud account. Well, not only that, but we will also see some best alternatives to it in case if you find it difficult or not working.
So, let's explore all about iCloud unlock deluxe free download, How to use it and which are the best alternatives to the iCloud unlock deluxe.
Part 1. What is iCloud Unlock Deluxe?
You might be thinking that what is the iCloud unlock deluxe and why should you choose it. iCloud unlock deluxe is an amazing iCloud lock bypass tool that is specifically designed to remove or bypass the iCloud account from your iOS device. The software is based on a few simple and straight steps which allow you to reaccess your iPhone even if you don't remember the Activation Lock password anymore.
Part 2. iCloud Unlock Deluxe Free Download?
First off, it is almost impossible to iCloud unlock deluxe free download because it is not available anywhere except this blog. But I think they offer nothing except scams. In case, if you are fortunately able to download iCloud unlock deluxe you may not be able to use it because there is a load of steps that you need to perform before using it. Usually, even after completing a series of steps, you won't be able to be to access it.
Another issue that usually people suffer is they need to pay in order to use the software and some people claimed that they were unable to use it even after paying for it.
Part 3. Does iCloud Unlock Deluxe Work?
Literally, I tried the software up to two or more iOS devices but it didn't work for any of them. So, I will not personally recommend this software and even I heard that the download link only leads to scam links and other apps.
Part 4. How to Install and Use iCloud Unlock Deluxe?
Let's how to install and use the iCloud unlock deluxe software.
How to Install iCloud Unlock Deluxe:
Once you have downloaded the software, right-click on it, choose the "Run as Administrator" option among different options.
An iCloud Unlock Deluxe Setup wizard will be opened in front of you. Click on the "Next" button to proceed.
Installing iCloud unlock deluxe for the first time? Make sure you have marked all the checkboxes and click on the "Next."
Choose a specific path where you want to install the software by looking at your disk storage and then press the "Next" button.
Press the "Next" button after choosing or without choosing optional features.
Click on the "Next" button if you are sure that the selected path is correct.
Wait for the software to successfully install.
Click on the "Finish" button when the installation is complete.
How to Use iCloud Unlock Deluxe:
Launch the software when it is successfully installed. At the home screen, you will see different options including:
Enter IMEI
Connect via USB
USB Configuration
Restore from Image
Knowledge Base
Contact Support
As you want to unlock iCloud Lock, so connect your iPhone through USB wire and choose the second option which is "Connect via USB."
As soon as you click on it, your iPhone will reboot and to give your iPhone's full access to iCloud unlock deluxe, a custom boot loader will be uploaded to it. The process will take up to 5-7 minutes.
Once you are successfully entered into the DFU mode, you will see further options on the screen. They will be:
Detected iOS Device
Device Owner Information
Associated iCloud ID
Status of the iCloud Lock
Carrier Blacklist Status
IMEI Information
Serial Number will be displayed
MAC Address information
If you find that the status of the iCloud Lock is displayed as Active, click on the "Continue with Unlock Procedure" but make sure that you have marked the checkbox before continuing in order to confirm that the information you have provided is correct and you officially own the device.
On the next screen, you will see these five options:
Refresh Serial Number
Allocate new IMEI
Renew IMSI to match IMEI
Custom setup.ipa
Block Apple ID verification servers
Make selections according to your need and click on the "Install" button.
The following instructions will be written on your iOS device that you just choose as soon as you click on the "Install" button. May be your iPhone rebooted several times so don't panic and wait until the process ends.
I am pretty sure that now the staus of the iCloud Lock will be displayed as "Clean." You can use your iPhone without iCloud ID.
Part 5. iCloud Unlock Deluxe Alternatives
Updated in June: There is a new product called iBypasser from iMyFone, which is the best iCloud Activation Lock Bypass Tool so far. It claims to bypass Activation Lock in 3 simple steps. AppleiPhoneUnlock needs a few days.
1. AppleiPhoneUnlock
AppleiPhoneUnlock is a brilliant way to unlock iCloud Lock or Activation Lock from any kind of iOS device. It works online and requires iCloud ID and password prior to that was set on that account in order to know about the owner.
Key Features:
Permanently removes the iCloud account from iPhone device
Unlock the iCloud ID without any password
Compatible with all the latest iPhone models
How it works:
The unlocking process is very simple. All you need to do is, visit the online website, choose the mobile r iOS device model which is supposed to be unlocked.
After that, enter the device IMEI number or some kind of Serial Number to validate that you own the device. If the provided information is correct, your iCloud account will be unlocked within minutes.
2. iMyFone LockWiper
If you are wasting time in searching iCloud unlock deluxe free download, take a pause here. You aren't going anywhere except misguided. Here, I have a unique solution and alternative to iCloud unlock deluxe that is iMyFone LockWiper – a simple yet powerful iCloud unlock software. iMyFone LockWiper is completely feasible in every scenario either you have forgotten your own iCloud account password or just bought a second-hand phone which is iCloud locked phone. Read the full review of iMyFone LockWiper here.
Key Features:
How it works:
Supposing that you already have downloaded the iMyFone LockWiper on your computer. Launch the software and choose the Unlock Apple ID from the home screen.
Before further proceeding, you need to connect your iCloud ID locked iPhone with the computer. For that, you can use the charging USB wire. Click on the "Trust" button when connecting the iPhone with the computer so that it can access your device.
From the next screen, press the "Start Unlock" button in order to unlock the iCloud account on your iPhone.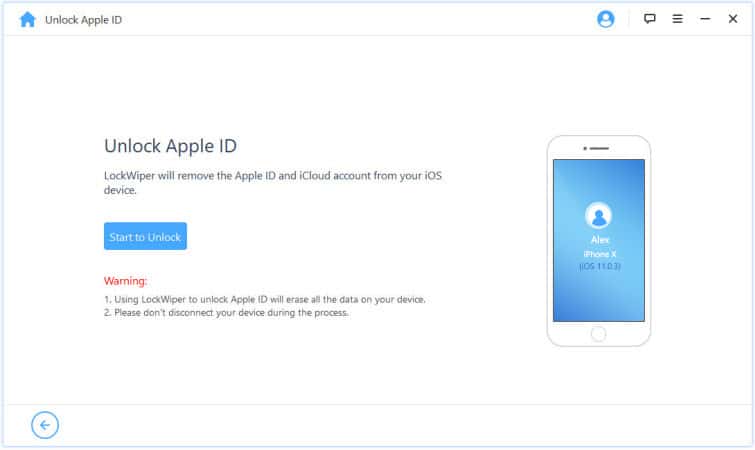 Case 1: If Find My iPhone is Disabled
In case if the Find My iPhone feature is already disabled, the software will start the unlocking process instantly.
Wait for the process to finish and after the process finishes the iCloud account will be successfully unlocked.
Case 2: If Find My iPhone is Enabled
In case if the Find My iPhone feature is pre-enabled, you can't unlock the iCloud account without resetting your iPhone device. To do that, follow the on-screen instructions and once your iPhone is reset to its default settings, iMyFone LockWiper will automatically start the unlocking process.
Click on the "Done" button as soon as you see the Successfully unlocked message on the screen. Now, you can remove your iPhone and can set a new iCloud ID on it without any password.
3. Tenorshare 4uKey
Tenorshare 4uKey is a very robust and modern iCloud unlock tool that can efficiently remove the activation lock from any iOS device. Especially, Tenorshare 4uKey comes up with a huge number of positive user reviews which indicates that the people trust it and most often use Tenorshare 4uKey to unlock iCloud accounts without a password. Read our full Tenorshare 4uKey review here.
Key Features:
Unlock iCloud ID on all the latest models of iPhone
Remove iPhone lock screen without passcode
Very easy to understand and comes up with a modern yet simple design
How it works:
Download Tenorshare 4uKey either for Windows or Mac and launch the setup after the installation. Choose the Unlock Apple ID from the welcome screen.
After that, attach your iPhone device whose iCloud account is going to be unlocked using a USB cable.
Tap on the "Trust" option so that it can get access to your iPhone.
Press the "Start" button to remove the iCloud ID.
Situation 1: If Find My iPhone is off
If you are in luck and Find My iPhone option was turned on your iPhone, the software will immediately start unlocking the iCloud account/Apple account.
Hit the "Done" button when the process is completed.
Situation 2: If Find My iPhone is on
Well, if the Find My iPhone was turned on, you need to perform some additional steps to unlock the iCloud account on your iPhone. The steps are given on the screen. Carefully perform those instructions and your iCloud account will be unlocked once you have done resetting your iPhone.
Click on "Done" and you are able to enter a new iCloud ID/Apple ID on your iPhone.
Conclusion
After reading the article, it will be clear to you that the iCloud unlock deluxe is not a wise choice at all. In that case, you can use any of its alternatives to unlock the iCloud account on the iPhone. Don't forget to let us know your suggestions and relevant queries.