Are you an ambitious musician or singer who wants to record a high-quality demo of your music? Do you believe that you have a future in podcasting? Would you like to capture conversations with your friends on Skype or other apps?
These are only some reasons you need a voice recording program. We decided to select the top 10 best audio recording software for PC and offer a detailed review of these tools. Keep reading to find the most suitable app for your requirements!
Quick Summary
WavePad Sound Editor is famous as the best audio recording software for PC out there. It offers a fine balance between simplicity and powerful features. The interface is user-friendly and easy to use, but the tool can do wonders with audio capturing and editing.
Another great choice for those seeking a professional tool is Mixcraft 9. This advanced audio capture software offers numerous functions and supports a wide range of formats and top sound quality. You can also edit the recordings and add various sound effects to them.
Avid Pro Tools is another famous name among musicians in the audio recording industry. The app offers a comprehensive tool for everyone who wants to exhibit their creativity and talent. This software is surprisingly potent from recording and producing to editing and mixing your audios.
Part 1. What is Audio Recording Software?
The name is quite self-explanatory since this software allows you to record audio. That audio could come from various sources – your voice, a band playing instruments, streamed audio from the internet, chatting via apps, etc.
The tool will capture the audio and allow the user to save it in different formats. You might also have the option to edit the file to add sound effects, trim audios, etc.
Part 2. Who Should Get an Audio Recording Software?
Audio recording software is suitable for both amateurs and professionals. As long as you are interested in sound recording, editing, and post-production, you can benefit from these tools.
Here is a quick overview of some situations when you might need a voice recording app:
A singer or musician who wants to record their jams with the band (or friends)
A podcast host who wants to stream high-quality audio
A group of friends that wants to record their conversations on Skype or other apps
Businesspersons who want to keep recordings of their meetings
Part 3. How We Tested and Picked the Best Audio Recording Software in 2023
Here are the features that our experts considered when reviewing audio recording software for PC:
Supported formats – the formats for saving and recording your audios might vary from the standard MP3 and OGG to less-known formats.
Recording quality – most tools allow mono and stereo recordings from multiple channels. Useful functions like adding sound effects over your audio, recording over or simultaneously with existing audio, etc.
Editing functions – you should be able to delete unwanted sections of an audio file easily and cut and copy the audio as you see fit.
Simplicity – even if the tool is the most advanced, it should still be fairly easy to use.
Reliability – the apps shouldn't be prone to crashing so that you wouldn't lose your recordings.
Sample rate and bit depth – professionals understand the importance of impressive bit depth and a high sample rate. Depending on the tool, these capabilities will vary, but they are crucial to delivering optimal sound quality.
The Winners
Best Choice: WavePad
After extensive testing, we picked WavePad as the best audio recording software. But this is far more than a usual audio-capturing app because it is an all-around sound editor. It supports Windows and Mac and comes with a wide range of available formats. Those range from OGG, M4A, and 3GP to MPGA, ASF, and AMR.
Here is an overview of the features provided by the WavePad audio editing software:
Sound editing – from cutting and deleting sounds to compression and auto-trim, you can choose from a wide variety of functions.
Audio restoration – click pop removal and removing noise easily are among the features available.
Audio effects – equalizing, normalizing, amplifying, and adding other effects are possible with this sound editor.
Sample rates – mono to stereo from 8 to 32 bits and sample rates from 6-192 kHz are all supported.
The tool can also edit audio in video files, as well as process multiple files at the same time with the Batch option. VST plugin available in the Master's Edition unveils thousands of extra effects and tools.
Is WavePad Free?
WavePad includes a two-week free trial of the Master's Edition features. If you want to keep the advanced features in the program, you will need to purchase a license.
Here are the three subscription plans you have available:
Standard Edition – a license costs $39.95, including all premium features except the SFX library and VST plugins.
Master's Edition – the advanced edition with the SFX library and the price of $69.95.
Quarterly subscription – you can also purchase the Master's Edition on a quarterly subscription that costs $16.50. That equals $5.50 monthly.
Does WavePad Work for Audio Recording?
As you can see from the feature list, WavePad has numerous useful features. However, since we are looking for the best recording software for PC, let's take a look at how that area works.
The interface is quite simple. It shouldn't be a problem to find the desired command. Now, if we want to make a new recording, we need to create a new track first. You can press the usual CTRL+N shortcut or click on the "New" icon in the ribbon bar at the top.
That will open a blank track that is available for recording. At the bottom of the screen, you have commands similar to a video player. Click the Rec icon to initiate a recording. Alternatively, you can also press F5, which is a shortcut for that command.
The central part of the screen will show the waves recorded by the audio capture software. That is convenient to know everything works right, and it is also useful for editing later. The bottom part now features a timer that is moving. It indicates how long you have been recording in that particular session.
The interface is very responsive, and the tool works smoothly. We tested it for hours, and it didn't crash a single time. That makes it trustworthy and reliable when you want to record or work with audio files.
Once you stop the recording, an option to play it will appear.
The red line across the waves will indicate the current position in the video. The line will move to the right as you listen to the file. It is quite a standard approach for this type of tool. The bottom part allows you to return to the beginning, go to the end of the track, or rewind and fast-forward the recording as it suits you. Basically, you have total control over the file.
If you look at the ribbon bar at the top, you will find "Options" as the icon on the right. If you click it, the Options for the entire tool will appear. Feel free to look around because WavePad offers plenty of opportunities to adjust the app to your needs. As for the recording-related options, pick the "Recording" tab to access them.
The bottom part of the screen is related to recording settings. You have the option for the tool to delete silence from the end of the recording automatically. That is convenient when you need to go to the PC to stop the recording, and the trip takes several seconds.
You can also tick Voice Activated Recording. The noise will activate the tool's recording feature if this is on. That could include your voice, musical instruments, and any other noise. You set the silence threshold, and the tool only tapes at levels above it.
The top part of the Recording options tab allows adjusting the recording devices. If you want to record audio, choose the microphone you have connected.
You can click on the Open Windows Record Mixer to check the recording devices list.
After picking a suitable device, click "Properties" to adjust its sound levels.
WavePad makes the recording process simple, even if you are a newbie and haven't used tools like this before. The product has standard but also advanced editing features. It provides an easy way to capture audio and edit it. It is also safe, reliable, and has a responsive and user-friendly interface. All those are reasons why you can't go wrong if you pick this audio recording software.
Runner-up: Mixcraft 9
Mixcraft 9 is a tool that aims at musicians who want a high-quality recording of their tracks. The sound engine is fast, and the support for third-party equipment is admirable.
Here are the main features of the program:
All-around recording options – it can record virtual instruments and actual audio, as well as cropping, editing, and adding various effects.
More than 7,500 loops in the library – everything you might need for various genres are included in the sound palette.
Effects and instruments – from equalizers to filters and reverbs, the list of effects are impressive. As for sampled instruments, you can find synthesizers, rock organs, etc.
Mixing and mastering sounds – whether you want to change tempo, add or edit lanes, this tool makes it possible.
You can download a two-week trial to test Mixcraft 9 and see if it fits your needs. After that, you can choose between a Recording Studio and Pro Studio premium versions.
The important thing to note is that Mixcraft 9 comes with a learning curve. It is an advanced and professional tool that offers a wide array of options. It takes some time and effort to get to know them all. The critical thing is that this voice recording software gives you numerous editing functions. That is why it is worth learning how things work, as you will be positively surprised by the level of control over your audios.
Before you start recording, you need to prepare the hardware for it. Once you make sure the recording hardware and drivers are ready, you can "arm" a track. That means getting the track ready by pressing the "Arm" button. You can also use the CTRL+B shortcut.
Now, you should also select the recording device and input. Mixcraft 8 allows choosing between various inputs simultaneously. For example, using a single input for Stereo involves choosing the device and picking Stereo as the desired input.
You can also record multiple tracks at once. Pick one device for the Left Channel and another for the Right Channel. It is a very convenient feature, but make sure that your sound device supports it.
The central part of the interface now shows the recorded file. You can see the tempo and record input levels above that section of the screen. The default tempo is 140, but feel free to change it if necessary.
You have three recording modes available:
Takes – if you are playing with a band and want to record multiple takes at a song, this is a convenient mode.
Overdub – you will hear the previous recording while making a new one.
Replace – the new recording will delete the old one automatically.
Other useful features also include Punch In/Out and Loop Recording. Mixcraft 9 also allows you to record MIDI tracks. Overall, the software is advanced and professional. The interface is a bit cluttered, but the app is reliable and a great choice for those looking for a versatile sound editing solution.
Also Great: Avid Pro Tools
Avid Pro Tools is another example of fantastic audio recording software for PC. The graphics and interface will remind me of working in a studio, which is convenient for musicians and other professionals.
Starting a new track for recording is easy. All you need to do is to pick "Track" from the top menu and select new. The program will ask you if you want to record mono or stereo audio, and it is also possible to choose MIDI tracks.
Now, take a look at the Window menu, and choose Mix.
Here is where you can find tracks and pick the desired settings. You will need to consider the sources you plugged in, which requires some technical knowledge.
Once everything is ready for recording, press the Record button. It is the red one you know from other devices and apps. Another important adjustment is to set the input gain for optimal recording.
Use the track meter to test the gain. You want it to be green and turn yellow only for loud noises (yelling, etc.).
The Transport section is where you will record and browse through your video as you see fit. It should be on the main interface, but you can also access it by choosing Window and then Transport.
The options are rather standard since you can record and stop the recording, as well as return to the start and play it.
We tested Avid Pro Tools for a while, and it seemed reliable. It is a bit complex to work with until you get used to it, but it is a powerful app. The developers enable a starting editing set available for free, but Pro Tools Ultimate is the right choice if you want access to challenging post-production of audio files.
Competition and Comparison
Adobe Audition
Adobe is a world-famous brand with Photoshop, probably the company's most popular tool. However, they also developed solutions for various purposes, and Audition focuses on sound editing.
The toolset has a wide range of features for editing, restoring, cleaning up audio recordings, and adding effects. You can record audio, join and edit vocal recordings, and repair and restore content to fit your needs. Adobe Audition is also integrated with Premiere Pro, which allows the editing of audios from video files.
Sound Forge Pro 14
Sound Forge is a tool that has been around for over two decades. Over time, it acquired a prestigious reputation in audio recording. Sound Forge Pro 14 supports sampling rates of up to 76kHz/64-bit, which makes it easy to record top-quality audio.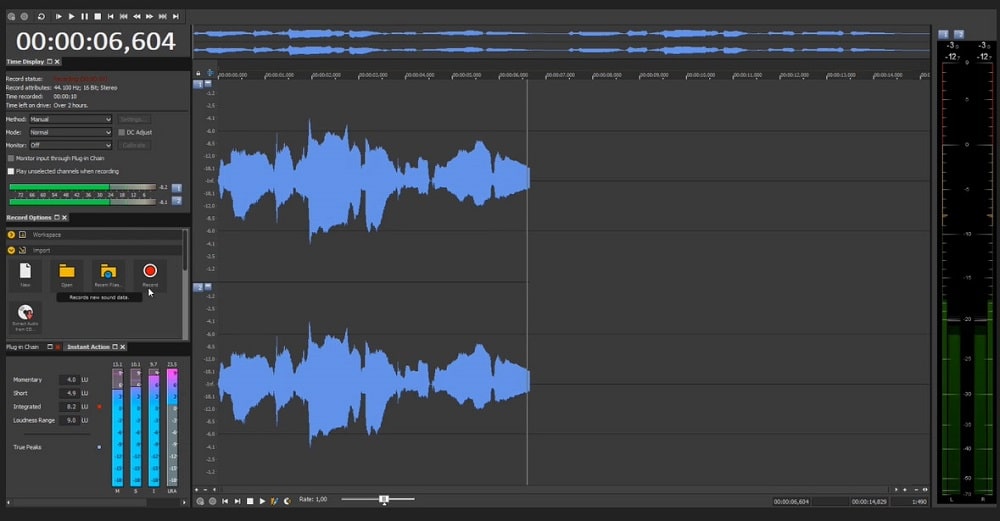 The audio recording software supports up to 32 channels. You can initiate recording with a single click, and the program also offers a threshold recording option. The waveform will assist in orienting yourself and editing the audio effortlessly.
Zynewave Podium
Zynewave Podium is available for Windows, and it offers to record MIDI and audio files, as well as edit them. You can record multiple audio and MIDI inputs at the same time, as well as use loop recording and fade in and out effects.
The range of editing options is impressive, and the program is fast and intuitive. The user interface is customizable, which is convenient to suit the tool to your needs. The tool doesn't have demanding system requirements and is suitable for Windows 7 through 10.
i-Sound Recorder
The secret of i-Sound Recorder lies in its simplicity. Instead of searching for audio devices and drivers, the program is ready to start recording immediately. It uses speakers or another default playback device and supports 24-bit and 96kHz recording modes. That is not the quality of some advanced tools, but it should be more than enough for most users.
You can compress audios to save space on the device. Supported formats include FLAC, WAV, OGG, MP3, WMA, etc. The program allows scheduling a recording and activating it with your voice.
Audio Highjack
Here is interesting vocal recording software that focuses on capturing audios from various sources. The interface of Audio Highjack is quite simple, and even beginners will appreciate the clean layout. It is worth noting that this app is available for Mac systems.
The program allows you to capture audio from apps like Skype, but also to choose the desired input device. Picking the output format is also an option; you can even immediately stream audio to the internet. Integrated effects allow you to add some oomph to your recordings.
Free Alternatives
Audacity
Audacity is an open-source program that supports Linux, Windows, and Mac. You can record files easily, mix multiple audios, save them as various supported formats, etc. The available sound quality is 16 to 32-bit, which is more than decent for a free tool.
You can use a mixer or microphone to record with Audacity. It is also possible to capture audio streamed online and dub over existing recordings. Deleting, copying, and adding effects is easier because of the waveform and spectrogram view modes provided.
Ocenaudio
Ocenaudio is another free tool available on multiple platforms, including Windows, Linux, and Mac. Everything you might expect from a basic audio recording software for PC is there, including a spectrogram, real-time effect preview, and editing multiple selections of a file at once.
The top menu allows you to initiate recording, see the timestamp and edit volume and quality. Everything is user-friendly, and Oceanaudio is a great tool for amateurs.
Conclusion:
The good news for all those who want to capture audio is that you have a wide variety of tools available. If you are a beginner who wants to experiment with capturing sounds, free vocal recording software might be enough. However, if you are a musician or another professional and need the highest recording quality, you need the best audio recording software on the market. Make sure to choose accordingly, and you will find that these apps provide excellent value for money!