Did you know that deleting a file or folder on your PC doesn't permanently remove them? That might compromise your privacy and security since sensitive data could end up in the wrong hands. If you want to erase data permanently, use the best file shredder for Windows.
We selected five top-rated products and reviewed them below. Find out everything about these apps, and discover a suitable file shredder for your needs!
Using a Mac machine? See the best File Shredder for Mac.
Quick Summary
Kernel File Shredder is our first pick for the best file shredder for Windows. It is a reliable program that offers multiple deletion methods and numerous functions for erasing files permanently.
You can also choose BitRaser File Eraser

, which offers several useful functions. You can erase all internet activities to improve your online privacy and security and wipe system and application traces. Creating a schedule ensures that the tool performs the deletion per your instructions.

Our third pick is O&O SafeErase, an intuitive and easy-to-use tool for permanently erasing files. The software comes with six deletion methods and useful features like Instant Erase. It offers to save deletion reports so that you can keep track of erased data.
Part 1. What Is File Shredder Software for Windows
A file shredder tool is an app that enables all-around and comprehensive data deletion of files and folders stored on your hard drive. These apps go beyond regular deletion because they permanently remove data from your system. That is how they can play an important role in improving the privacy and security of Windows users.
These tools could come in both free and premium versions. The free apps usually stick to basic deletion functions. Paid programs offer more deletion methods and provide additional features.
Part 2. Who Should Get A File Shredder Software
File shredder software is versatile and can help both individual and business users. Here are some situations when you could use this program:
Working with sensitive files – protection becomes imperative when working with sensitive data and information. That is where a reliable file shredder can be of great assistance.
Securing that private and financial data doesn't get into the wrong hands – whether you have private pictures or information related to your finances, permanent deletion is critical to ensure no one steals that data.
Keeping your hard drive organized – these programs allow you to delete useless files easily, which is how they help in keeping all data on your hard drive organized.
Users without tech knowledge should have problems getting used to file shredder software. That makes these tools suitable for both newbies and professional and experienced users.
Part 3. How We Tested and Picked the Best File Shredder Software for Windows 11/10/7/8 in 2023
We looked for the best file shredder for Windows 10 but didn't rank the tools based on personal preference. Our experts analyzed the most important features of this app type. We tried to cover all the crucial aspects, and these are the factors we considered:
Reliability – the product should offer the deletion of both files and folders, and it should be capable of erasing data with a high success rate.
Deletion methods – various deletion methods allow you to pick based on the desired security level. A bigger number of passes ensures the files are beyond recovery once deleted.
Speed

– whichever method you select, the program should be as fast as possible in deleting files.

Graphics and interface – the interface should be user-friendly and intuitive. Users should be able to pick files and folders with Windows Explorer or drag and drop them into the app. If the graphics are pleasant and modern, that makes using the program more enjoyable. 
Additional deletion options – that could include deleting internet activities, temporary system, and other files, as well as recycle bin. The file shredder software should be able to schedule tasks to perform deletions regularly and based on the set parameters.
Price – some apps are completely free, while others allow you to try the premium version via a free trial. Paid editions usually come with more features and additional deletion options, but it all comes down to your preferences and expectations.
Part 4. Our Picks: Best File Shredder Software for Windows 11/10/8/7 in 2023
Kernel File Shredder is a tool created by Nucleus Technologies. It is a powerful app that allows you to shred files and folders easily and wipe up free space, recycle bins, system files, and free disk space.
The product secures permanent file deletion, making it the best file shredder for Windows. Apart from manually deleting data, you can also schedule maintenance and tell the program when to shred the desired files. The software will remember shredding history so that you can keep track of the data you erased from the system.
Kernel File Shredder works on all versions of Windows from Win95 to Win10. It is compatible with Windows Server editions from 2003 to 2019.
The app offers a free trial that lets you experience it for 30 days. Once the trial expires, you will need to purchase the premium version to continue using all functions of Kernel File Shredder.
You have the following paid editions at your disposal:
Home – it is a license intended for personal use on a single PC, and it costs $49.
Corporate – the default cost of the license to use the program on multiple systems is $199.
Technicians – the price for using the software on computers in multiple organizations is $399.
The company might offer discounts so that the prices could be lower. All the editions are perpetual licenses with the same features.
Does Kernel File Shredder Really Work? Hands-On Testing
The graphics are nice, and the layout is clean and simple. Kernel File Shredder doesn't complicate things, and the intuitive interface lets you dive into desired functions immediately. The default utility opened will be the one for shredding files and folders. The central part of the screen will always show the function currently active. The left-hand section and the top menu can be used to access other utilities and options.
The basic function of this shredder software is quite easy to use. The first thing you want to do is to add the files and folders that you want to delete. You can also remove a single file or folder or remove them all by using the icons on the right.
Kernel File Shredder offers multiple shredding methods. Some of them include the basic Zeroes and HMG IS5 Baseline (1 pass), but you can also choose German VSITR (7 Passes) or US Air Force 5020 (3 Passes). It might take some advanced knowledge to choose the desired option, but all of them will do a good job. That is why you shouldn't stress about which you choose if you are a newbie. Simply leave it at the default option and click Shred.
The app will begin erasing files and folders immediately. It will inform you about the progress in the pop-up window on the screen.
Once the process is completed, you will notice the Shredding completed message on the screen. You can also look at the detailed report to see if all deletions were successful. Finally, click on OK to return to the home screen.
The second option that you can choose is to shred the recycle bin. Pick the corresponding utility from the left-hand menu, and the following screen will appear:
As you can see, everything seems rather similar to the utility of deleting files and folders. That makes Kernel File Shredder very intuitive and minimizes the learning curve. Even without previous tech knowledge, it will be easy to delete all the files you want. As for the recycle bin, you will notice the items currently in the Recycle Bin shown in the main field.
The app will read the items automatically. If it is easier for you to use the file explorer to delete data, do that and then return to the tool. Click on Refresh to update the list of files in the recycle bin. Pick the preferred shredding method and click Shred. The program will permanently wipe the data from the machine.
The next function is the option to shred system files.
This is a convenient utility that can help you to free up disk space on your system. The program can delete temporary files on your machine, including cookies and temporary internet files. That way, Kernel File Shredder can improve your privacy. The process of deleting files is identical – tick the boxes for the file categories to move and click Shred.
The next function is wiping up free disk space. You might wonder why you do this, but it is a helpful feature. It ensures that any files and folders you previously deleted are beyond recovery. Using the feature is quite simple. Kernel File Shredder will list the available drives, and you need to confirm where to wipe free space.
The final feature related to removing files involves shredding useless data. You start by selecting the folder or drive to scan. You can use various filters on the left to eliminate particular formats or filenames. Once you confirm that you are satisfied with the choice, click on Shred.
Kernel File Shredder also offers to create tasks and schedule shredding at desired intervals. Overall, it is an incredibly useful tool. It will help you to keep the system protected and remove files permanently. That way, you can rest assured that you are safe from anyone accessing sensitive files stored on your computer.
BitRaser File Eraser comes with a variety of amazing features. That includes wiping files permanently, deleting internet activity and application traces, and erasing free space. You can look for and delete specific files and schedule erasure tasks. All that makes this tool quite versatile and capable of catering to all your permanent deletion needs.
Although this might be the top file shredder Windows 7 can offer, it is worth noting that it works on newer system versions. You can also download the Mac version.
The company secured a 30-day trial to test all the functions, but once that expires, you will need to purchase the premium edition.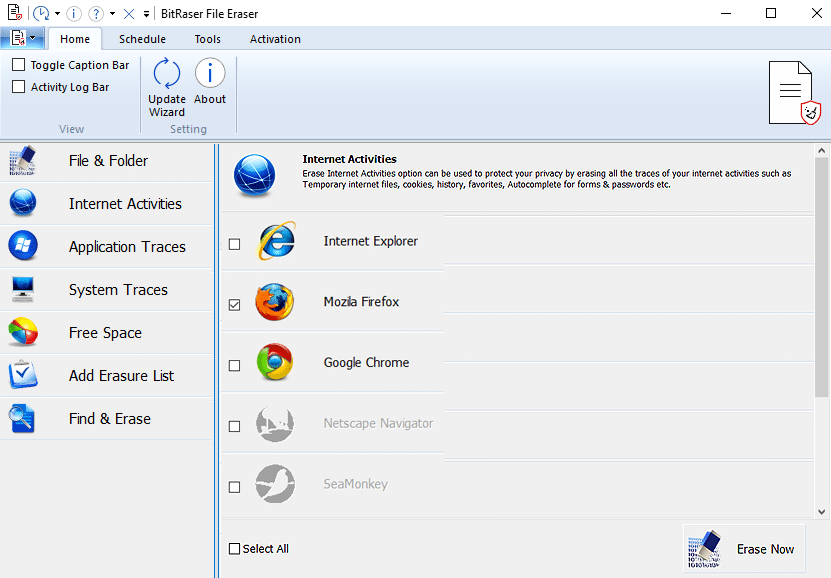 BitRaser File Eraser comes with a fairly intuitive interface and modern graphics. The left part of the screen lets you take a look at all the available functions. For example, if you select Internet Activities, you will see a window like the one above. In the main section, you want to choose the categories to delete. Tick the boxes next to the browsers to delete the files related to that application. Once you are ready, click on Erase Now.
The program will start erasing the files. We tested it multiple times with different data, and it is fast and reliable.
If you want to maintain the system regularly, you can schedule deletion at desired times.
BitRaser File Eraser allows you to pick specific time and date, as well as choose the erasure algorithm and other settings. The frequency of deleting files can be every day, week, month, or every time you turn on the computer. The software is an all-around file remover with a high success rate, which makes it worth trying.
We ranked O&O SafeErase as the third on our list of the best file shredder Windows 10. The tool offers a wide range of helpful features, and the convenient one is Instant Erase. It allows you to select files over the context menu and use the mini dialog to delete them immediately. You can also delete an entire computer, internet activities, etc. The app offers six deletion methods, and all the removals are permanent.
Adjusting the settings ensures that everything fits your taste. You can choose whether to check for program updates, save deletion reports, and adjust scanning options and standards. Once you are ready, you can pick the desired function.
The interface is simple, and it should be easy to remove undesired files. For example, if you pick to delete files and folders manually, you will get a simple screen like the one above. From here, you use file explorer to identify data for removal. Once you confirm, you can click Continue to finalize the removal process.
You can choose between six deletion methods with different levels of security. The stronger level you select, the more the process will last. However, you will be more certain that the data was permanently removed. O&O SafeErase will let you know how long the process will last.
Once the process starts, you can monitor its progress on the screen.
The app will tell you about the current step in the process and the remaining time. You can see the history to confirm that the files have been removed successfully. If there is plenty of data for removal, choose to turn off the PC once done. That enables you to head outdoors or to sleep while the software does its job.
O&O SafeErase is available as a free trial. However, if you want to use the full features of the product for an unlimited time, that is only possible with the full version.
4. Securely File Shredder
Securely File Shredder has an important flaw – the developers do not mention that the file shredder supports Windows 10. The website specifies it is compatible with Windows XP, Vista, 7, and 8. The application is free to download and is virtually a utility that takes less than a single MB of space.
The tool seems ideal for beginners since the interface cannot get simpler than this. You can use several icons on the screen, and adding files and folders involves dragging them into the utility. Alternatively, you can use a file explorer to locate the data to erase.
The program supports four deletion methods, and the default one set is US DOD 5220.22. You don't have plenty of options in the Settings menu. The software might be one of the file shredder Windows 10 options suitable for those who want to speed up the deletion process and don't waste time on unnecessary settings.
Once you initiate the process, you will realize the software is quite fast. The progress can be tracked, although there is no estimated time. Securely is a simple and free file shredder, but it does a fine job of removing unnecessary files. It doesn't offer additional functions like removing internet activities and scheduling deletion, which might be a downside.
5. Eraser
Eraser is an open-source app for Windows. The developers describe it as advanced security tool since it can erase files and folders permanently. The program is compatible with Windows XP and newer versions. Since it is an open-source program, it is free for all users.
The main screen cannot get any simpler. You can set the desired erase schedule easily, and accessing settings allows changing deletion methods.
Eraser offers 13 deletion methods with a different number of passes. You can also choose from multiple languages and set the desired Scheduler settings.
Setting task properties allows for creating tasks that would run at different times. Adding data is done via the file explorer. The interface might not be the most intuitive one out there, but the program is fairly versatile and powerful.
Conclusion
We hope that our selection of file shredder software for Windows 10 helped you find a suitable tool for your machine. These programs can be versatile and offer an extensive selection of functions. Their biggest benefit is that they secure a permanent removal of data, which improves your privacy and security.
The best file shredder for Windows is the one that fits your expectations. Try to consider your level of tech knowledge and the desired features, and choose based on that. If you stick to that, it shouldn't be hard to find a suitable app quickly!