Superior cellular connectivity is one of the primary reasons why many prefer iPhones to competitor devices. Its powerful hardware and software pick up a better signal even when others fail to. However, this is not to say that iPhones are perfect when it comes to cellular call handling.
In fact, just like every other device out there, an iPhone may also come across issues. And, probably the most common problem on the list will be the iPhone Call Failed error. Depending on the iPhone you use and your usage pattern, you may face this error frequently or quite rarely. Despite its frequency, however, this can be a problem.
What Is The Call Failed Error on iPhone?
You may be trying to call someone important. You tap on the contact number or dial the number. Right after your iPhone shows the calling screen, you get a message saying, "Call Failed." You can also see a "Cancel" and "Call Back" button on the screen. You can tap the "Call Back" button, and it may work.
However, at times, you'd be getting the same response, again and again.
If you can relate to the situation mentioned above, it means you have seen the iPhone call failed error before. While one or two instances of these should be okay-ish, repeated errors mean something else. It means that you have to find the reason for the failure and fix it.
Why Does My iPhone Keep Saying Call Failed Repeatedly?
We cannot pinpoint a single reason why your iPhone is repeatedly showing the Call Failed error. Depending on various factors, such as your iPhone model, the version of iOS, the cellular carrier, the area you live in as well as the network mode, many things may cause the error in question. Some of the specific reasons might be as follows.
Cellular Connectivity Issues: If you try to make the call from a place where network coverage is weak, your iPhone will keep saying Call Failed. So, you should have adequate cellular coverage (or Wi-Fi, if you are using Wi-Fi Calling.)
SIM Issues: If you see the Call Failed error so frequently that you cannot make a call, your iPhone may have a malfunctioning SIM card. This is more common if you are using a years-old SIM card on your iPhone. You can strike this option off if you are using an e-SIM, though.
Network Settings Error: An iPhone needs cellular network settings from the carrier to work correctly. At times, the iPhone may have issues updating or managing the settings. This situation could also cause the Call Failed error.
Lack of Credit: This sounds like a no-brainer, but you may have exhausted the credit on your prepaid iPhone account. In this case, your call won't connect through, and iPhone will display the Call Failed error.
Software Issues: You may face this issue if you recently updated your iPhone to a new version of iOS. In case of any corruption or problems inside the update, you may see the Call Failed message repeatedly.
We understand these points cover many areas regarding your iPhone and iOS. Unfortunately, we cannot say the specific issue without analyzing the individual device. On the bright side, there is a considerable number of tips that can help your fix the iPhone call failed error.
Top 12 Tips to Fix iPhone Call Keep Failing Error
Here are the 12 most useful tips that can help you fix the issue. We have arranged them in the ascending order of impact/time-consumption. We recommend following them one by one to see which one can correct the iPhone call failed issue.
1. Turn On and Off Airplane Mode
Network issues are the most common cause of the call failing problem.
Because we are dealing with a network-related issue, this is the first and best solution. If you didn't know, it is supposed to help you safely use the iPhone when you are on an airplane. Turning on the mode would turn off Wi-Fi and cellular radio. When you turn off the Airplane mode, the radios will turn back on.
At this time, the iPhone will search for networks and connect to the selected network. This action will restore your cellular connection in the best possible health. This should possibly fix the Call Failed issue.
To do this, you can go to "Settings" and find an option called "Airplane Mode," placed right below your account information. This is a two-way button that you can toggle. So, first, enable the Airplane Mode and wait for at least 30 seconds. After 30 seconds, you can turn off the mode and wait for your iPhone to connect.
You can access the Airplane Mode toggle from the Control Center as well.
This is the most straightforward step, and it doesn't cause any harm to your iPhone.
2. Check LTE and Roaming
You may see the Call Failed error if 4G LTE is not working on your iPhone. This may also happen if you have not turned on Roaming when you are outside the normal coverage area. So, the options you have are two:
Try shifting to 3G to see if you can make calls. If you can, this means you have weak coverage for LTE in the area.
If you are roaming, make sure that you have enabled data roaming.
These steps could fix the error if network coverage deficiency were causing it. You can change both by going to Settings >> Cellular >> Cellular Data Options. By the way, in some devices, you may not find this option to disable LTE. This also depends on the cellular carrier that you use.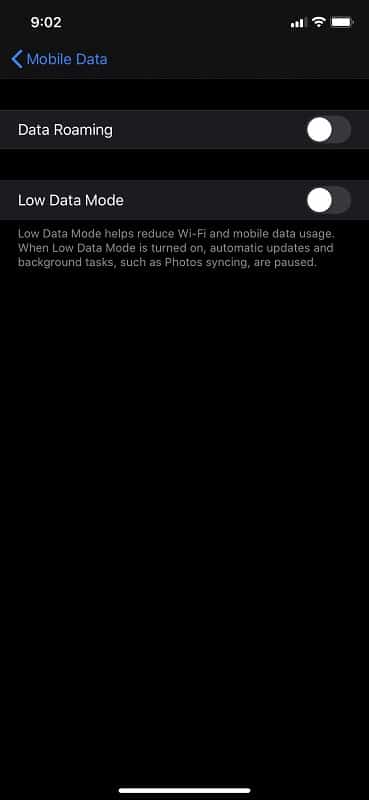 3. Restart your iPhone
When you restart your iPhone, it will search for available networks and connect to the registered one. This happens in the case of both physical SIMs and e-SIMs. So, if there are some network-based issues on the system, a restart should fix the job.
Depending on the iPhone model you have, you can use the Side Button or a System Settings entry to restart your iPhone. This process should take only a few seconds and would fix the iPhone error immediately. Keep in mind that this solution is also quite temporary.
4. Unblock the Contacts (If Blocked)
Your iPhone may show the Call Failed error if you try to call a number that you have blocked. So, if you are getting the Call Failed message repeatedly while trying to call a specific number, you should check if that's a possibility.
We don't recommend trusting your memory here. You may have accidentally blocked a contact as well. To fix the issue, you can go to Settings and choose Phone from the options. In the next screen, you've to tap on Blocked Contacts to see the numbers you have blocked.
Make sure that you have not blocked the number that you are trying to dial. If it is, you can remove it from the list right away. Again, easy peasy, right?
5. Update Cellular Carrier Settings
An iPhone requires a specific set of instructions from your cellular carrier to work correctly. Due to issues on the network or the device, you may be running an older/faulty version of the settings. So, the idea is to make sure that you update the carrier settings to the latest version.
You can access these settings by going to Settings >> General >> About. You should be able to see the basic details of your iPhone as well as the network info. If an update from your carrier is available, iOS will fetch it and prompt you to install it.
You may have to wait for a second while your iPhone installs the update and gets things ready.
6. Reset Network Settings
Before we make device-level changes, you should try resetting network settings to fix the Call Failed issue. This form of device reset will only impact network settings, including preferences you have set for Wi-Fi, cellular, Bluetooth, and Wi-Fi.
Performing this reset will erase some data, including VPN configurations, as well as Wi-Fi passwords.
To do this, go to Settings >> General >> Reset. You will see an option called Reset Network Settings. Tap on it and provide the iPhone passcode when asked. Your iPhone will reset the network settings in a minute.
Once you restart your phone, you may have to set things up again. Once you do, though, you can make calls without seeing the Calls Failed error message.
7. Remove and Reinsert your SIM Card
This step works only if you are using a physical SIM card on your iPhone. You can use the SIM ejector tool to remove the SIM card from the device. We also recommend cleaning the chip area of the card using a softer microfiber cloth. You can put the SIM card back inside and try again.
If there was indeed an issue with the SIM card, this should fix the problem. By the way, if you have a secondary phone by any chance, you can try putting the SIM card on that phone before trying anything else. If the SIM works on the secondary phone, you should be able to make calls from the device.
If the SIM gives you Call Failed errors on other devices as well, you may very well have to replace the card.
8. Update your iPhone to Latest Version
This is an easy step. Bugs on iOS can stop your iPhone from making/receiving cellular calls, which means that you will see the Call Failed message. Make sure that you are running the latest version of iOS by going to Settings >> General >> Software Update. Keeping your iPhone up to date will help you stay clear on many other issues as well.
9. Factory Reset your iPhone
An app/extension that you have installed may be tampering with the cellular connection. At this point, you can have the best results by resetting your iPhone to Factory Settings. Following this, you might have to set up everything from the very beginning. This includes connecting your Apple account and configuring cellular settings.
Rest assured, if the issue is with iPhone, a clean reset will solve the problem. We recommend taking complete backups of your iPhone before resetting, though. After the reset, you might as well restore everything to the "new" iPhone.
To reset, you have to go to Settings >> General >> Reset and choose Erase All Content and Settings. You've to provide the iPhone passcode again, and the reset would be complete. An iPhone reset is a one-step-fix-all kind of thing. You can solve many software issues on the iPhone through a reset to factory settings.
10. Get In Touch with Your Cellular Carrier
If the steps mentioned above haven't helped you, it may be time to contact your cellular carrier once. There are a few things you should check. However, keep in mind that, if the issue is with the carrier, you will not be able to make any calls.
Your account status
Possible network outages
Available credit (in case of prepaid)
Ensure that you have an active account with the provider, along with valid credit. You can know more about possible network outages while you are at it. Some cellular carriers may also have dedicated plans for iPhone registration, and you can get expert help in fixing the issue.
You can also mention your experience with trying the SIM card on another device. If the carrier also thinks a faulty SIM is in place, you will receive assistance with replacing it. You should ideally follow it after checking out the other solutions we have mentioned above.
11. Fix iPhone Keeps Saying Call Failed with an iOS System Recovery
We already told you that internal iOS issues could cause the Call Failed error on iPhone. Usually, fixing this means you have to reset your iPhone or access the Recovery mode. However, using an advanced iOS System Recovery like Tenorshare ReiBoot, you can fix this issue. Here's how it goes.
Tenorshare ReiBoot is an iPhone utility that can fix several issues, including the Call Failed error. Even if you get stuck at a particular step, ReiBoot will help you recover and restore the iPhone to normalcy. So, if you have tried all the methods mentioned above with no luck, you should check out ReiBoot as well.
While there is a Recovery Mode function in iPhone, these don't always work. However, ReiBoot makes things easier than ever. So, before you decide to take the last step, you should give this a try. Read our Tenorshare ReiBoot Review here.
12. Take to Apple Service Center
If, due to some strange reason, all the methods don't work, you can take your iPhone to the nearest service center. The repair can be a costly affair if your phone is not under the warranty period. If you still have a warranty, you won't have to pay anything since it comes under the category, software issues. That said, the people at Apple can solve your problem for sure.
Conclusion
We hope our attempts to give you a comprehensive guide to fix iPhone call failed errors were successful. As we said, we have chosen effective methods and ordered them according to their difficulty. So, even if you cannot try the last few options, you have a few practical ways to fix the problem. In most cases, you can solve the call failed through a full reset. Even if there are some severe issues with the software, you can depend upon tools like ReiBoot.