Just like many others, you are probably thinking, what happens if I reset my iPhone? This question is prevalent among iPhone users. We will discuss the answer in this post by looking at different scenarios.
After this, we will answer the question of when to reset your iPhone. We will then compare the different reset options before showing you the best methods to reset your iPhone.
Part 1. What Happens When You Reset Your iPhone? Will You Lose Everything?
Resetting your iPhone is very similar to making use of the "Erase all settings and content" feature. Making use of this feature, means you end up losing your contacts, notes, messages, phone log, apps, and even photos. Looking at this, that's about everything present on your device.
So here's the answer to your question. If you reset your iPhone, you'll lose everything on the device. Your best bet is to first back the iPhone up to iCloud or iTunes before initiating the process. Below, we take a closer look at the effects of the reset process on your iPhone.
1.1. Does Resetting iPhone Delete Personal Data
Will anything happen to your data when you reset your iPhone? It is a clear YES; you will lose all your information when you reset your iPhone. Why does this happen?
It is simple. When you initiate this process, you restore the phone to its original state. It becomes empty, just like a new iPhone.
1.2. Does Resetting iPhone Delete Factory Software
It is interesting to note that the answer to this question is NO. When you reset your iPhone, you don't lose iOS software in the process. The phone retains the recently installed updates including the newest version of iOS.
It is essential to understand that you cannot get rid of stock apps, even if you decide to reset your iPhone. The resetting process only clears out all the records present on the factory-installed apps. These apps include camera, mail, phone, and calendar.
1.3. Does Resetting iPhone Delete Jailbreak
When you reset your iPhone, it also deletes jailbreak. One of the principal reasons why individuals jailbreak an iPhone is to install apps that aren't initially present in the App Store. Therefore, you might want to have a rethink on resetting your phone if already jailbroken as resetting requires undergoing a new jailbreak process.
1.4. Does Resetting iPhone Delete iCloud Backups
An important question that many iPhone users seek to answer is whether a reset leads to loss of backup data. When you reset your iPhone, you cannot delete your iCloud backups. It is because the backup gets saved online and not to your phone memory.
You can re-download the backups from iTunes after you reset your iPhone. This way, you have access to all the personal data that you lose during the process. Of course, you must have backed them up initially.
If not, we advise you to initiate backups as frequently as you can. Backups are not only useful when you reset your iPhone. They come in handy when you lose the phone, or it gets stolen.
Part 2. Why or When to Reset iPhone
There are different reasons why individuals may feel the need to reset their phones. We will discuss the most popular in this section.
The first reason is that you are about to sell the iPhone. When you are in this position, you need to remove your data, no matter who the buyer is. Using the Reset option returns your phone to its factory state, however, reset data can still get recovered, if you want to completely erase your iPhone, you can go to Part 5.
A second reason why you may consider this process is when malware, bugs, or errors have hit the iPhone. All of these are very annoying and may never leave if you don't reset the iPhone. True, there are different troubleshooting methods you can employ. However, some issues won't just stop until you rest the iPhone.
Part 3. iPhone Reset Options (What are the Differences)
There are different iPhone reset options to consider. The option you choose relies on what problem you are trying to solve. For this section, we will take a brief look at the different reset options. What makes one differ from the other, and what results do each present?
3.1. Reset All Settings
It is the most common method. It is usually the one people refer to when they ask the question, if I reset my iPhone, what will happen? When you adopt this method, you lose all your settings, but your data remains.
So you end up losing Network settings, Bluetooth settings, and even Wi-Fi settings. You'll also lose Screen settings like brightness and dark mode, home screen management, etc. This process also wipes your iPhone of the System settings.
However, you'll retain personal data such as photos, emails, documents, and so on. That's great, right?
3.2. Erase All Content and Settings
When you choose this option, you will completely format your iPhone. What this means is that you will not just delete all the settings; you will also delete your data. Using this method returns your iPhone to its original status, it becomes new.
This method is best when you notice that the iPhone is functioning erratically or crashing. You can also use it just before selling the phone.
3.3. Reset Network Settings
This reset option focuses on network settings alone. It deletes mobile network and internet settings, including VPN, Bluetooth, Wi-Fi, and network-designated passwords.
To use any of these features, you will need to resupply the information. It comes in handy when there too many networks on the phone, which leads to sluggish behavior. You can also use it when the phone doesn't connect to a network, or the internet is slow.
3.4. Reset Keyboard Dictionary
What happens if you make use of the rest keyboard dictionary option? If you make use of Gboard or another keyboard app, there's no need to worry. These apps work across platforms, so they save the words that you frequently use to the cloud.
If you are making use of the iOS keyboard, then you should be wary of this option. It would help if you only used it when the keyboard is malfunctioning, or it has learned a lot of typos. This option also deletes shortcuts.
3.5. Reset Home Screen Layout
This method deletes all the folders you created on your device. It means that your apps return to their default arrangement even though they won't be uninstalled. There isn't a need for this since you can always rearrange your home screen to suit your taste.
3.6. Reset Location & Privacy
Using this method makes you lose all the privacy and location settings on the device. It means that the permissions granted to different apps get reset. So, when you open the apps after this process, you will need to endorse the permissions all over.
Part 4. How to Reset iPhone from Setting
Now that you know what happens when you reset your iPhone let's see how to reset the iPhone from Settings. The method is perhaps one of the simplest to employ. Take the following steps:
Step 1. Go to "Settings" from your home screen.
Step 2. Tap "General".
Step 3. Tap the "Reset" button then.
Step 4. Select "Erase All Content and Settings." It will initiate a complete reset of the iPhone.
You may need to provide your passcode to confirm the process.
Note that this process is straightforward, but you are likely to lose all your data. Please ensure that you back up all data before you initiate it.
Part 5. How to Completely Erase iPhone Before Selling It
In this section, we will suggest a third-party app to help you with the process. It is known as iMyFone Umate Pro. The software works for both Mac and Windows computers and is perfect when you need to sell your iPhone.
Using this third-party iPhone cleaner app completely erases all data on your iPhone, unlike the Reset Settings option in Part 2 above. Here's how to use it.
Step 1. First, download the software to your computer then install it.
Step 2. Connect the iPhone using a USB cable.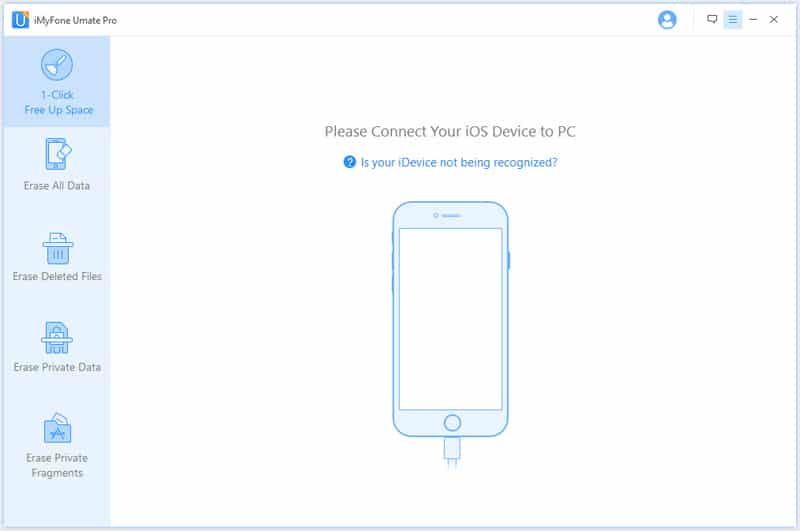 Step 3. Click on "Erase all data" then click "Erase." You can select a different mode depending on what you want to do.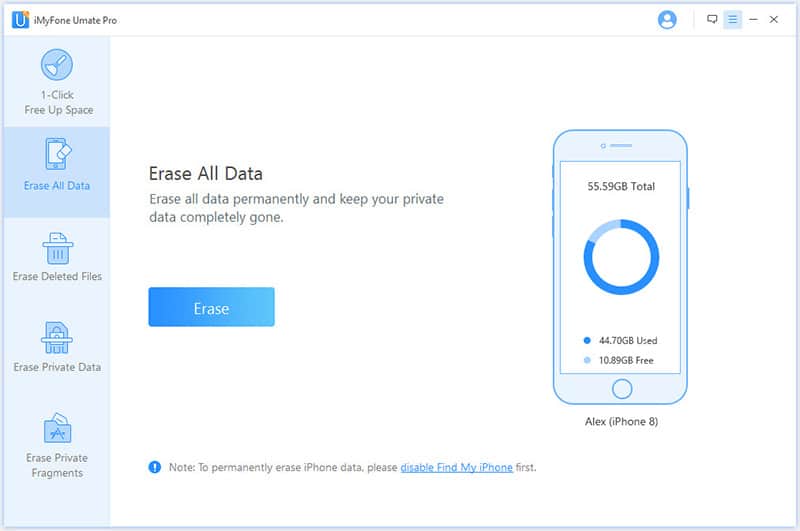 Step 4. You will see a box in the next window. Type "Delete" to confirm the process, then click "Erase Now."
Congratulations!!! You just erased your iPhone using iMyFone Umate Pro.
Conclusion
Now, you know what happens if you reset your iPhone. We have also shown you different methods to reset your iPhone. Think we left anything out? Please leave a comment below!