Do you have sensitive files stored on your iOS device and want to delete them forever? Perhaps your iPhone is loaded with junk and unnecessary files, and you are looking for ways to free it up quickly. That is why you might need the best cleaner for your iPhone.
Look at our iPhone cleaner app reviews to choose a tool that fits your requirements. We browsed the market up and down to find great software solutions. Here is what we discovered!
Quick Summary
It seems that iMyFone Umate Pro is the best cleaner for iPhone you can find on the market. The device will remove junk files for free, and its premium version can erase data forever.
dr.fone – Data Eraser (iOS) is another convenient solution you can try.

The app is reliable as part of Wondershare's toolkit for iPhones. It allows deleting all data or choosing between private data and junk files.

iMobie PhoneClean is a useful tool with multiple cleaning options. While you can delete all data with a single click, you can also remove the internet, system, or private data to improve security.
What is the iPhone Cleaner?
An iPhone cleaner is a tool used to clean up your iOS device. That means it will also work on iPads, although the supported iOS versions vary.
You use the iPhone cleaner on your Windows or Mac computer. After installing the software on the PC, you use a cable to connect the phone. From there, you use the interface to pick the desired options and delete unnecessary files.
iPhone cleaners support various deletion types. They can erase all data on your device, or allow you to pick file types to remove. The exact features depend on the app that you choose.
Who Should Get an iPhone Cleaner APP?
If you are having second thoughts about using an IOS cleaner, check out these reasons why you need this tool:
Erase files forever – standard deletion won't remove sensitive data for good. If you want to ensure no one recovers the files, permanent deletion is the way to go.
Free up space – do you have problems with low space on your device? How about freeing up gigabytes taken by unnecessary junk files?
Speed up the device – removing unwanted files will also ensure that your device works faster.
Protect your privacy – from deleting private fragments from third-party apps to other sensitive data, and these tools can help.
Since an iPhone cleaner app is easy to use, it is suitable for newbies. You don't need any tech knowledge to use these tools.
How We Tested and Picked the Best iPhone Cleaner APP in 2023
Would you like to know how we picked the tools to include in our iPhone cleaner app reviews? Here are the factors we considered in the process:
Supported file types – a reliable iOS cleaner should be capable of removing hidden junk files, as well as sensitive private data.
Deletion options – different security levels ensure deletion compliant to the latest standards or quickly erase options that save your time. You should also be able to delete the entire phone or choose the files to remove.
Reliability and speed – a suitable iPhone cleaner should have a high success rate when removing files. Additionally, it shouldn't take a second more than necessary to complete the process.
Additional functions – for example, previewing files and managing data can be helpful during the cleaning actions.
Based on the criteria above, here is our choice for the best iPhone cleaner:
The Winners
Best Choice: iMyFone Umate Pro
In our search for the best cleaner for iPhone, we came across iMyFone Umate Pro. Coming from a reliable manufacturer, this tool presents a reliable way to clear unnecessary files and protect your privacy.
Here is an overview of the app's main features:
Remove junk files – some junk on your iOS device is invisible but takes a lot of space. Deleting it allows accelerating the phone and freeing space for essential files.
Preview and scan data – the software will perform a detailed analysis of your iPad or iPhone to find all private files effortlessly.
Remove all data efficiently – whether you already deleted it and you want to remove it forever, or you want to erase files from your phone, this tool can help.
Erase files selectively – you can choose the data that you want to remove yourself.
Support for iOS 7 and newer – that means you can use iPhones, iPads, and iPods with this program.
Is iMyFone Umate Pro Free?
Deleting invisible junk files and previewing data on the device are free features. For permanent deletion, you will need the full version of iMyFone Umate Pro.
Here are the options for purchasing premium editions:
Annual subscription – it will cost you $29.95 for a single device.
Lifetime license – pay $49.95 and get a lifetime license for up to five iOS devices.
Unlimited license – connect as many devices and get a lifetime subscription for $299.95.
You can contact the company for a customized deal. The license will be delivered within 30 minutes, and the entire purchasing process is fast.
Does iMyFone Umate Pro Work?
We downloaded this iPhone cleaner app from its official website. The technical requirements are moderate. You only need 512MB RAM and a 1GhZ processor, but the program requires at least Windows 7.
iMyFone Umate Pro can be initiated from the start menu or via a desktop shortcut. Once you start the software, this will be a welcome screen: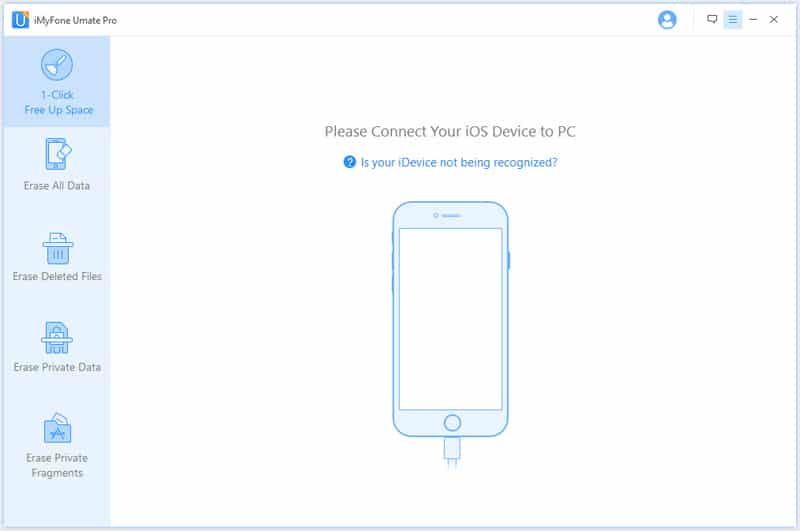 As you can see, there are various functions available. The basic one is a 1-click process of freeing up space on the device. Before you can do that, connect an iPhone via its USB cable.
iMyFone Umate Pro will recognize your device automatically. Use the "Quick Scan" button to initiate a fast scan of the files you can remove to save space.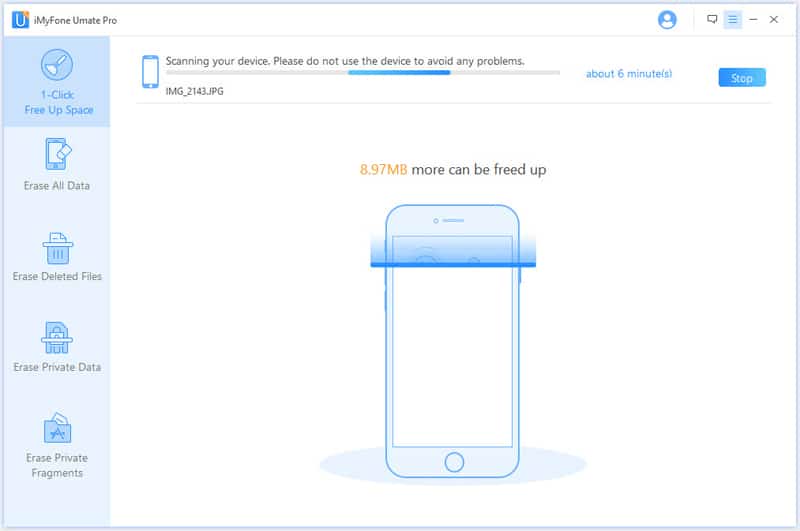 You will notice that the iPhone cleaner starts doing its work. The scan duration depends on how much data you have stored on the device. The general rule is that the scanning process doesn't take more than ten minutes or so. You will get information on how much MB can be freed up on the phone.
iMyFone Umate Pro will show an overview of files that you could erase.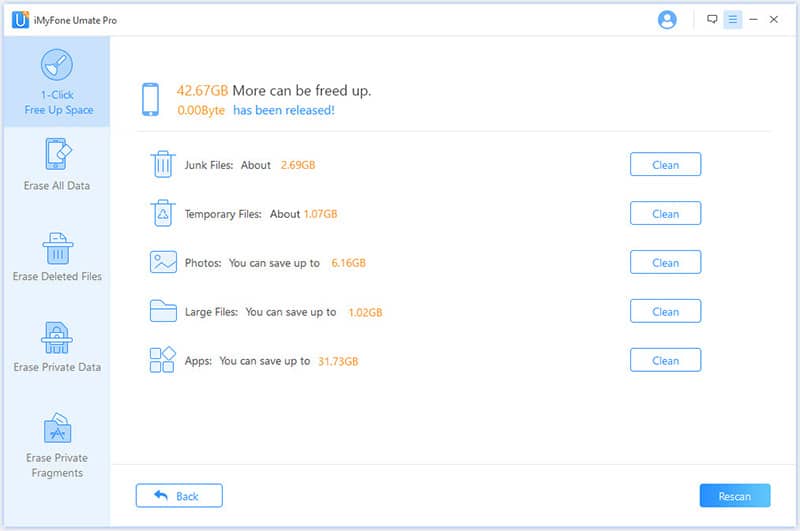 Please note this is a fast and the most effective scan that the tool can do. However, it doesn't give you detailed access to the files that it will delete. If you are sure that you want to delete particular file types, click the "Clean" button next to them. The system will confirm once it finishes the process.
Erase All Data
The next function of iMyFone Umate Pro is erasing all data on your device. You need to choose the corresponding subcategory from the left-hand menu.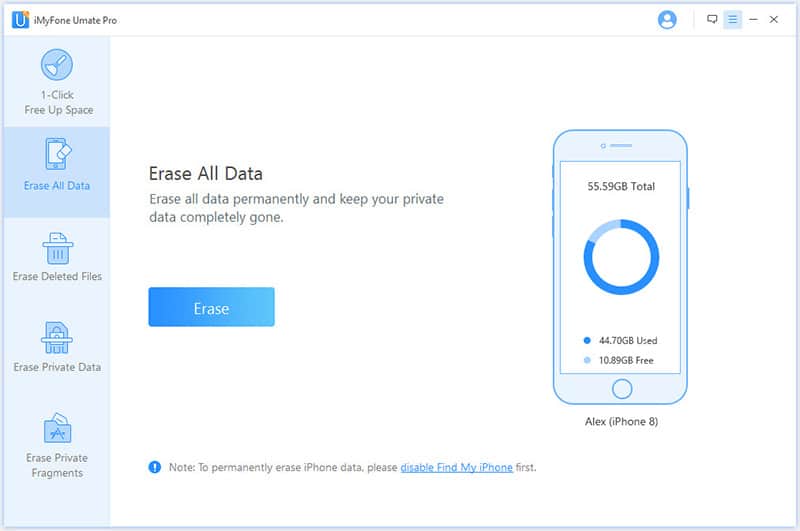 The iPhone cleaner app will show that it recognizes the phone. The next step is clicking "Erase." The tool indicates you need to disable the "Find My iPhone" feature first. If you click on the underlined letters in the bottom, you will discover how to do that.
Once you click erase, choose the desired security level.
iMyFone Umate Pro offers three different security levels:
Low – it is the quickest way to erase data, and there will be no way to recover the files.
Medium – this involves the tool overwriting any private data to confirm no one can recover deleted files.
High – this level applies to the US DoD security standard. It is recommended for bank records, financial data, and other private files.
Once you pick the desired file, you will see a screen where you should start the process. To confirm you really want to erase the phone, you will need to type "delete" into the required box.
Finally, start the file deletion process. Please note that the process is irreversible. It is not advisable to pull the cable out while the deletion is in progress. That might compromise the functioning of your iPhone.
Erase Deleted Files
You deleted the files from the device, but they are not gone forever. That is why you need the best iPhone cleaner app to remove them for good. Whether you have sensitive financial files or other data no one should access, iMyFone Umate Pro can help.
Pick a suitable function from the main screen of the software.
The tool will move to load deleted data. You need to be patient, but the good news is that the app is quick. You can monitor the progress on the screen.
You will not have access to deleted files. The reason why this is the best cleaner for the iPhone is that it will sort all deleted data by types. That includes messages, notes, contact files, bookmarks, etc.
It is possible to preview all data. That way, you can confirm which files to erase for good.
The steps to initiating the process are the same for every deletion. iMyFone Umate Pro asks you to pick the security level and manually confirm the deletion.
Once the process starts, you will see its progress on the screen.
The tool will also show which types of data you selected to delete. Take your time to avoid erasing something you might need in the future.
Erase Private Data
The next feature offered by iMyFone Umate Pro is erasing private files. It is a great way of avoiding any security breaches and hackers stealing your data.
From the main screen, pick the desired tab. Click the "Scan" button to initiate the process. The tool starts with scanning and shows you detected records.
As usual, the next step is to confirm everything and select the security level.
It is great that using iMyFone Umate Pro is similar for all functions. That lowers the learning curve and allows you to get familiar with the tool quickly.
Erasing private data shouldn't last more than several minutes.
Erase Private Fragments
What if you want to delete private fragments that third-party applications left on the device? That could be a huge space-saver, and you can do that with iMyFone Umate Pro.
Find the desired function on the main screen.
For this iPhone cleaner, app type isn't relevant. It can delete private fragments from all apps, including social media, messengers, etc.
Choose the apps for deleting private fragments. Once you are ready, click on "Erase Now" in the bottom right corner.
Enter all the required details and activate the process. The device will mention that the erasing it does is unrecoverable.
Overall, iMyFone Umate Pro is a reliable iPhone cleaner app. It works flawlessly and handles the deletion requests quickly. The tool is a worthwhile investment, and it can serve you well.
Runner-up: dr.fone – Data Eraser (iOS)
dr.Fone – Data Eraser (iOS) is an iPhone junk cleaner developed by Wondershare. It is a part of the company's toolkit for iOS devices. You can try the software for free, but you will need the premium version to use all features.
>> Get dr.fone – Data Eraser (iOS) <<
You will notice Data Eraser in the initial toolkit menu:
Once you select it, it will take you to the main screen for this tool's function.
As you can see, dr.fone – Data Eraser (iOS) offers three functions:
Erasing all data
Erasing private data
Freeing up space
If you want to remove all data, pick the desired option. iOS cleaner will offer you to pick the preferred security level. Make sure to choose based on the file types you are deleting.
The reason why the software asks you for manual confirmation is that the erased data won't be recoverable—type '000000' to confirm.
The software will start doing the task. You can monitor the steps and progress on the screen.
dr.fone – Data Eraser (iOS) will confirm that it deleted the files successfully. It will also reboot your iPhone to confirm that the changes are applied.
If you want to delete private data, choose the corresponding function in the iPhone cleaner app's menu. The system will ask you which file types to look for on the device.
The process might last for several minutes, but you will get a complete data preview once it is done.
Once you pick the desired files, click on "Erase" to initiate the process.
The program will confirm that the erase process was successful.
The third function is deleting unnecessary junk files. Once you pick the utility, the tool will offer a choice.
Choose the first function to remove junk files. dr.fone starts by scanning the system.
Click the files you want to delete and confirm the removal.
The process is similar to other file removals. The critical thing to note is that dr.fone – Data Erase (iOS) is reliable and has a high success rate of deleting files.
Also Great: PhoneClean
iMobie PhoneClean ensures simple maintenance for optimal performance while protecting confidential information. Managing your iPhone storage with this cleaner will ensure additional space while improving overall device security.
Once you connect the phone, PhoneClean will show all available functions:
You can choose between multiple functions, which include:
Silent clean – a convenient feature that doesn't require connecting your iPhone to the computer to delete files.
Quick – the quickest way of removing various file types.
Internet – it focuses on Safari junk, as well as browsing histories and webmail caches.
Privacy – it can erase deleted files to protect your privacy.
System – you can clean notifications, unwanted apps, and their leftovers.
Erase – you can remove all contents with this function.
Toolbox – a great way to clean and manage various files.
Restore – if you accidentally removed a file from backup, you can use this to restore it.
iMobie PhoneClean has a wide range of functions, which makes it very useful. However, most of these come in the premium version and are not available for free.
Competition and Comparison
iFreeUp iPhone Cleaner
iFreeUp iPhone Cleaner is a convenient tool for managing files and removing unnecessary data. It requires Windows XP or newer and iTunes 11+ to work, but it functions flawlessly. The tool can import and export data from games and apps. However, the more important thing is that it prevents privacy breaches and removes junk files to free up space.
iFreeUp Pro unlocks all features, while the free version has certain limits. Either way, the tool is easy to use, which makes it suitable for beginners.
CleanMyPhone
Firebook is the company behind this iPhone cleaner. Although the product supports the latest iOS 13, the software's design is a bit outdated. However, that doesn't affect the tool's function.
The product allows you to manage data on your phone, as well as delete private files and other sensitive data securely. The cleaning up process will ensure that you can boost the phone's performance, too.
Cisdem iPhoneCleaner for Mac
The special perk of this tool is that it is a solution for Mac devices. The graphics are a bit simple, but it comes with useful functions. You can delete the entire phone in a couple of clicks, or erase apps and other selected files only.
The software also offers the option to back up the phone's data before the cleaning process. It supports versions up to iOS 10, at least according to the information available on the website.
Conclusion
We hope that our iPhone cleaner app reviews were useful in helping you to find the preferred tool. Our experts followed clear rules to select the best iOS cleaners available on the market. From here, it is a matter of your preference. Consider the functions and additional features you need and pick accordingly. And remember, the best cleaner is the one that meets all your expectations!