Are you running out of space on your Apple iPhone 11, or you simply have trash files you don't need anymore? If you could use some guidance on how to empty trash on iPhone, you've come to the right place!
In this article, you will find a detailed guide to deleting trash and unnecessary files on iPhone 7 and newer versions. Here is what you need to know about mastering removing unwanted files from your device!
Part 1. What is Trash on iPhone?
If you put an object in a trashcan, it means you don't need it anymore. You can use the same thinking approach when it comes to trash on your Apple iPhone. Trash files are all those files, folders, apps, notes, photos, and other items that you don't need anymore.
What Happens When You Delete a File?
Windows uses a Recycle Bin, but you won't find a Trash application or anything similar on iPhone. Apple implemented a Recently Deleted folder in iOS 8 and newer versions. It is available in some apps, such as Notes and Photos. The feature allows easy access to files that you deleted, and you can recover an item removed by accident. Please note that the system will remove all files in the Recently Deleted folder that are than 40 days.
Part 2. One-click to Empty Trash on iPhone
What is the most convenient way of deleting unnecessary files on your phone? What if we tell you there is a way how to clear trash on iPhone in one simple click?
The secret lies in using software called iMyFone Umate Pro. It is an all-around iOS data eraser and manager. You can delete files permanently to secure maximum privacy and free up space taken by unnecessary apps and items.
Here is a detailed guide of deleting unnecessary items in a single click.
Step 1: Download and Install iMyFone Umate Pro
iMyFone Umate Pro supports Windows and Mac, and it will work with all Apple devices using iOS 7 or newer. Downloading and installing the app is simple, and it shouldn't take more than a couple of minutes.
Make sure to install iTunes on your computer before you open iMyFone Umate Pro.
Step 2: Connect the Desired Device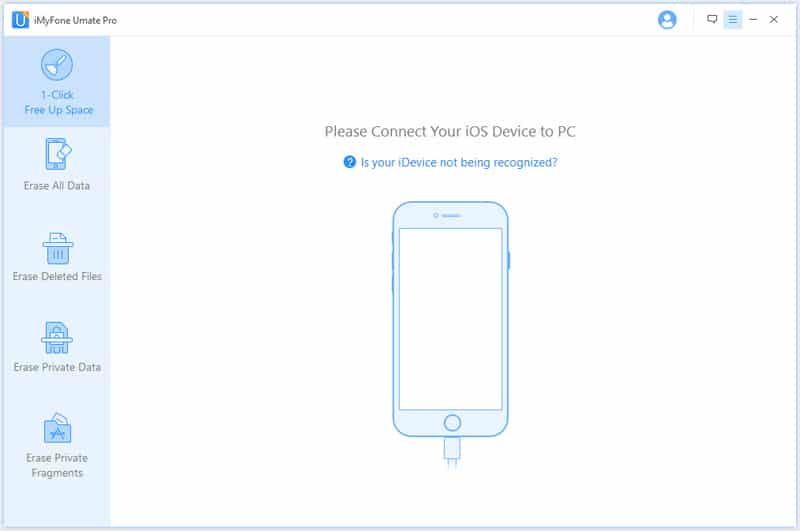 The first thing to do is to connect your Apple iPhone with the PC. We suggest using an original cable. As soon as you connect it, the device will be displayed on the screen.
Step 3: Free Up Space with a Single Click
You will find different functions offered by iMyFone Umate Pro on the left. As you can see, this is a versatile tool since you can erase deleted files, as well as private data and fragments. However, the fastest way of using this app is by running the 1-Click Free-Up Space utility.
Once you select it, you will see the following screen:
You can see the list of files that the program will analyze when determining options to free up space. Initiate the process, and the scan will begin: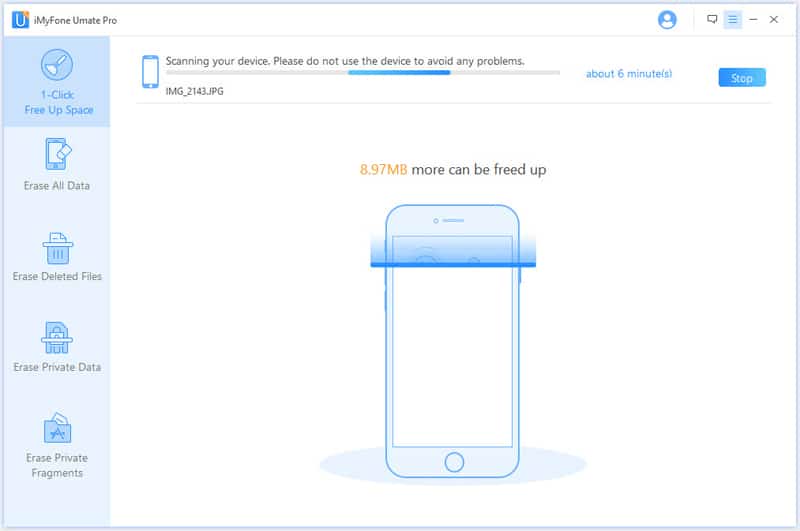 iMyFone Umate Pro will provide an estimation of how long it will take to scan the entire device. It usually doesn't take more than 10-15 minutes, although it depends on the storage size.
Step 4: Delete the Desired File Types
The program will show a detailed scanning analysis. You will see how much you can delete totally, but also in different categories, including junk, large, and temporary files, as well as apps and photos.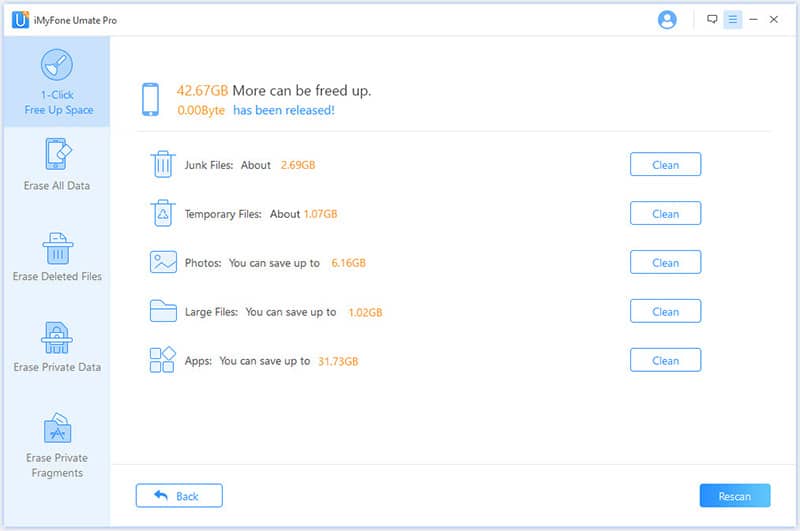 At the right of every category, there is a "Clean" button. Click on it to delete items from that category. iMyFoneUmate Pro will confirm that it finished the cleaning process by showing "Done" instead of that button.
Don't hesitate to explore other options offered by this tool. It is a detailed phone cleaner and a great way how to empty trash on iPhone, and permanently delete sensitive items that could compromise your privacy.
Part 3. How to Empty Trash on iPhone Mail
There are ways of deleting specific files on your device. For example, if you want to know how to delete trash on iPhone mail, you can do that manually.
Here is a detailed guide to follow when erasing e-mails:
Step 1. Start by entering the Mail app and navigating to the inbox folder. Swipe the e-mail you want to delete to the right. You will notice a trashcan icon (the picture in the center below). Confirm the deletion by pressing that icon.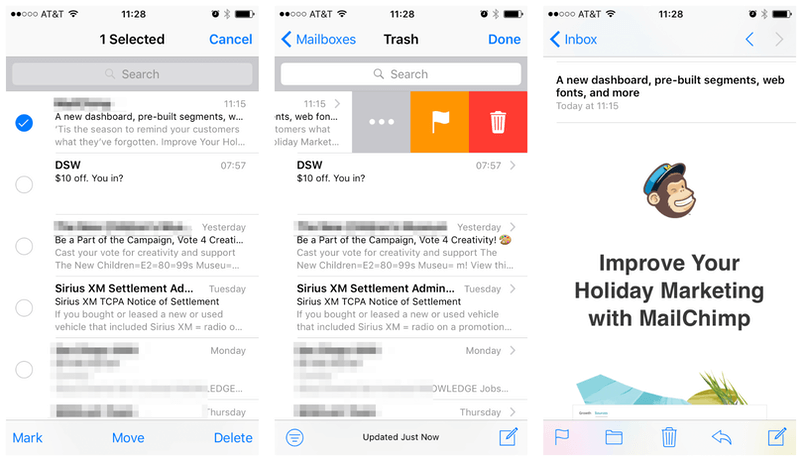 Step 2. If you want to delete multiple e-mails at once, press the "Edit" button in the upper-right corner. You will now have the option of removing multiple e-mails (picture on the left above). Once you are satisfied with the selection, click on "Delete" in the bottom-right corner.
Step 3. Navigate to the Trash folder now. You will find it among the available mailboxes in the initial screen of the Mail app: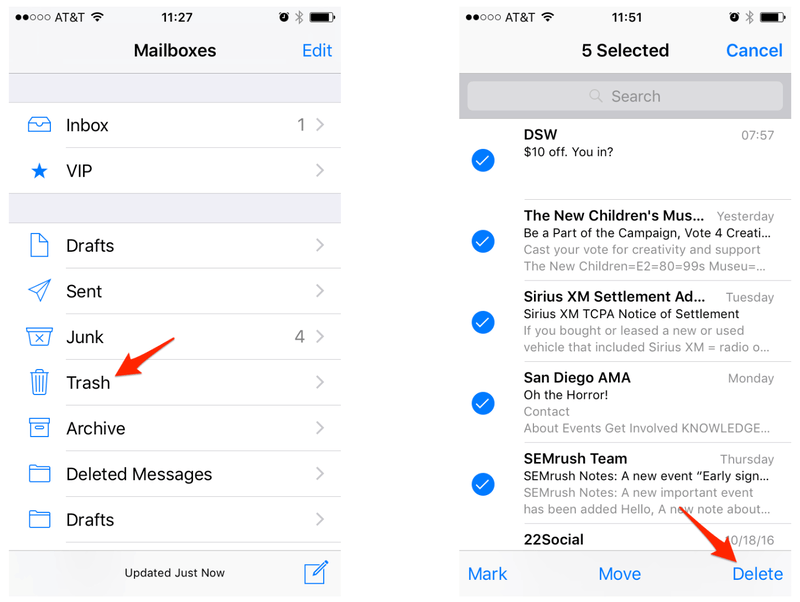 Step 4. Select the e-mails that you want to remove permanently. The "Delete" icon will upper in the bottom-right part of the screen. Click on it and finalize the deletion process.
Here is another useful trick – if you are not using an e-mail anymore, how about deleting the entire account? It takes a couple of clicks, and it will save up more space than deleting some e-mails.
Part 4. How to Empty Trash on iPhone Photo
We've all been there – you need to take several photos to have a satisfying one to publish on social media. You delete the rest, but they are not gone forever. If you want to know how to empty trash on iPhone 11, here is a detailed guide:
Step 1. Head to the Photos App, and enter the Albums tab. You will find the Recently Deleted folder at the bottom of that category.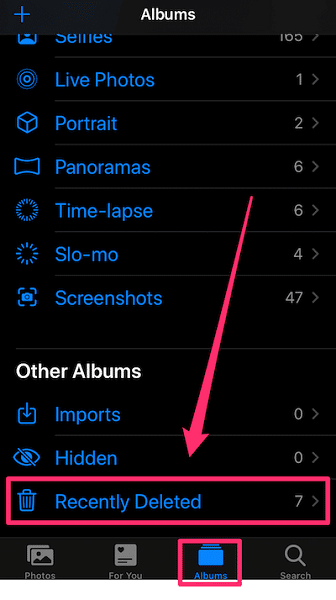 Step 2. Enter the folder and select the desired photos to delete. Finally, confirm the deletion to finalize the process.
Part 5. How to Empty Trash on iPhone Notes
Are you wondering, "how do I empty trash on my iPhone notes," the answer lies in using the Recently Deleted feature once again. The process is simple and shown in the screen below: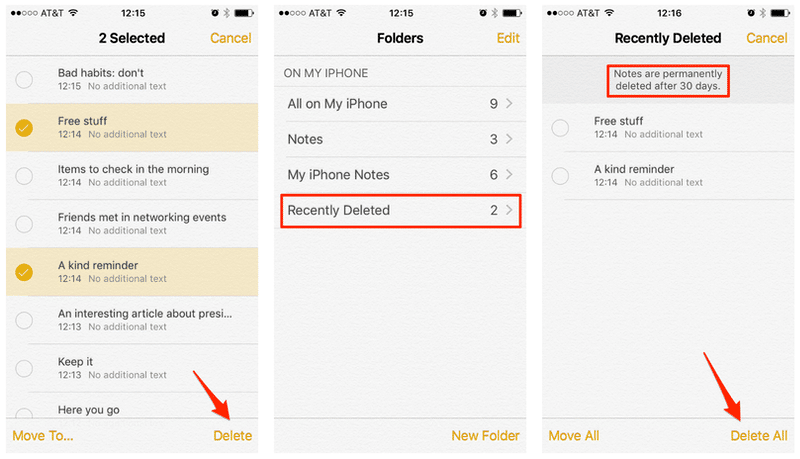 Here is a step by step guide in case you need a detailed explanation.
Head to the Notes section and check out all notes carefully. Select the ones that you don't need. You will notice the "Delete" option in the bottom-right corner; click on it to delete the chosen notes.
Navigate to the "Recently Deleted" section in your phone's folders.
Enter the folder and select the Notes you want to delete again. Click on "Delete All," and finalize the process. Please note that the system will automatically remove all notes you don't erase for 30 days.
Part 6. How to Delete Apps You Don't Need
If you are a sports fan, you might have downloaded an app dedicated to a tournament. However, the competition ended, and you don't need the app anymore. This can be the case with many other applications that you store on the phone, even though you don't use them. Removing them is an excellent way to free up space on the device.
And here is the great news – it only takes a couple of clicks to delete the apps you don't need. Here is how to do that:
Step 1. Navigate to the screen with the desired app icon.
Step 2. Click on the icon and hold for a second or two. You will notice the background menu go dark, and the following options appearing: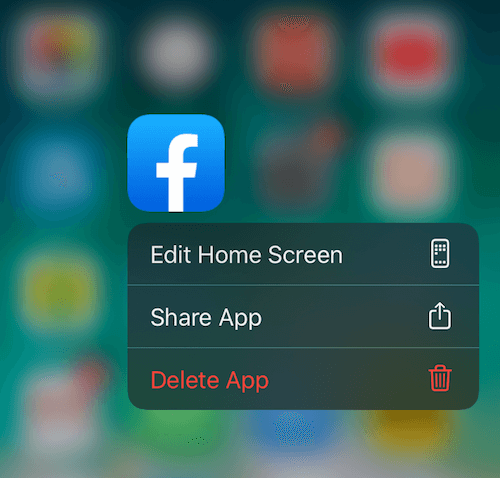 Step 3. Pick the "Delete App" option and confirm that you want to remove the app. It will take a couple of seconds for the phone to delete the software.
Please note that there is no way to undelete an app. The only option you have is downloading it again from the App Store.
Part 7. Bonus tip: How to Undo Trash on iPhone (Recover Deleted Data)
What happens if you delete a file that you need by accident? Mistakes happen, and the good news is that you can resolve them by using reliable iPhone data recovery software.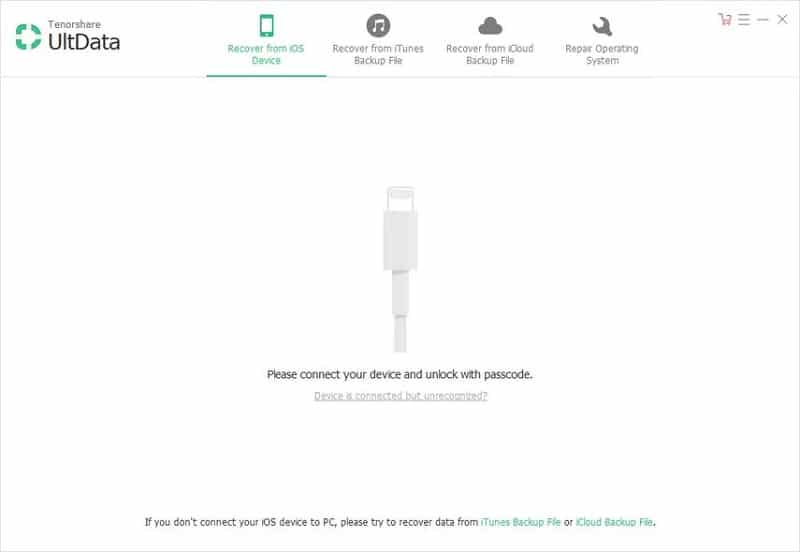 You can't go wrong with Tenorshare UltData since it has three recovery options:
Recover items directly from your iPhone or another iOS device
Recover files from an Apple iTunes backup
Recover data from iCloud
Tenorshare UltData supports recovery of over 30 file types. That includes photos, videos, messages, reminders, chats from WhatsApp, WeChat, and similar apps, documents, etc. Apart from accidental deletion, this tool can assist in recovering files from phones compromised by virus attacks, system crashes, or water damage.
The great thing about Tenorshare UltData is that it offers selective recovery. It will scan your system and find available items to retrieve. Based on that, you can find the desired files and recover only them. Read our Tenorshare UltData review here.
Conclusion
Our experts prepared this guide to help you learn how to empty trash on iPhone. We hope that it was of assistance and that you can now call yourself the master of deleting unnecessary files on your phone. As you can see, the process is easy, and the trick lies in using the right software. By using the right apps, it only takes seconds to delete whatever you don't need!