Quick Summary of iMyFone Umate Pro Review
iMyFone Umate Pro is currently one of the best ways to manage iPhone storage. You can use this program to erase files permanently, clean up storage space, or even remove private data intelligently. We think it's a fantastic utility that every iPhone user should have at their disposal.
Given that iPhones don't allow storage expansion, Umate Pro can help you save money you may otherwise spend on the iCloud upgrade. Per our testing, iMyFone Umate Pro could save several GBs of storage space from our iPhones. It means a huge deal from the utility point of view.
There are also easy-to-access features like the one-click cleanup of your iPhone. Despite what it offers, the iMyFone Umate Pro is priced rather reasonably.
What I Like
Easy-to-use User Interface
Bulk deleting options
Security-friendly Space Cleanup
Private Data Cleaner Mode
Wider Compatibility
What I Didn't Like
Limited free version
Exclusive to iOS
What is iMyFone Umate Pro?
iMyFone Umate Pro is an iPhone cleaning tool that is available for both Windows and macOS. You can use this software to permanently wipe iOS data, clean up junk/unwanted data from your iPhone, and remove private data from third-party messaging apps like WhatsApp, LINE, Kik, Viber, etc.
Although these are the major features of the tool, the package contains even more options. For instance, its one-click cleanup feature can improve the overall performance of your iPhone without a doubt. There are a few other features that can protect your digital privacy as well.
In terms of compatibility, the app supports almost all iOS devices in the market, including the latest iPhone 11 lineup. We tested the tool with iOS 14, and all main features worked without fail.
Now that you know what iMyFone Umate Pro claims to be, we have to see how it performs in real life.
Who Should Get It?
Given the reasons we mentioned in the quick summary, everyone should get a tool like iMyFone Umate Pro. Yet, we think you need this utility if,
You want to sell your iPhone: If you plan to sell your iPhone, you will have to wipe data from your iPhone permanently. iMyFone Umate Pro allows you to do that from the comfort of a big screen and with no compromise on your privacy.
You want to save storage space: Do you feel like your iPhone is congested? If you want to save more space by removing unwanted files, you can use this program. This way, you not only have the comfort of a giant screen but also can remove files that a regular iOS cleanup wouldn't remove.
You want to protect your privacy: Social media and instant messaging apps collect so much private information about us, even on an iPhone. You can use the Private Cleaner of the tool to remove such data and reclaim your digital privacy.
You want to delete some sensitive data: Do you know that merely deleting files doesn't protect you from cyber threats? So, if you have some sensitive information on your iPhone, you should shred it, and the iMyFone Umate Pro can help you here.
You need more control over your iPhone: You should get iMyFone Umate Pro if you want to have a better level of control over your iPhone and its storage space. This can offer you a better experience than what you get from the built-in maintenance options on your iPhone.
If you can relate to any of these needs, you should get iMyFone Umate Pro without thinking twice.
Is iMyFone Umate Pro Safe to Use?
You might be wondering if the utilities in the iMyFone Umate Pro package are going to affect your security or privacy. Well, we've got the answer you're looking for.
Long story short, security and privacy should be the least of your worries while using Umate Pro. It comes from iMyFone, one of the trusted developers in the industry, and takes special care to protect your data at all times. For instance, during the smart cleanup, iMyFone Umate Pro does not even interfere with the sensitive data on your iPhone.
More importantly, iMyFone Umate Pro does not fill your Mac or PC with freeware, either. Instead, due to an incredibly minimal footprint, you won't even know if it's running.
Therefore, judging by today's security and privacy standards, we can say iMyFone Umate Pro is genuinely safe to use.
iMyFone Umate Pro Review: What's in it for You?
Now that you have known the basic things about iMyFone Umate Pro, shall we talk about how it feels to use the program and its features?
1-Click Space Free-Up
This section is an absolute blessing to every iPhone user, we bet. Unless you have the biggest storage variant, this feature will help you save a lot of money per month. iMyFone Umate Pro makes it easy for you to understand what is taking up space on your iPhone — and remove them.
The best part is that it analyses your iPhone thoroughly and shows the presence of junk, temporary, large, and app files. And you can remove them individually or in bulk. This is your easiest solution if you want to remove multiple apps from your device, in particular.
Erase All Data
You should check out this option if you are planning to sell or give away your iPhone to someone else. In that case, you have to delete all kinds of data from your iPhone permanently. The Erase All Data section on Umate Pro can help you do this quickly and effectively.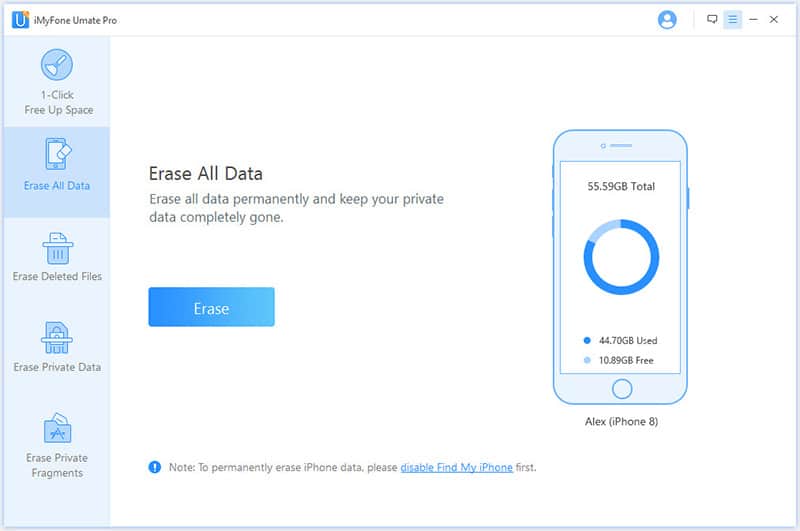 iMyFone Umate Pro even recommends the steps you should follow for a clean erasure of your iPhone. Once you have enabled those options, the program will assist you in the complete reset process, ensuring security.
Erase Deleted Files
As we said, simply deleting your files doesn't make them irrecoverable. So, if you have something sensitive that you want to remove forever, you should check out the Erase Deleted Files section of the program. This part will search through the insides of your iPhone to remove files you deleted earlier.
Instead of deleting the content immediately, iMyFone Umate Pro scans your iPhone for potential candidates. This process may take some time, but you will have reliable results. Then, you can select what you want to delete permanently. Once you have done this, you cannot recover the data.
Erase Private Data/Fragments
These two sections add so much value to the iMyFone Umate Pro package on any day. You can use this part to remove various digital traces on your iPhone, especially from social media and instant messaging apps.
More importantly, the second section allows you to remove private data fragments. These fragments can be a threat to your privacy at times. So, with the help of iMyFone Umate Pro, you can enjoy close-to-absolute privacy.
Altogether, the iMyFone Umate Pro features make it a fantastic choice for every iPhone user in the world. It also creates the right combination of simplified User Interface and features instead of making things difficult for non-tech-savvy people.
Reasons Behind Our Reviews & Ratings
Are you wondering what made us give iMyFone Umate Pro so much praise? Here are some reasons.
Effectiveness (4.5/5)
We do believe iMyFone Umate Pro is one of the best iPhone data cleaner and eraser utilities you can get at this point. We noticed that it finishes all the tasks with a near-100% success rate. Even though the processes take some more time, the results are impressive. Even when it comes to a complete iPhone data reset, the engine works flawlessly.
Price (4/5)
As we mentioned, iMyFone Umate Pro has a reasonable pricing plan as well. While you can use its free plan for most tasks, complete access to the utilities requires you to pay something. You can pay $29.95 per year or $45.95 for Lifetime, depending on how many iOS devices you want to manage. Considering that you can reclaim iPhone storage space and protect privacy, these pricing plans seem reasonable.
Ease of Use (5/5)
We don't have to think twice before calling iMyFone Umate Pro the most functional iPhone utility. The entire process of using the features takes a few minutes. You can connect your iPhone using a USB cable, and the iMyFone Umate Pro will instantly recognize the device. You don't have to install applications or give extra permissions. It's so easy to use that we can recommend it to even first-time iOS users.
Support (4/5)
This is an area where we'd love to see some improvement from iMyFone Umate Pro. The only way to avail of technical support is through a knowledge base and FAQ. Sure, the knowledge base contains lucid and well-illustrated how-to guides for every task. In addition, you can contact the support team to get one-on-one solutions for your problem. However, we couldn't find Live Chat options, which would have been awesome.
And we are sure you would feel the same about these aspects once you have started using iMyFone Umate Pro on your Mac or PC.
Alternatives to iMyFone Umate Pro
While iMyFone Umate Pro is an excellent choice for most people, there are times when you need to look for alternatives. If you find yourself there, you can consider these tools:
iMobie PhoneClean is an all-in-one cleaner utility for iPhone. Compared to Umate Pro, PhoneClean offers a few more features to clean your iPhone storage seamlessly. You can also choose between various clean modes, such as the Internet Clean and System Clean. So, as far as cleaning is concerned, PhoneClean can offer you extra control.
If you are unsure which mode to choose, this Umate Pro alternative gives you a single option. That single cleanup command would show you everything you'd want to remove from the iPhone. You can then go to individual sections and remove the content according to how much space you want to save in reality.
iMobie PhoneClean is available for both Windows and macOS. Read our iMobie PhoneClean Review here.
Dr.Fone – Data Eraser (iOS) from Wondershare is more of a dedicated solution for permanently deleting and shredding data from your iPhone. Unlike the first alternative we recommended, Dr.Fone allows you to get deep into third-party apps and remove corresponding content. You can also speed up your iPhone or iPad by running quick cleanup utilities.
It should be kept in mind that Dr.Fone – Data Eraser (iOS) focuses more on data erasure. Because of this, you have more customization features in that department. For instance, you can decide the overall intensity of the iPhone erasing process. This will determine how difficult it becomes to recover data. Nevertheless, we would have loved to see some additional features.
Dr.Fone – Data Eraser (iOS) is also available for Windows and macOS. Read our Dr.Fone Review here.
iFreeUp is another name you must consider if you are looking for a hybrid of a cleaner and data manager for your iPhone device. As a Umate Pro alternative, iFreeUp offers more features that help you maintain your iPhone and not just the storage. For instance, you can use this tool to transfer various media files from your Mac to iPhone.
There are also ways to improve the overall performance of the device. You can again go ahead and transfer a variety of games and apps as you wish. At the same time, there are only a few features as far as data security is concerned. Therefore, we'd recommend iFreeUp only if you are looking for an all-in-one iPhone manager that could erase content.
iFreeUp is available for macOS only.
Conclusion
We believe you found our iMyFone Umate Pro review useful enough. As you can see, even after comparing it with the standard competitors, this Umate Pro iPhone cleaner holds the upper-hand in terms of features and reasonable pricing. In the end, if you are looking for the highest level of protection and privacy, you can't go wrong with this iPhone cleaner utility.
Also Read