What is Passper WinSenior?
Great, now let's get into it. Passper WinSenior is a Windows program that helps you quickly recover your Windows user account passwords. Apart from password recovery, WinSenior is a toolkit with other features, such as user account creation and deletion, without logging in.
WinSenior is a product of Passper, a subsidiary of iMyFone Technology Co. Ltd. It is a paid software that also distributes a free trial version. Google search results contain tons of Windows password recovery software, and Passper WinSenior is one of the best Windows Password Recovery Tools. Also, it is worth mentioning that this utility has the highest password recovery success rate of all Windows password reset tools.
Who Should Get It?
Passper WinSenior is an all-in-one tool that does more than mere password recovery. However, recovering your computer password is at the core of its functions.
Every Windows machine user has, at a point, lost their passwords. To prevent getting caught unprepared, it is essential that you have a password recovery solution. Still not sure if this tool is for you? Keep reading this Passper WinSenior review.
Is Passper WinSenior Safe?
Yes, Passper WinSenior is safe to use on your Windows PC. As explained under the features, Passper WinSenior does not delete any data in the password recovery operation or any other process. Also, the service does not involve collecting or storing your data and not giving it to an unauthorized party.
Is Passper WinSenior Free?
Passper WinSenior is free. However, it allows you to upgrade to the paid version. The Passper WinSenior free download version gives you access to every feature on the paid version, bar with some limitations.
Does Passper WinSenior Work? Hands-on Testing
In this Passper WinSenior review, we will perform critical tests for you to see Passper WinSenior in action. We are testing the four most crucial procedures that this fantastic tool is all about. Below, you will find detailed tests conducted with Passper WinSenior on regular Windows computers. These are the functions that you will find yourself using most of the time.
1. Reset Windows Password
Password recovery is the primary function of Passper WinSenior, and we'll test this software to see how well it holds up in this critical area. For this password recovery test, we got an HP laptop running on Windows 10. Then, on the machine, we created an Administrator user account, and then followed the step-by-step guide on the official WinSenior site in an attempt to recover its password. We had a Windows password reset media creation tool in hand, because other tools we have tested required that we have a separate software to create the Windows password reset disk; however, Passper WinSenior had everything covered. During the password recovery process, it helped us create the password reset media in just 3 clicks. This was a welcome surprise and a big positive.
We have tried Windows password recovery with other alternatives to Passper WinSenior, but while all the other tools recovered with some data loss, WinSenior had all my files intact. I expected that in the course of the recovery, I would lose a few pictures or some of my settings. Another observation was in terms of speed. It was not the quickest we've seen by a mile, but on average, you can't get much faster recovery from a software.
2. Remove Windows Password
The removal of Windows password is different from the first test, which was password recovery. Passper WinSenior lets you create a Windows user account even when you cannot log into the Windows OS. How did we make this feature work? Pretty simple – I launched the program from a media without unlocking the Windows machine.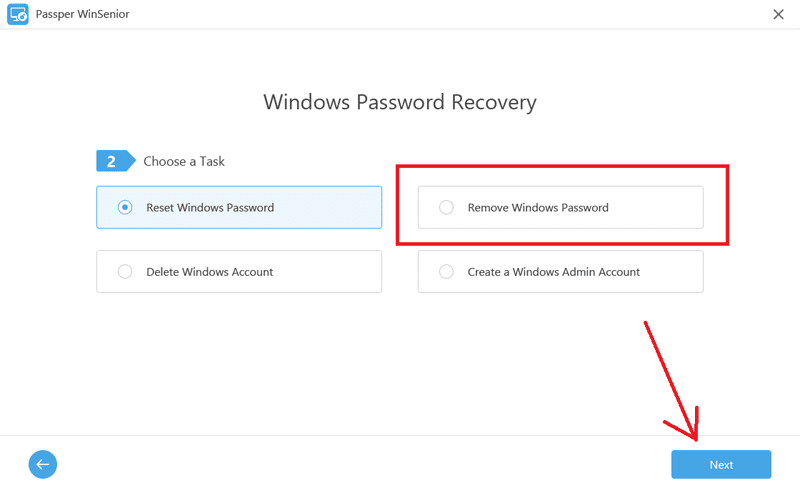 Next, from the program interface, there are options for other interesting operations this awesome toolkit can execute, and one of these features is the Windows password removal service. On clicking the button to commence the password removal, I was asked to reboot my system, and by the time the computer loaded, the Windows user account password was gone. Continue reading this Passper WinSenior review to see our other tests on deleting and creating Windows Admin user accounts from the logon screen.
3. Delete Windows Account
Similar to password deleting, Windows user account removal comes with Windows password recovery like bread and butter. If a user has no access to their PC, they can simply create another Administrator password, use the account to log into the newly created account and get access to Windows. Also, apart from the access to your Windows environment, when you are in, you can then work on the user account for which you forgot its password.
Deleting a Windows user account using Passper WinSenior is surprisingly straightforward, given its immense usefulness. Unlike the other tests we performed, Windows user account deletion is tricky because you can make a mistake and cause more severe problems. Like the other tests, we deleted a user account we created before starting the test, and it went flawlessly. The next test is the opposite of user account deletion, and that is when we attempted to create a new Windows Admin account using this tool. Read on.
4. Create a Windows Admin Account
Let's say there was no option of retrieving your Windows user account; what would be the best solution for you? If you have access to the Windows system, the best thing is to create a new Windows user account, and this can be either an Admin account or a local user account. Now, how about if it so happens that you have no way to log into Windows? Passper WinSenior is the answer to this challenge, at least, so they claim. We did a test to confirm if it's all a bluff or if you can really create an Admin user account without logging into Windows. For this test, we created an Administrator account.
How did it go? I think creating a Windows Admin account without logging into the computer is an underrated feature; even more important than deleting a Windows user account or deleting an account's password.
Where to Download Passper WinSenior?
For Passper WinSenior free download, you have an advantage. What I advise is that you start by downloading the free trial version from their official website. Then, use it and when you are convinced that you like the tool and want to upgrade to the paid version, then from the above page, click "Buy Now" and start recovering passwords right away. To install this tool, download the setup file (.EXE) and click "Install." From there, the steps are straightforward. All you need to do is hit "Next" until the last step, where you click "Finish." If you begin the installation, you would realize that you wouldn't need any installation guide to use it.
Reasons Behind Our Reviews & Ratings
Effectiveness: 4.5/5
WinSenior passed all our tests as expected. If it's so great, why not a 5/5? This utility was passed through the password recovery tests, and it performed flawlessly. However, WinSenior is more than just a Windows password reset tool, so we could not check all the other features adequately, hence the 4.5/5 rating. For Administrator or local Window user account recovery, you are in safe hands with Passper WinSenior.
Price: 4/5
For just $29.95 monthly, you can get the full version of Passper WinSenior. To go even cheaper, you can go for the yearly plan, which costs just $39.95. By paying the meager sum of $59.95, you get this fantastic toolkit for life.
Compared to other similar tools, you will discover that Passper WinSenior gives you a bang for your buck even the free trial version is most times sufficient for a little unlocking or recovery operation.
Ease of Use: 5/5
We found this tool incredibly easy to navigate and work with. At every step of the way that seemed awkward, there are on-screen tips to make the job a bit easier. Buttons are located in easy-to-reach areas. Also, I keep hammering the fact that you need no additional software for other related operations like creating/deleting Admin and local Windows user accounts without login. Also, throughout the process, the program guides you and even allows you to create a Windows password reset media straight from the interface.
Support: 4.5/5
Their customer service team responds to email inquiries and complaints within a day or two. We emailed them regarding the Windows password recovery tests we conducted and got a fast response, as usual. However, I think the reply to our inquiry was a little vague; overall, there's nothing much to complain about.
Answers to challenges you might be experiencing are contained on the page. However, if you need further assistance with anything, simply click the "Contact Us" button revealed on the right of the screen and shoot them an email. As mentioned earlier, it only takes a couple of hours for their team to respond. Also, I must admit, they seemed to be very knowledgeable about their software.
Alternatives to Passper WinSenior (Paid & Free)
1. iSunshare Windows Password Genius
First on the list, iSunshare Windows Password Genius is a worthy alternative to Passper WinSenior, that does its job efficiently. This program guarantees that you regain access to your Windows computer, and it works on all the major Windows operating system versions with little or no compatibility issues. iSunshare is powerful and helps you also to remove or recover forgotten Administrator passwords and even Microsoft passwords. I would go into a more in-depth explanation of why I love iSunshare, but this is a Passper WinSenior review; I won't stray. We also have a detailed review of iSunshare Windows Password Genius here.
2. Spower Windows Password Reset
Another challenger for the title of Best Windows Password Recovery Tool is Spower Windows Password Reset. This tool is terrific and a robust solution that does more than reset passwords. Spower Windows Password Reset is what I like to call the ultimate password recovery utility, and it also works with all Windows versions. First, with most other password recovery tools, you need to acquire additional software or service to create a Windows password reset disk. Spower allows you to create this recovery media right from the program itself, and that's a huge plus. It works on all versions of Windows. You can also read our Spower Windows Password Reset review here.
Conclusion
This was a brief Passper WinSenior review, and the purpose of this piece is to clear up any doubts or questions you might have about this software. Is it safe? Yes. Is it for me? Probably yes. The alternatives we highlighted here (Spower Windows Password Reset and iSunshare Windows Password Genius) are also solid options if Passper WinSenior does not sit well with you. If you find any info here confusing or inaccurate, kindly call my attention to it in the comments.