Quick Summary of iMyFone Fixppo Review
iMyFone Fixppo is an iOS system recovery program that works to fix any iOS device or system problems at home so that you won't need to pay to take it to a technical specialist. Fixing issues like update failures, white or black screens of death, and freezing, you can quickly get your iPhone or iPad back in working condition.
iMyFone Fixppo iOS System Recovery also works without losing your precious data. This will allow you to use the iOS system without worrying about your personal information or data getting deleted or lost. iMyFone Fixppo is secure and easy to use, but it also comes with sufficient customer support for those who may need assistance with the program.
The iMyFone Fixppo download is available for a free trial version and a paid version. The free version does come with some limitations with what you can do, but the paid version has no limitations and allows you to perform any of the fixes needed for your iOS device. Multiple plans are available for purchase, so whether you need it for only one device or multiple devices, you can have the program for as long as you need it.
What I Like(Pros):
Free trial version is available for download, and paid version available for purchase
30-day money-back guarantee
Supports all iOS versions and devices
Doesn't require any technical knowledge to use
Doesn't lose or delete any of your data
Repairs iOS system with only three simple steps
Comes with great customer support
What I Don't Like(Cons):
The free version has some limitations for use
The advanced mode could cause data loss
The time for recovery can take a while
What is iMyFone Fixppo
iMyFone Fixppo is a recovery program designed for iOS systems and devices. It fixes iOS issues that can happen with these devices, like freezing, update failure, restore failure, boot loop, getting stuck on the Apple logo, getting stuck in recovery mode, and many other issues you may experience. There are two standard modes available for use that won't cause data loss.
With the Fixppo, you can enter and exit Recovery Mode without needing to operate your iOS device, bypass any iTunes errors, and downgrade your iOS version if you aren't happy with the new update all without needing a jailbreak. You can also use the advanced mode to fix tougher issues, however, using this mode will cause your data to be erased. So, this mode should be used in rare cases.
Who Should Get It?
Because there are many things that could go wrong with an iOS device or system update, everyone that has an iPhone, iPad, or other iOS device will want to purchase this fast solution. iMyFone Fixppo can fix a multitude of device and system issues, which will be useful for many situations, and won't cause data loss with standard mode.
Having iMyFone Fixppo will let you quickly solve any problems with your iOS devices and keep you from having to pay a technical specialist to figure out what is wrong. This will save you lots of money and will not stop you from using your iPhone or other iOS device when you need it. Fixppo works fairly quickly, so having it will keep you using your iOS device whenever you want.
Is iMyFone Fixppo Safe?
Knowing all of the different things that this program can do may get you thinking, is iMyFone Fixppo safe? Well, not to worry. Fixppo is 100% secure and won't erase any of your data in standard mode. Although the advanced mode will erase your data, this is not the mode that you will typically need to use, and would be a worst-case scenario.
The standard mode won't erase data and will work to recover your device and fix any iOS issues that it is having. Whether the issue is with an update, or you simply want to downgrade from the newest update because you like the last version better, you can do it safely with the iMyFone Fixppo.
Is iMyFone Fixppo Free?
There is a free iMyFone Fixppo trial version that lets you have some limited access to the system's problem-solving capabilities, but the full version is not free. The purchased version has three different options for purchase that will work with any budget. There is a 1-month plan that allows 1-month use for a single iOS device, a 1-year plan for a single device, and a lifetime plan for multiple devices.
The 1-month plan is $29.95, the 1-year plan is $39.95, and the lifetime plane ranges from $49.95 to $299.95 depending on the number of devices you want to use the program on. The $299.95 option will cover an unlimited amount of devices and is a great option for businesses that want all their employee to use the iMyFone Fixppo for their devices.
Does iMyFone Fixppo Work? Hands-on Testings
All these claims seem wonderful, but you are probably wondering: does iMyFone Fixppo work? Well, because of our hands-on tests, we have found that iMyFone Fixppo does actually do what it claims to. With the ability to fix iOS device problems, you can use Fixppo to solve whatever issue your device is having.
As part of our iMyFone Fixppo review, we used the program to see how effective and easy it is to use. We also went through the different steps of use so you know what to expect when you use this program yourself.
1. Choose the Repair Mode
When you are ready to use iMyFone Fixppo for the first time, you will first need to start it up. Download Fixppo on your computer and install it. Then, you will need to connect your iOS device to the computer and click on the "Next" button on the bottom of the screen to begin.
You'll see a screen that has three mode buttons on it. These three options will be the "Standard Mode," "Advanced Mode," and "Enter/Exit Recovery Mode." For most fixes, you will be using the standard mode. This will be the option you choose if you are looking to do any of these fixes: white or black screen of death, iTunes errors, freezing, stuck on Apple logo, stuck in recovery mode, boot loops, iPhone won't turn on, Apple TV issues, restore failure, update failure, stuck in spinning circle.
2. Put Your Phone in DFU Mode
The interface will then show you a screen that tells you that you must put your iOS device in DFU mode to move forward if your device cannot be detected. If you don't know how then you'll see instructions on the screen that tell you exactly how to do it.
To put your iPhone in DFU mode, you will hold down the Side button and the Home button at the same time for about 10 seconds. Then, you will let go of the side button while still pressing down on the Home button for at least five more seconds. When your phone successfully enters DFU mode, iMyFone Fixppo will move onto the next step immediately. If not, repeat the steps more precisely.
3. Download the Firmware
After you enter DFU mode, you will see a screen that tells you to download firmware for your iOS device. The screen will have a text box where you will type in the device model of your phone. Next to it, there will be a dropdown tab that allows you to choose from firmware options if there is more than one. Once you choose the firmware option, you will click the "Download" button on the bottom of the screen.
If there are multiple options for firmware, you will want to choose the one that is the same year as your device's iOS version. If you choose an older firmware option than your iOS version, the fix might fail.
4. Fix Your Device
Now, Fixppo will begin the process of fixing your iOS device. You will see your device model and firmware option displayed on the screen. Underneath this display, you will find the "Start" button.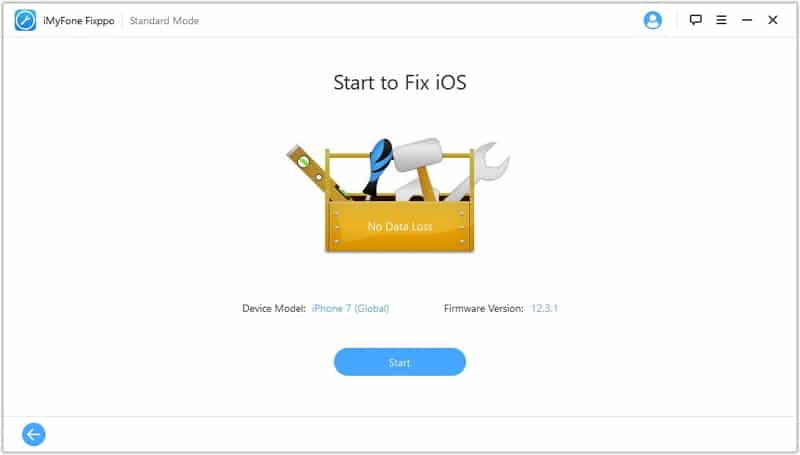 Click this button to begin the fix. Fixppo will start fixing the issues, which will not require anything from you, and this step will likely take a few minutes.
Once the process has finished, you will want to restart your iPhone. iMyFone Fixppo should have your iPhone start up normally. If the problem is still there, you can choose to start the process again with either the Advanced Mode or Enter/Exit Recovery Mode.
If you choose to use Advanced Mode, the steps are the same except that you will choose the "Advanced Mode" button when selecting a repair mode. However, this mode will cause you to lose data, so you should back up your iPhone data before going this route.
If you choose to use the "Enter/Exit Recovery Mode," then you will need to connect your phone and click the "Enter Recovery Mode" button on the screen. Then, click the "Next" button on the bottom of the screen. You'll see a screen that shows you have entered into recovery mode successfully. Then, you will click on the "Exit Recovery Mode" button.
Once you have exited the Recovery Mode successfully, you will see a notification on the screen that shows you have exited.
Reasons Behind Our Reviews & Ratings
1. Effectiveness(4.4/5)
The effectiveness of iMyFone Fixppo is high because of its ability to fix a large number of iOS device issues. This program works great in fixing iPhone that are stuck in certain modes, ones with a white or black screen of death, and updates or restore failures. The easy selection of modes to choose from and the ability to be used on all iOS devices makes Fixppo very effective.
2. Price(4.5/5)
The price of iMyFone Fixppo is one that works for many different budgets. The lowest-priced plan is only $29.95, which is a great deal for the number of problems that this program can fix. Also, for only ten dollars more, you can get the one-year plan that allows you to use this program for an entire year for a single device.
There is also a lifetime plan that allows you to choose the number of devices that Fixppo can be used for. This is a great option for businesses or corporations that will have multiple people's devices to use the program.
3. Ease of Use(4.3/5)
The Fixppo only takes a few easy steps to use, and as we walked you through them in our hands-on testing, you saw that the process is not difficult. With instructions on the screen to follow, and the steps laid out in this Fixppo review, you will likely have no problems with using this program. It was made to be used by the average person who does not have any professional technical knowledge, so anyone should have an easy time with it.
4. Support(4.2/5)
If you do happen to have any trouble with iMyFone Fixppo and need some help, there are many ways to contact the company to receive assistance. First, you can look up the most common questions about the program to see if a small iOS issue can be fixed easily by looking through the FAQs page. If you would rather have direct contact, you can leave an email for customer service to get back to you or use the live chat.
The live chat will allow you to speak with a support representative who can help you through any issues immediately. This is the quickest way to get your problem solved, so if you are experiencing an issue in the middle of using the program, this can be used for an immediate response.
Where to Download iMyFone Fixppo
If you want to be able to download iMyFone Fixppo iOS system recovery, you will need to go to the official website. There, you will find a button for the free trial version and the paid version options. If you want to purchase a paid version, you will be directed to a page where you will see the different options. Once you select the option you want, you will enter your payment information and be able to download that version.
Alternatives to iMyFone Fixppo
1. Tenorshare ReiBoot
Tenorshare ReiBoot is an iOS system recovery tool that fixes many problems that can occur with iOS devices. With this program, you will be able to stop your device from freezing to failing to update. This program also works without losing data, so it is safe to use on a personal and private device.
Like iMyFone Fixppo, Tenorshare Reiboot also has a free option and a paid version for use. The free option comes with the ability to enter and exit Recovery Mode, but nothing else. If you want the full scope of capabilities, you can get that by purchasing one of the paid version options. However, with the lowest price option being $29.95, this is not the best choice for single users who don't expect to use it for very long. Read our complete Tenorshare ReiBoot review here.
2. dr.fone – System Repair (iOS System Recovery)
The dr.fone – System Repair (iOS) program is a system recovery option for those who need to fix iOS devices. This program can help fix issues like boot loop, sticking on the Apple logo, and many others. Like Fixppo, this program also fixes iOS device issues without losing any of your data. The process of recovery is easy for a customer to use and can be done with little technical knowledge or experience.
However, unlike Fixppo, this program only has two modes of recovery. The first is the Standard Mode, and the second is the Advanced Mode. The pricing for this program is higher than the iMyFone Fixppo, but it does offer options for multiple devices for even the one-month plans. It also has a business license option for multiple devices for corporations and small businesses as well.
3. Joyoshare UltFix
Joyoshare UltFix is an alternative to Fixppo that can fix iOS device issues safely and without any data loss. This program offers solutions for over 30 problems, and also has an Enter/Exit Recovery Mode like the Fixppo.
However, unlike iMyFone Fixppo program, this option has no 1-month plan choice for users to pick. They start with a single license option that is for lifetime support and updates. This option is $39.95, which is more than the 1-month plan for the Fixppo and may be too expensive for users that don't see themselves using it often.
Conclusion
Looking at the overall success of the iMyFone Fixppo, there are so many great uses for this system recovery. Whether you have an iPhone that is stuck, freezing, or not turning on, you can fix it with iMyFone Fixppo in only three simple steps. With the effectiveness and ease of use, I would fully recommend Fixppo for anyone who needs to fix an issue with an iOS device.
With different paid version options to choose from that will work with a tight budget, customers can get the solution that they need for less than other alternatives and be able to get back to more important things. Overall, I highly recommended iMyFone Fixppo.