Many great Excel password recovery tools are available for recovering forgotten passwords. Each tool comes with its own set of algorithms and features, so it's important to find the one that works best for your needs.
In this article, I have compiled a list of the best Excel password recovery software I tested thoroughly to ensure their functionality. I also provided a breakdown of their unique features, pricing, and system compatibility so you can choose the one that suits you the best.
What Is Excel Password Recovery Software?
To understand what Excel password recovery tools do, let's first understand how Excel files are encrypted and locked. Generally, there are multiple types of protection within Microsoft Excel, including file-level, worksheet-level, and workbook-level protections.
File-level encryption: With this type of encryption, a password must be entered before opening the Excel file.
Worksheet-level encryption: Unlike previous encryption, the Excel file can be opened without a password. However, you won't be able to modify, move, rename, or delete any elements in the worksheet without the password.
Workbook-level encryption: Workbook-level encryption requires a password to modify the workbook's structure, such as adding or removing worksheets.
An Excel password recovery tool uses various algorithms and attacks to unlock your encrypted Excel file. The tool compares each password from its library against the locked Excel file until it hits the correct one and unlocks it for you.
Every tool has its own efficient algorithms and libraries with intelligent password suggestions that make it stand out from others. And that's what I am going to highlight in the following section.
Top 10 Best Excel Password Recovery Tools
I've tested and reviewed more than 20 Excel password recovery tools to bring you the 10 best for recovering your password and regaining access to your important Excel files.
1. PassFab for Excel
Best for: Narrowing down your search with a triple-layered attack
Price: 1-Month License: $15.95, 1-Year License: $19.95, Lifetime License: $39.95
When it comes to the best Excel password recovery software, PassFab for Excel stands out as one of the top options to consider. With a 100% success rate, this Excel password remover software can crack almost any password on your files. It's super fast and effective, using three different password attack types and the latest decryption technology to provide impeccable results. It works on almost any format of Excel file, going back to Excel 97 and including the most recent version.
The Dictionary attack lets you add all the possible passwords in a Txt file and import them into the tool. The Brute-force attack tries every possible combination within a given range or length. The Mask attack lets you try all possible combinations if you can't remember any details about your password.
PassFab for Excel's user interface is very straightforward. The three-step recovery process made it even simpler, which helped me retrieve the lost password and re-access my Excel file quickly. I only had to import the locked file, select an attack mode, and click Recover.
Pros:
User-friendly and straightforward to understand
Recover Excel password using one of three attack processes
Works with any Excel file, even very old files
Rapid results and a 100% success rate
The user guide on the website will walk you through all of the necessary recovery steps
Cons:
Free trial has some features locked
2. iSunshare Excel Password Genius
Best for: Users who want to recover passwords as quickly as possible
Price: Lifetime license: $29.95
iSunshare Excel Password Genius is another great option for people who want the best Excel password recovery software. This highly professional and reliable tool is designed to recover lost and forgotten passwords for any .xls or .xlsx Excel file. It offers four different password recovery modes and features a smart recovery algorithm that is designed to choose the best attack method and get the most rapid results every time.
iSunshare Excel Password Genius is one of the fastest password recovery services on the market because it utilizes multiprocessor systems and multi-core CPUs, significantly increasing the recovery speed.
Pros:
It works with any Excel file, including encrypted XLS files.
Proof works with both Intel and AMD processors.
Autosaves your recovery progress
Four options for recovery are available: Normal, Mask, Dictionary, and Smart.
Cons:
Only works with a password to open
3. Passper for Excel
Best for: The user-friendly interface
Price: 1-Month License: $19.95, 1-Year License: $29.95, Lifetime License: $49.95
Boasting a 95% success rate, Passper for Excel is another reliable, highly-rated Excel password recovery tool you can use to crack passwords on any Excel worksheet or workbook. It runs on Windows (from Vista through to Windows 10). It features four different attack modes in total, including Dictionary, Combination, Mask, and Brute Force, guaranteed to get you the best results and crack any password, regardless of length or complexity. This app is also super fast, so you won't need to wait too long to access your files and start working once again.
You can choose between 'Recover Password' and 'Remove Restrictions,' depending on your needs. If you need to recover your forgotten password, Recover Password will do the job quickly and easily.
On the other hand, if you're looking for a way to access your spreadsheet without the restrictions, the Remove Restrictions option lets you create a duplicate of your original file but without any unwanted restrictions.
With support for both multi-core CPUs and GPU acceleration, this tool significantly speeds up the recovery process. Plus, it's compatible with Excel versions ranging from 2003 to 2019.
Passper may be on the pricey side compared to other options. Still, it's worth considering if you're looking for a comprehensive Excel unlocking solution.
Pros:
Four powerful attack modes, including brute-force, mask, dictionary, and combination attacks.
A 95% decryption rate is guaranteed
Remove all restrictions with one click
Very rapid to help you get results and get on with your work in no time at all
Really easy to use – crack passwords in a single click
Cons:
Slightly more expensive than some alternatives on the market
4. Passware Excel Key
Best for: All Excel file types
Price: Single-use license: $19, Full license: $39
Passware Excel Key is one of the most highly-rated password recovery tools on the market, and it's simple to use. It can handle passwords of any length with a robust suite of six recovery attacks, including Brute Force, Xieve, Dictionary, Mask, Known Password, and Previous Password.
Even better, it supports the latest versions of Excel and older file extensions, such as .xls. This means that no matter which version your locked file is in, Passware Excel Key can handle it.
I also appreciate the built-in libraries, the ability to add custom dictionaries, as well as support for multilingual passwords. Not to mention, The step-by-step Wizard guides you through the password recovery settings, making it easy for anyone to use.
In short, Passware Excel Key is a valuable asset for personal and professional use because of its efficient performance and range of features.
Pros:
Six powerful attack options to suit all password complexities
Supports various Excel file types, including .xls and .xlsx
Built-in dictionaries and multilingual password support
Cons:
Lacks a full free trial mode
Customer support can sometimes be slow to respond
5. eSoftTools Excel Password Recovery Tool
Best for: The lightning-fast algorithm
Price: Personal license: $19, Corporate license: $49, Technician license: $89, Enterprise license: $169
eSoftTools Excel Password Recovery Tool offers optimized algorithms and libraries to ensure lightning-fast password recovery. And it lives up to that promise.
It also supports multiple attack types, including Dictionary, Mask, and Brute force attacks.
One of the standout features of this tool is its ability to recover passwords for both Word and MS Access files. It also logs all the passwords it successfully recovers, making it easy to find your retrieved password without sifting through endless possibilities.
This tool has four different editions, including a personal license, business license, technician license, and enterprise license. The prices vary depending on the type of license and whether you want to use it for personal or business purposes.
Pros:
Lightning-fast algorithm
Also recovers passwords for Word and MS Access files
Logs all successfully recovered passwords
Cons:
The Demo version will only show the first 3-character of the password
Doesn't always work with very old Excel files
6. Excel Password Recovery Lastic
Best for: Older versions of Excel File
Price: $25.95
If you're looking for a tool with additional support for older versions of Excel files, then Excel Password Recovery Lastic is a solid option. Its quick recovery time and ability to remove multiple passwords at once make it a worthy investment.
Plus, it connects you to a powerful password server to crack opening passwords for older versions of Excel, such as 97/2000/2003.
Overall, Excel Password Recovery Lastic is a reliable tool. Still, the inability to customize password attack options and the requirement of decryption credits may be discouraging for some users.
Pros:
Automatically searches for password-protected Excel files
The ability to set a password to the program itself for added security
Cons:
Less customizable password attack options compared to other tools on this list
7. SysTools Excel Password Recovery
Best for: Batch recovery
Price: Free demo version, Full version: $49
SysTools Excel Password Recovery is a powerful tool that can help you recover your lost Excel passwords in just a few minutes. It supports multiple languages and has a fast recovery algorithm. Additionally, the tool can also remove passwords from multiple files simultaneously.
However, remember that not all file extensions are supported, such as .xlsm.
Still, it's a reliable tool with a user-friendly interface. Plus, it offers a free demo version, so you can try it out before committing to the full version.
Pros:
The simultaneous removal of passwords from multiple files
Multilingual cracking and retrieval of passwords
Zero limitations on file size
Works with multilingual and complicated coded passwords
Cons:
Not all file extensions are supported, such as .xlsm
Slightly more expensive than other programs
8. Accent OFFICE Password Recovery
Best for: The speedy search for Excel passwords
Price: Free limited demo version, Basic license: $60, Standard license: $120, Professional license: $200, Ultimate license: $350
Not only does Accent OFFICE Password Recovery support Excel passwords, but it also supports the entire Microsoft Office package. Plus, when it comes to Excel, it has a fast search algorithm that can quickly recover your lost password.
This tool also supports OpenOffice/LibreOffice files and has a low-key, easy-to-navigate interface. It has GPU acceleration support for AMD and NVIDIA graphics cards for even faster recovery times.
While the pricing for this tool may be a bit on the higher end, its fast password-searching capabilities make it worth considering if you need a tool for professional use.
Pros:
Supports the entire Microsoft Office package
Easy-to-use interface
Speedy searching algorithm for Excel password recovery
Cons:
Higher pricing compared to other tools on this list
Doesn't always work with older Excel files
9. Excel Password Recovery Master
Best for: It's cloud-based decipher technology
Price: Free
One of the unique features of Excel Password Recovery Master is the cloud-based decipher technology. This allows for quick password retrieval, especially for longer and more complex passwords.
Plus, it has a one-click password recovery process that makes it easy to use. It also supports the major types of Excel passwords, including a password to open and modify, worksheet passwords, workbook passwords, shared workbook passwords, and VBA project passwords.
The only downside is that it doesn't specify what type of attack it uses to crack the password, except for the word "Hi-Tech." Nevertheless, this tool is a reliable option for quickly recovering.
Pros:
Cloud-based decipher technology for quick password retrieval
One-click password recovery process
Supports all major types of Excel passwords
Cons:
Doesn't specify the type of attack used for password cracking
10. Password-Find Online Password Remover
Best for: Recovering passwords without software installation
Price: License to remove password:$24.95, License to find password:$49.95
If you need to remove or find an Excel password without downloading software, Password-Find Online Password Remover is the best online tool available.
All you have to do is upload your file onto the website and wait for it to process. It even has a higher success rate for older versions of Excel.
Plus, the process is quick, and the output will be ready in just a few minutes. And once it's successful, the password will be obliterated, and you'll be provided with an open file. The file will also be automatically deleted from the server after 24 hours for added security.
The only limitation is that you can't upload a file larger than 20MB. Overall, this tool is a convenient and efficient solution for quickly removing Excel passwords.
Pros:
No software installation is needed
Quick processing time
Cons:
Cannot upload files larger than 20MB
Doesn't always work with .xlsx files
How to Recover Excel Password
With multiple options available, it can be difficult to decide how to recover your forgotten Excel password. Here are some options you can try:
Option 1. Using An Excel Password Recovery Tool
To quickly and efficiently recover your Excel password, a specialized tool can be the way to go. Many of these tools offer speedy searching algorithms or even cloud-based technology for quick retrieval.
One of the reliable options is PassFab for Excel, and the process you'll need to follow is very simple:
Download and install PassFab for Excel on your computer.
Open the software and choose the method you'd like to use for password recovery.
Click on the "Add" button to add your Excel file and select an attack type to use.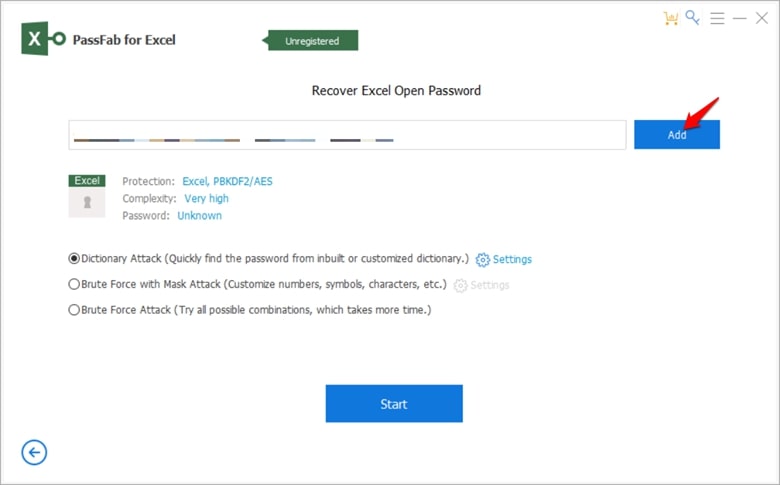 Click "Recover" and wait for the software to retrieve your password.
Once it's retrieved, you can open your Excel file with the recovered password.
Note: You'll need to purchase this tool in order to display the password.
Option 2. Using Excel Password Recovery Online
If you don't want to download and install software, an online Excel password recovery tool can be a convenient alternative. One of the reliable choices is Password-Find Online Password Remover. Here's how it works:
Go to the Password-Find website.
Click on the "Unprotect your file" button to upload your Excel file onto the website (note that it can't be larger than 20MB).
Choose the method you prefer to find or remove the password.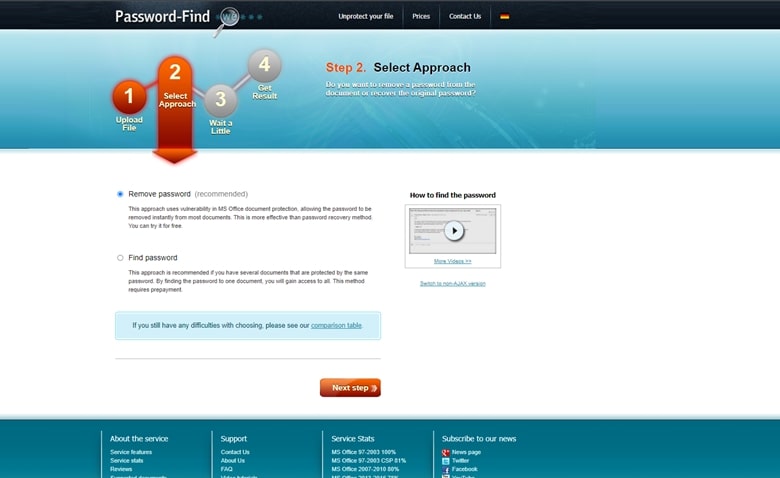 If you choose to remove the password, you'll just wait for a few minutes for it to process and provide you with an open file.
If you choose to find the password, it's expected to take longer, and you'll be provided with the password once it's successful.
Option 3. Using VBA Code
If you're feeling a bit tech-savvy, using VBA code is another option for recovering your Excel password. Here's how it works:
Open the Visual Basic Editor by pressing Alt+F11.
Once in VBA, click on the Insert option and select Module from the menu.
Copy and paste the following code into the module:
Sub BreakPassword()
Dim i As Integer, j As Integer, k As Integer
Dim l As Integer, m As Integer, n As Integer
Dim i1 As Integer, i2 As Integer, i3 As Integer
Dim i4 As Integer, i5 As Integer, i6 As Integer
On Error Resume Next
For i = 65 To 66: For j = 65 To 66: For k = 65 To 66
For l = 65 To 66: For m = 65 To 66: For i1 = 65 To 66
For i2 = 65 To 66: For i3 = 65 To 66: For i4 = 65 To 66
For i5 = 65 To 66: For i6 = 65 To 66: For n = 32 To 126
ActiveSheet.Unprotect Chr (i) & Chr (j) & Chr (k) & _
Chr (l) & Chr (m) & Chr (i1) & Chr (i2) & Chr (i3) & _
Chr (i4) & Chr(i5) & Chr(i6) & Chr(n)
If ActiveSheet.ProtectContents = False Then
Exit Sub
End If
Next: Next: Next: Next: Next: Next
Next: Next: Next: Next: Next: Next
End Sub
Press F5 to run the code.
The password should be broken, and you'll now have access to your Excel sheet.
Option 4. Using Zip
This method may not be as efficient as the previously mentioned options, but it's worth a try. Here's how it works:
Rename your Excel file to a .zip file
Use a zip program like WinZip or WinRAR to open the file.
Once inside the zip folder, you'll see a folder labelled "xl."
Inside the "xl" folder, open the "worksheets" folder.
You'll see XML documents named "sheet1," "sheet2," etc.
Right-click on one of these sheets and select "open with", then select Notepad.
Press Ctrl+F to open the search function and search for the word "protect."
This should lead you to a line that includes <sheetProtect…>
Delete the entire line, including <sheetProtect…..SelectUnlockedCells="1"/> and save your changes.
Close the XML document, go back to your zip program, and convert the file into an Excel workbook.
Your Excel file should now be unprotected, and you'll have access without a password.
Option 5. Using Google Drive
And for the last option, using Google Drive can recover your Excel password. Here's how it works:
Go to your Google Drive, click the "New" button, and choose "Google Sheets."
After creating a new sheet, go to "File" and select "Open."
Choose the option for "Upload" and select your password-protected Excel file.
The file will open in Google Sheets; since it's a different program, the password won't be necessary anymore. You can now save the file as an Excel workbook and access it without the password.
Click "File" and select "Download As", then choose the option for Microsoft Excel.
Frequently Asked Questions About Excel Password Recovery
Can password recovery tools for Excel work for other types of documents?
Depending on the tool, it may work for other document types, such as Word or PowerPoint. Some options that can do so include Accent OFFICE Password Recovery, eSoftTools, and password-find online.
Will my file be compromised in any way by using these methods?
As long as you trust the source of the method (such as a reputable password recovery tool), your file should not be compromised. However, it's always important to be cautious and make a backup before proceeding.
Is it possible for these methods to not work?
Yes, this depends on the tool and the version of the Excel file you want to recover the password for. It's always a good idea to try multiple methods and see what works best in your specific situation.
What if my Excel file is corrupted or damaged?
These methods may not work as they focus on password recovery. It may be necessary to try repairing the Excel file or restoring a previous version.
Is it possible to prevent a password from being forgotten in the future?
It can be helpful to keep track of important passwords in a secure location or use a password manager to help remember them.
Are there any fees or costs associated with using Excel password recovery tools?
It varies by the tool; some may have a one-time fee or subscription model. It's best to compare options and determine which fits your budget and needs.
Conclusion
Now, you have multiple options for recovering your Excel password. This can save you from the frustration of being locked out of important documents and the potential loss of valuable information.
I've tested each tool on this list to ensure that they work effectively, but it's important to remember that password recovery is only sometimes guaranteed. Some passwords may take longer than others to crack due to their complexity.
Overall, with the right tool or method, you can successfully recover your Excel password and regain access to your Excel documents. So give one of these options a try and see what works for you.
Also Read