iPhones users are quite familiar with the low storage space situation on their devices. Due to the high price tag, most people are stuck with a 64GB or 128GB storage variants. So, if you like to install a large number of apps or store your media offline, you will have a congested iPhone for sure. Since you can't expand the storage on your iPhone, the only solution is freeing up space from the device.
While trying to do so, you may notice that iPhone System Storage is way too high and takes up so much space from your device storage. There are instances when system storage on the iPhone consumes up to 10GB or 20GB of storage space. Of course, this is not nice, and you have to clean things up if you want a peaceful iPhone experience again.
But, before we move about it, you should know a few things about what system storage on iPhone means.
What is System Storage on iPhone?
System storage is the space where your iPhone stores two kinds of data: core and temporary system files. In case you didn't guess, core system files are necessary for your iPhone to function. These are the files behind the iOS operating system and built-in applications.
On the other hand, temporary system files are, well, not so crucial for the core functionalities. So, when the core system files section contains necessary software made by Apple, the other part includes system caches, settings, preference logs, data logs, deleted files, cookies, etc.
On any day, system storage on iPhone is a combination of both. As you can already tell, your iPhone cannot function correctly without at least some of these files.
How to Check iPhone System Storage?
It is essential to know the current situation of your iPhone system storage before taking further steps. Don't worry; you can do this without any hassle.
You have to open Settings >> General >> iPhone Storage. On the upcoming screen, you can see a list of apps that you have installed and how much space they are taking up. If you scroll down to the bottom, however, you can see two entries called System. The entry will show how much space they are currently taking up as well.
As we said, these entries could be as low as 8GB or as big as 25GB. This mostly depends on the iPhone model, iOS version, and the usage patterns with the device. In our case, the System storage was less than 8GB, but that might not be the case for many of you.
Unfortunately, iOS doesn't say anything beyond this point. You cannot know which elements constitute the several GBs of System or Other storage.
Why is iPhone System Storage So High?
As we said, System storage on the iPhone can fluctuate according to your usage patterns.
In most cases, your System storage becomes high as you start using your iPhone regularly. As the name says, System storage is constituted by data from system apps, OS components and other elements that make iOS work fine. When these components function, they create temporary files, caches and other data that make device management easier. In a few months or so, these temporary files could be taking up GBs of space on the iPhone.
Besides, files that you download as a part of System management can also cause the System storage to stay high. For instance, if you have downloaded multiple Siri voices or language packs, they will be stored on the system folder itself. If you have done any of these, you don't have to seek other reasons why iPhone system storage is very high.
Another reason why your iPhone system storage is so high could also be an error in iOS. For instance, there was an error in iOS 14 and iPadOS 14 that caused iOS devices to show a miscalculated figure of System and Other storage. Of course, Apple had fixed the bug.
As you can see, there are many reasons why your iPhone system storage could be high. On the bright side, it is possible to fix all these problems simply. So, if these sections seem to be taking more than 10GBs of space from your device, you should look at options to reduce system storage size on the iPhone.
How to Reduce "System" Storage Size on iPhone
Here are a few solutions that you can try to reduce the System storage size on your iPhone. We have sorted them in order of difficulty and impact. We recommend following these steps in the same order.
1. Restart Your iPhone
The first step you can follow to reduce System storage size on iPhone is a normal restart. As we said, System storage consists of elements like caches, temporary files, activity logs, and. When you restart your iPhone, the device will clear/remove many of these elements.
As a result, you can see that the System storage size has become lower. In case you didn't know, frequently restarting your iPhone can help you solve other issues and keep the device snappy. This is because, on top of everything, a restart clears many types of caches from the iPhone.
To restart your iPhone, you can open Settings >> General and select Shut Down. You may wait for a second once the device has turned off. After that, you can hold the power button to turn on your device. You should be able to see some differences when you open iPhone storage again.
By the way, you don't have to worry if you see no noticeable changes.
2. Clean Up System Storage on iPhone with an iPhone Cleaner
Although a restart clears many types of temporary files, some data may remain. Some examples include the Siri voices you have downloaded and temporary files from Safari. To remove these types of data from System storage, you need a professional iPhone cleaner tool.
An iPhone cleaner tool is equipped to help you erase unwanted content from your iPhone. Among many of its features, it can help you get rid of caches and logs that an iPhone restart cannot handle. Needless to say, clearing these files will improve the speed and performance of your iPhone drastically.
But, probably the most significant advantage here is security. Because these iPhone cleaners use carefully-made algorithms, it can effectively choose unwanted files, junk stuff, caches, and remove everything without a trace. So, we recommend using a tool like iMyFone Umate Pro, which is a fully-fledged iPhone eraser and cleaner software.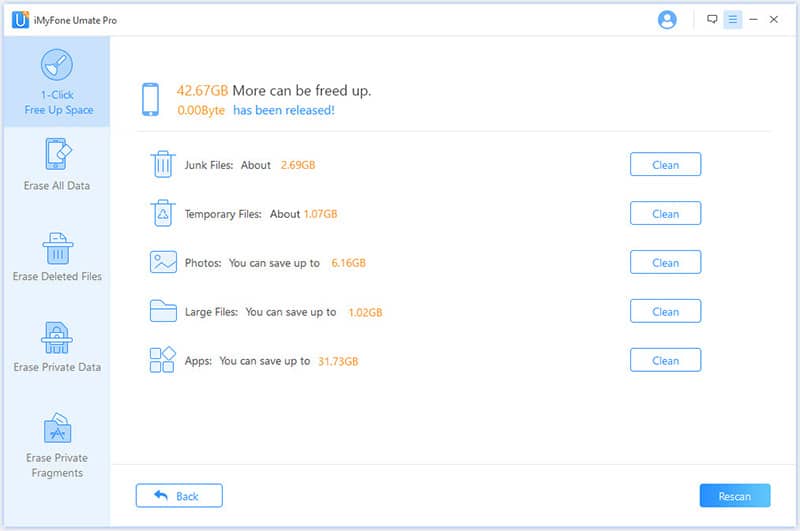 Umate Pro can help you understand which types of junk files are consuming the space on your iPhone. After that, you get to decide the files you want to remove. In addition to junk and temporary files, you can remove apps, large files, and photos. Read iMyFone Umate Pro Review here.
You can do this by connecting your iPhone to a Mac or PC, where you have installed Umate Pro. Once you've finished the cleanup process, you can disconnect the device and check the iPhone Storage space. In most cases, you should see instant results.
3. Reduce iPhone System Storage with iTunes
iTunes may not be a great iPhone manager, but it can do some help in reducing iPhone system storage. First of all, we should say that this isn't a sure-shot method. However, for some unknown reason, following this step using iTunes can reduce the extra space taken up by your iPhone's system storage.
Don't worry; you don't need any level of expertise to use this option.
To make this work, you have to connect the iPhone to a Mac or PC where you can access iTunes. As you may know, the functionality of iTunes is built into the Finder app from macOS Mojave and later. So, regardless of the macOS version that you are using, you can connect your iPhone and launch the iTunes functions.
Once you have connected your iPhone to iTunes, don't do anything. Wait for a few seconds, and you can try opening the Storage analysis section of your device. iTunes should have recalibrated your iPhone's storage systems, and you can see some difference in the size of System storage.
We still do not know why this process works. It is probably due to a storage calculation error in iOS, and that iTunes refreshes everything. Many have said that this method helped them free up space on their iPhone by reducing the System storage size. So, we'd say you should give it a try.
4. Update Your iPhone
Sometimes, software bugs on iOS can cause the System storage section to take up a lot of space. One of such issues happened with iOS 13, the last major release. This issue occurred with both iOS 13 and iPadOS 13.
Of course, Apple has released a patch for this via iOS 13.6. So, if you are using iOS 13 on your iPhone, you've to update it to iOS 13.6 or later. If you want to start completely afresh, you can reset your iPhone before you install the update.
Here's an official support page from Apple that explains the issue and details the process.
5. Follow Apple's Storage Recommendations
Apple understands that its iPhone devices have low storage capacity. As a result, iOS recommends several steps to optimize the storage space. Many of these steps are capable of reducing the System as well as Other storage categories of your iPhone.
You can access this by going to Settings >> General >> iPhone Storage. Right below the diagram, you should be able to see several tips that can optimize your iPhone storage. You have to press Show All to see all the potential steps to free up more space.
You can either Enable certain features or Empty certain sections as a part of these recommendations. Some of the options are Deleting Old Messages, Moving Photos and Videos to iCloud and Reviewing Attachments that you have downloaded via Mail and other apps.
Once you have made these changes, you should restart your iPhone. After this, you should be able to see at least some difference in the size of the Storage section.
6. Erase All Content And Settings
This is more of a final solution that you have at reducing the System storage on an iPhone. You can try this method if the steps we have mentioned above haven't helped you. It would also mean that your iPhone has some software issues. So, a complete reset can help you get things straight.
We recommend choosing the Erase All Content and Settings option by going to Settings >> General >> Reset. This option would completely reset your iPhone, removing everything that you have stored, including your account info.
That is, you would have a like-new iPhone after the reset. This would also clear all sorts of junk, temporary files — even the ones that a dedicated iPhone cleaner cannot remove. Once this is done, you can check the System storage size, and it would be as minimal as possible.
Some General Tips to Keep System Storage Size Down
If you have an iPhone with a huge-sized System storage folder, the steps mentioned above will help you. However, you don't want to follow these steps so often, do you? Instead, you can follow a few tips that can keep the System storage size at a minimum.
You have to keep your iPhone organized in terms of apps. You can uninstall apps that you don't use, which will free up a lot of temporary files and caches. Alternatively, you can use the iOS feature that offloads apps that you don't regularly use.
Make sure that you download only the internal files that you really want. For instance, if you stick to one Siri voice, you don't have to download and store them on your iPhone. Because your iPhone might keep voices in the storage, you will face storage space constraints.
You should make the best use of iCloud if you can afford the extra storage space. Once you've gotten used to it, iCloud becomes a great place where you can store your media and access everything with super-fast speeds. More importantly, it keeps your iPhone internal storage relatively free at all times.
In addition to these, we recommend using a dedicated iPhone cleaner or duplicate file finder once in a while. These apps can not only free up extra space but also improve the longevity of your device by removing the device from under too much pressure.
Conclusion
We believe these methods will help you solve the high System storage issue on your iPhone. You don't have to worry if the first few methods don't work out for you, because the dedicated iPhone cleaner and full data reset will surely solve the issue. This means you can save a fair amount of money that you'd otherwise pay for iCloud.