Quick Summary of iMobie PhoneClean Review
iMobie PhoneClean is a mobile cleaner software for iOS devices, including iPhone, iPad, and iPod. The software is compatible with the latest iOS versions, and you can use it on Windows and Mac.
In this article, we are focusing on reviewing the PhoneClean tool. Our review will reveal more about PhoneClean, discover whether you can use it safely, and where to download it. We performed detailed hands-on testing to discover everything about the performance of the program.
Our team rated iMobie PhoneClean in various areas and offered several alternatives to this tool. If you are still considering whether this is the right program, start reading our review and discover if it is a suitable fit!
What I Like(Pros)
A safe and reliable software
Fast scanning and removal rates
An excellent way of keeping your privacy protected
A convenient method of deleting unnecessary files
What I Don't Like(Cons)
The free trial version comes with some limitations
Icons represent utilities available within the app, which might be confusing at first
What is iMobie PhoneClean
iMobie PhoneClean is an iOS file removal tool focused on protecting your privacy and freeing up unnecessary space on your device. The program will help to get an additional room on your iPhone or iPad, speed up its performance, and improve the user experience when using iOS.
Here is an overview of PhoneClean's main features:
Compatible with the latest iOS versions – at this point, that is iOS 14, but the manufacturer updates the app regularly to ensure compatibility with new system versions.
Remove sensitive information – you can delete privacy-related data and erase it, so it is 100% unrecoverable.
Delete unnecessary files – if you have data or apps that take up unnecessary space, this tool can help delete those files.
Choosing what to delete – you can focus on deleting specific file types, such as privacy, internet, or system-related data. It is also possible to review particular files to confirm which data to keep and remove.
Backup and restore data – for some functions, the software will automatically create backups before erasing sensitive data. You can even use the tool to restore iTunes backups if you delete files you might need.
The software was developed by iMobie, a developer with years of tradition in the industry. The tool is available for both Windows and Mac.
Who Should Get It?
Here are some situations when you could benefit from using iMobie PhoneClean:
You want to remove sensitive files – the tool is excellent for those who want to remove data so there is no way to recover it in the future.
Deleting unnecessary files – if your iPhone is loaded with unnecessary files, this app is a way to discover and remove them quickly.
Wipe the entire device clean – whether you have system issues or have another reason for deleting the entire phone, this tool allows you to do that in a couple of clicks.
PhoneClean is simple to use, which means you don't need any tech knowledge for the tool. However, the software's functions will exceed the expectations of both amateurs and professionals.
Is iMobie PhoneClean Safe?
We tested iMobie PhoneClean with several antivirus and adware tools. None of the apps found anything suspicious, which implies iMobie PhoneClean is safe to use.
It is worth noting that the software isn't prone to crashing. Furthermore, it is fast at operating all functions and delivers consistent results.
Is iMobie PhoneClean Free?
You can try iMobie PhoneClean because the manufacturer offers a free trial for its tool. But if you want to use the software without limitations, you will need to purchase a premium edition.
Here are the details about pricing plans:
A yearly subscription – you will pay $19.99 to use the software for 12 months on a single computer.
Personal license – a lifetime subscription for a single computer will cost you $29.99.
Family license – it allows using the software on up to five PCs and Macs for $39.99. You receive a lifetime license and priority support.
Does iMobie PhoneClean Work? Hands-on Testings
Our iMobie PhoneClean review would be worth nothing if we didn't test the tool. That is why our experts resorted to testing to confirm whether the product delivers everything promised by the developers.
The download and installation process went smoothly. Once we started iMobie PhoneClean, here is how the main interface looked:
As you can see, the device still hasn't been connected. You use a USB cable to connect it. Once the software recognizes it, it will display the following screen:
The device list will be shown on the top, along with the name of your iPhone or iPad. All the functions are at the top menu, too. The central section also offers a fast way to scan the device and look for files to clean.
You can see that there are multiple cleaning variations offered by iMobie PhoneClean. If you want to dive into customizing each utility, it is possible to access settings for a particular device. Pick it from the list of available phones and click on "Settings." The screen will show the current statistics regarding the memory use of the device, and you can customize everything from here.
For example, if you enter "Privacy Clean," you can choose which items the PhoneClean should scan.
iMobie PhoneClean will perform backups before doing "System Clean." That is why it could help to choose the path for saving backups in the "Restore" tab.
Silent Clean
We decided to test each function of the PhoneClean iPhone cleanup tool. It was logical to start with the "Silent Clean" option, which was the first one available in the top menu.
Once we picked it, it brought us to the following screen:
Before we discuss the following steps, let's mention that the active utility always has a marked icon at the top. That makes the entire navigation process easier.
As for the Silent Clean, it allows cleaning junk files remotely. That includes unnecessary files associated with crash logs, artwork caches, photos, and temporary files related to downloading. Make sure to pick the right device and enable silent clean at the bottom of the screen.
The cleaning process will start automatically. PhoneClean by iMobie will detect files suitable for cleaning and remove them immediately.
Once the cleaning is completed, you will notice the following message.
The entire cleaning history is placed at the center part of the screen. You can deactivate the utility or removed history information with a single click.
Quick Clean
Quick Clean is the default function of the iMobie PhoneClean. It is the second from left to right in the top menu. Once you connect the device, you can choose it:
The software will show which files it will search for during the scanning process. You can initiate scanning by pressing the button at the center.
The duration of the process will depend on your device and the number of files. However, iMobie PhoneClean is fast, and it should show you results quickly.
The tool will inform you about the maximum cleanup potential for your device. If you want to speed up the process, click "Clean" immediately. But if you want to be sure you don't delete files you need, review details for each category.
The screen for reviewing details looks like this. Uncheck files you want to save before you initiate cleaning. Once you are ready, the software will resort to removing unnecessary files.
The system confirms the process is successfully finished. It will also let you know the space it freed up on your iOS device.
Internet Clean
The next function available in iMobie PhoneClean top menu is the "Internet Clean." As you will notice, most of these utilities have a similar working process. That simplifies the learning curve and makes the tool user-friendly.
Now, once you pick the option from the top menu, you get the following screen.
It is necessary to connect the device, pick it from available devices at the top, and then choose "Scan." The system will now look for the required data and analyze it.
Internet Clean focuses on browsing histories, webmail caches, and Safari junks. iMobie PhoneClean will show how many items you can wipe up immediately. Review details to ensure you don't delete files you might need.
Once you are ready, click on "Clean" to initiate the process. It will take time to get everything deleted, especially since the PhoneClean will restart your iOS. That is enabled to ensure all data on your phone is refreshed.
You will receive a message that the process was finished successfully.
It is worth noting that Internet Clean, as well as some other functions available in the tool, require you to turn off the "Find My iPhone" feature. You can do that from the "Settings" menu in a couple of clicks, but it is required for completing all cleaning actions in this tool successfully.
Privacy and System Clean
The next available feature is "Privacy Clean," which focuses on message attachments, sensitive data, and secure cleanup.
Sensitive data includes any privacy information on notes, messages, and other files. Secure cleanup allows you to remove files and make them completely unrecoverable. That is recommended for sensitive data since you don't want to risk anyone stealing it.
Unlike that, "System Clean" focused on app leftovers and iOS notifications. Additionally, it can help to optimize the system and remove unused content.
The process is similar to both utilities. PhoneClean will show you a list of files for deletion. You can review details and select specific files. Click on the "Clean" after you are happy with the selection.
The tool will now resort to deleting files, and it will do that as quickly as possible.
Erase Clean
Erase Clean is the function you want to use if you want to wipe everything off your iPhone, iPod, or iPad. That includes removing all contents and even deleted files. It will virtually be as if you have a new iOS device once the process completes.
Before you erase your phone, check out our iMobie AnyTrans review. This tool designed by the same manufacturer allows you to transfer sensitive files to safe before wiping your device clean.
Once you are ready, choose "Erase Clean" from the top menu, connect your device and click on "Erase Now."
iMobie PhoneClean understands the importance of your data. That is why it will backup files automatically before deleting them. You don't have to do anything but be patient until the tool completes all steps.
After analyzing your device, the erasing process will begin.
The duration depends on many factors, including your device and computer specifics. Make sure to keep the iPhone or iPad connected during the process.
The final step involves restarting your iPad so that you can use it again.
Finally, you should receive a message that the iMobie PhoneClean erased your device. You will need to program it from the start, but this can be a way of accelerating and resolving issues with your iPhone.
Toolbox
The Toolbox allows you to clean specific items, including contacts, notes, calendar items, media, apps, and photos. Once a device is connected, the main screen looks like this:
From here, you can select the types of files you want to scan. For example, if you pick "Note Clean," the tool will look for all notes on your device.
From here, it should be easy to delete unwanted notes. Tick the boxes in front of them and finalize the process by confirming the deletion. Depending on the type you choose, you have different functions available. For example, you can merge duplicate contacts with a single click, or repair media.
Although it is not the most comprehensive iPhone management tool, Toolbox is a useful addition to iMobie PhoneClean.
Restore Backups
The final utility offered by PhoneClean for iPhone is restoring backups. If you accidentally delete a file you need, this feature can help to recover that data.
The app will analyze the folder where you stored backups made with this tool. Once you pick the Restoration utility, it will list backups made for your specific device:
Pick the backup and click on "Restore." The system will prompt you to confirm you picked the right backup. After confirmation, PhoneClean will resort to restoring the backup.
The process involves uploading data, restarting your device, and verifying that everything went smoothly.
Once the software gets you back to the main interface, you can check your device. All files from the selected backup should be restored. Read our iMobie PhoneRescue review to discover how to browse backups and recover specific files from them.
Reasons Behind Our Reviews & Ratings
1. Effectiveness (5/5)
iMobie PhoneClean is incredibly useful and offers a wide range of helpful functions. You can wipe the entire iOS device clean in a couple of clicks, or delete specific files. It is possible to scan the system and look for files to keep to avoid deleting any data you might need. You can also erase files so that they are unrecoverable in the future. The app is fast and does all tasks as quickly as possible, which is why it deserves the highest effectiveness rating.
2. Price (4.6/5)
The cost of iMobie PhoneClean is more than understandable. That is especially true if you consider that you can go with a lifetime license plan. It practically means a one-time payment guarantees free program updates forever. The price tags aren't high, and the only reason why we took off half a star is that the free trial comes with limitations. However, that is a normal occurrence with premium tools, and unlocking the full version will be worth your while.
3. Ease of Use (4.3/5)
A minor flaw is specific utilities are only represented with icons in the main menu. It might be tricky to figure out which icon serves to delete which type of files in the beginning. However, you will be comfortable using the software after a couple of times of running it. That is because iMobie PhoneClean offers an intuitive interface. Deleting the desired files is available in a couple of clicks. The graphics are modern, and the layout is clean. You don't need any tech knowledge to use the software since it is easy to find your way around.
4. Support (4.8/5)
iMobie is famous for providing excellent support for its products, and PhoneClean is no different. If you stumble across a problem, you can check out the helpful buying guide on the website. FAQ and guides are filled with useful information, but customer support is also at your disposal. Contact the developers, and they will provide an answer quickly.
Where to Free Download iMobie Phoneclean?
You can find numerous links for downloading the program online. However, the safest place for PhoneClean download is the official website of iMobie. The manufacturer regularly updates the tool to ensure it is compatible with the latest iOS versions. That is why downloading from the official website guarantees the app can be used on your device.
Additionally, the official website is a source where you can be certain you will receive the original tool and not a scam product. After downloading a free trial and deciding to purchase a license, you can activate the tool within the app.
Alternatives to iMobie Phoneclean
1. iMyFone Umate Pro
iMyFone Umate Pro allows you to clean unnecessary files from your iOS systems, and delete data securely. The program can erase photos, videos, call history, contacts, messages, and other files and leave no chance of restoring them.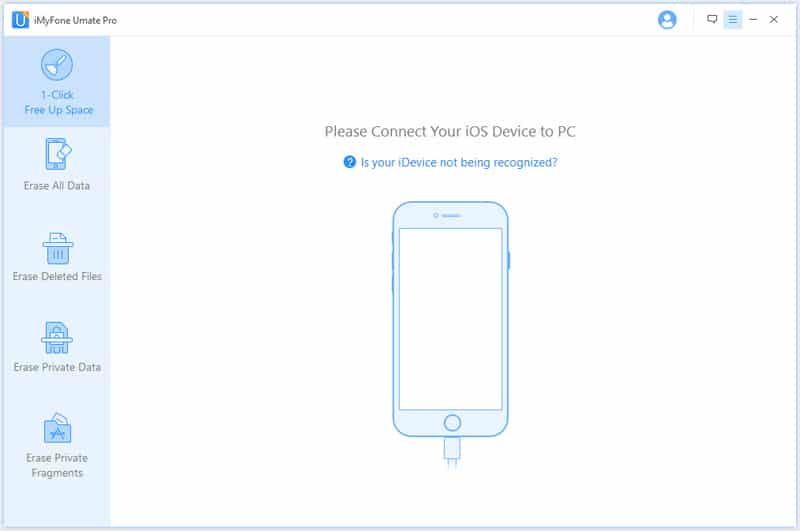 The tool allows erasing all data from your device, or delete files permanently. You can also erase private data or fragments from third-party apps like WeChat, WhatsApp, etc. The single-click deletion is quite useful when you are in a rush.
iMyFone Umate Pro offers a simple and user-friendly interface. The tool is available via a free trial, but purchasing a full version is required to unlock all features. Read our iMyFone Umate Pro Review here.
2. dr.fone – Data Eraser (iOS)
Wondershare is a reputable name in the industry, and dr.fone is an entire toolkit for mobile phone management. data Eraser for iOS is a part of that software combo, and it serves for iPhone data erasing.
The tool offers a clean layout with modern graphics. You can wipe the entire device to protect your privacy, or pick to delete only private data. Additionally, the software can remove unnecessary files to free up space on your device.
dr.fone – Data Eraser for iOS is available for both Windows and Mac. You can try the app for free, but the paid version unlocks all features.
3. iFreeUp iPhone Cleaner
iFreeUp iPhone Cleaner is a cleaning tool designed by IObit. The software is reliable, and it protects privacy, improves performance, and acts as the data management software.
iFreeUp iPhone Cleaner features exceptional graphics and intuitive interface. The home screen features used and free space on the device and available options. You can clean junk files, privacy sweep, shred cached photos, and optimize the performance of apps. Data management is another feature of this tool that requires at least Windows 7 to work.
Conclusion
Our iMobie PhoneClean review confirmed that this product is recommended for both newbies and advanced users. The tool is comprehensive and offers a wide range of functions. You can remove files quickly, delete specific file types, and review data to ensure you keep important files.
Erasing the entire device and performing unrecoverable deletion will secure your privacy stays protected. The program will even perform backups prior to removing data to ensure you can recover the information you might need in the future.
It doesn't take long to get used to how the tool works. The app is reliable and has a high cleaning rate to perform every function flawlessly. That is what makes PhoneClean by iMobie the best iOS cleaner you can find on the market.