Do you need to restore a file from your iPhone that you accidentally deleted? Are you having problems with system performance? Would you like to restore data from backups on iCloud or iTunes?
All these are situations where iMobie PhoneRescue can help! This versatile iOS data recovery software helps to retrieve data lost due to various causes. Check out our PhoneRescue review to learn everything you need to know about this tool!
Quick Summary of iMobie PhoneRescue Review
iMobie PhoneRescue is a data recovery software for iOS. It was designed by a reputable company famous for iPhone data management software AnyTrans.
PhoneRescue contains numerous useful functions, including options to recover from your iOS device, iTunes, and iCloud. Additionally, you can repair iOS systems, recover passcodes, and perform factory resets. The tool is compatible with the latest iOS 13.
The tool is available as a free trial, but you need to buy a full version to unlock all features. PhoneRescue is safe and reliable. It is available in seven languages, and all functions are available within a couple of clicks.
What I Like (Pros):
A safe and reliable software with an excellent success rate
A user-friendly interface that allows you to activate the desired function quickly
Detailed data recovery, including accidentally deleted items
Capable of recovering data to your device and to the computer
What I Don't Like (Cons):
Advanced repair option involves erasing data from your device
The password recovery process could last a bit longer than expected
What Is iMobie PhoneRescue for iOS?
iMobie PhoneRescue is an iPhone data recovery software that focuses on recovering data from iOS devices and other related sources. If you damaged your device or accidentally deleted the files you need, this tool can be of assistance. It can also help in cases of returning to initial settings after jailbreaking your device, virus infections, system crashes, etc.
The main features of PhoneRescue include:
Saving data after deleting files by mistake
Restoring data from backups on iTunes and iCloud
Repairing iOS systems and preventing them from breakdowns
Updates to the latest iOS versions
The company behind the product is iMobie. Apart from this, it is also famous for other solutions, such as AnyTrans data management and system cleaning software.
Who Should Get It?
Everyone who has an iOS-powered device can benefit from iMobie PhoneRescue. Whether you have an iPhone, iPad, or other iOS devices, this recovery tool will be of service. It is suitable for amateur users that want to retrieve data deleted accidentally or browse their backups. The software is easy to learn since it has a user-friendly interface.
Professional users can also benefit from the tool, especially since it comes with additional functions. Those include system repair, updating to the latest version, as well as recovering lock screen and screen time passcodes. These advanced functions, including password recovery, will exceed the expectations of all professional users.
Is iMobie PhoneRescue for iOS Safe?
I used multiple antivirus and adware programs to test iMobie PhoneRescue. That includes Avira Antivirus, Kaspersky, and Malwarebytes AdwCleaner. They all showed that the program is free from any viruses and files that could compromise your computer or privacy. Thanks to this extensive testing, it is possible to answer to your "is PhoneRescue safe?" question with a resounding yes.
Is iMobie PhoneRescue for iOS Free?
iMobie PhoneRescue comes in both free and paid versions. You have the option to download a free trial and test the software. Although that is an excellent way to try the program, you cannot recover anything with the free edition. The only things you can do is to scan and preview data on your device, backups, and iCloud. So, if you ask, "Is Phonerescue free?" I would say no.
If you want to use iMobie PhoneRescue to its full potential, you will need to purchase a premium edition. That will unlock all features, including recovering data, repairing iOS systems, removing lock screen passcodes, and recovering screen time passcodes.
You have two options for purchasing PhoneRescue for iOS:
12-month license – the cost of a yearly subscription for a single computer is $49.99.
Lifetime license – the price for a lifetime license to use the tool on a single computer is $59.99.
A 50% discount is available for researchers, professors, scholars, students, and educational institutions' members.
If you are a business user, you can use the following business plans:
Startup business plan – it costs $299 to buy a yearly license for 10 computers.
Small business plan – the price of the yearly license for 20 computers is $499.
Does iMobie PhoneRescue for iOS Work? Hands-On Testing
If you take a look at the features of iMobie PhoneRescue, you realize that it is a great program. However, promises are one thing, and functions working properly another. I asked the "does PhoneRescue work?" question myself, which is why I decided to test the software.
The download and installation process was straightforward and didn't take more than several minutes. As soon as I installed the software, the tool offered me to pick my preferred language.
PhoneRescue is available in English, Japanese, German, French, Spanish, Chinese, and Arabic. It is a nice move from the developers that they enabled seven languages since that allows them to reach more users.
Once you pick the desired language, you can proceed to the main interface. Here is how that screen looks like.
The interface of iMobie PhoneRescue doesn't seem cluttered. The layout is user-friendly and clean. You will notice the main functions in the central part of the screen, including functions separated into two tabs – Data Recovery and Device Rescuer.
In the upper right section, you will notice the "Register" button.
You can now enter the license key and get information about the current status of your tool.
If you return to the main screen and choose settings, you will get the following screen:
iMobie PhoneRescue allows you to choose the output format for various files. The customization options are great, and you can pick the desired format easily. Additionally, you can pick the export and backup paths, as well as select additional functions. I liked the features related to photos, including converting to JPS for saving space and easier viewing and preserving data info.
Recovering Data from iOS Devices
The process of connecting your iPhone or iPad is simple. Plug the cable into your device and then into the computer. You will need to confirm the connection on your iOS device. If your phone still hasn't been connected, you will see the following screen:
However, once you connect your phone, the screen will change. You will get a connection confirmation message at the bottom, and the arrow in the bottom right will become enabled.
Now, it is time to pick the desired recover option. For the purpose of this iMobie PhoneRescue review, I selected the option to recover from an iOS device.
After clicking the arrow in the bottom right corner, the following screen appeared:
You can now choose the desired data type to recover. You will notice a wide range of files available, such as photos, videos, call history, messages, calendar, notes, contacts, etc. If you want to recover everything, shorten the process of choosing by clicking the "Select All" in the bottom left corner.
The tool will now look for the data you want to recover. The scanning process can take a few minutes, but you can shorten the time by choosing fewer recovery categories.
You will see the progress of scanning on the screen. Once the process finishes, PhoneRescue for iOS will show you the data suitable for recovery.
The categories will be on the left, and you will see the number of files in each category. Once you enter a category, you can overview all files inside. For example, I entered the Call History section. As you can see, you have the option to search for a particular file, as well as list items by name or other parameters. Additionally, you can choose to list only existing or deleted items, or list them all at once.
You can use this screen to select the files for recovery. Feel free to pick individual files or entire sections. PhoneRescue will show the number of files at the bottom.
Now, notice the two buttons in the bottom right section of the screen. The left one is for recovering to your device, but you can only recover personal files (notes, messages, contacts, etc.). On the other hand, you can recover all other files to your computer by selecting the other button.
Once the recovery process is finished, you will see the message like in the screen above. I tested the program seven times for this PhoneRescue review, and it was always successful in recovering data.
Recovering Data from Backup
The next function covered in this iMobie PhoneRescue review is recovering from iTunes or alternative backups stored on your computer.
Don't forget to connect your phone first, and then select the "Recover from Backup" option from the Data Recovery tab.
The great thing is that all the recovery processes are similar. Once you pass through a single recovery, it will be easy to get ahold of all other options, too.
Once you click the "Next" button, you will get to choose the desired backup. The system will try to make it easier by listing all possible backups and adequate devices.
Now, if security is important to you, you might have locked your iTunes backup. In that case, you will receive the following message:
No reason to worry because iMobie PhoneRescue is an extremely useful program. The easiest way of unlocking the backup is by entering your password. Alternatively, you can choose the "Forgot Password" option.
That will take you to the following screen:
Here, you need to choose the characters you remember that you used in the original password, as well as its potential length. Next, pick the threads to use for the recovery process. That is essentially CPU use, but try to use as many threads as possible to speed up the process.
Here is the screen you will see next:
It is crucial to be patient because this will take several minutes. The system will eventually find the right password and confirm the recovery.
Once you select the backup and click next, you can choose between "Only Scan Backup" and "Compare."
Now, here is a function of iMobie PhoneRescue that I love, and it's called data comparison. Apart from scanning for files in the backup, it will also compare them to the existing files on your device. If the tool finds that the data already exists on your phone, it will skip displaying it in the scanning results.
That simplifies the process and makes it easy to avoid duplicating files. As usual, you can also choose the desired file types to search for.
Now, browse through the files and select the ones you want to recover.
Finally, click the desired button to recover to your device or computer.
Recovering Data from iCloud
The process of recovering data from iCloud is similar to other two recovery options. As our PhoneRescue review determined, it also works like a charm.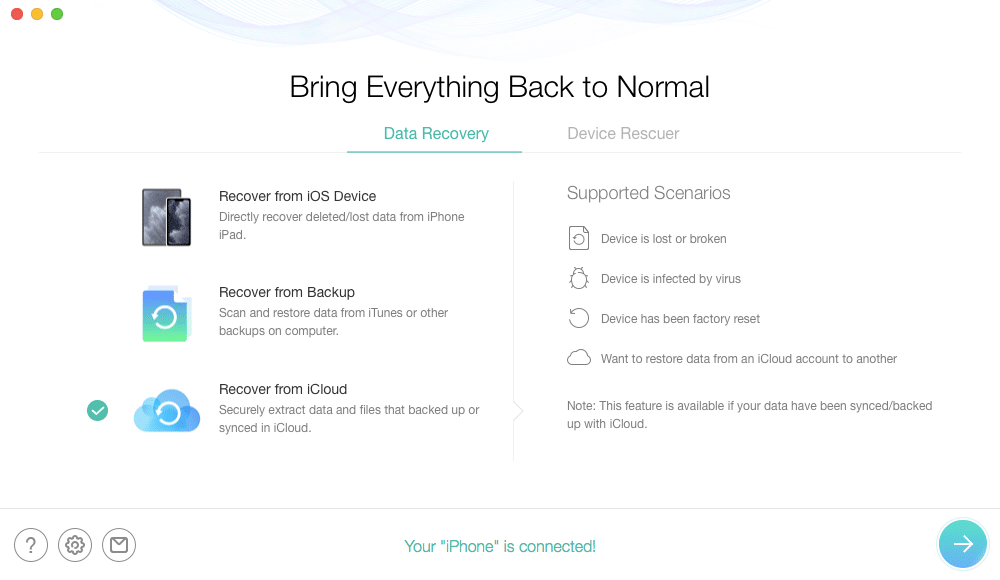 Start by choosing the right function on the main screen. You will need to sign in to your iCloud account by entering username and password.
The system will now search and identify information on your iCloud in the following categories.
You can see if you already have the required data here. Alternatively, go to the "iCloud Backup" category.
Now, you need to choose the desired backup.
After picking files to look for, you can browse through the backup.
Click the "Recover" button and wait a couple of minutes for the process to complete.
Repair iOS System
It is time to move on to other functions or iMobie PhoneRescue. You will find them under the Device Rescuer tab on the main screen.
Let's start with repairing your system. You can use this option to fix issues with frozen iPhones, the Apple logo, and other problems. The tool will list all situations where you can use this function, which makes things easier.
The next thing to choose will be the desired repair mode. The Standard mode will update your iOS and restore it to normal status without data loss. However, if that doesn't work, you can enter the Advanced mode. It will involve doing a factory reset, which means you will lose all data. The good news is, however, that this will resolve all software-related issues of your device.
Before PhoneRescue can do the repair, you should enter the Recovery mode. The app will explain how to do this.
Now, enter all data related to your device model. In most cases, the tool will recognize your device's details, but make sure to double-check them. Finally, click download to initiate the restoring process.
Once the download finishes, the restoration process will start.
You will receive a confirmation once the process ends.
Remove Lock Screen Passcode
Securing your phone with a passcode is crucial to protect your data and privacy. But what if you forget the password to unlock the screen?
iMobie PhoneRescue offers a way around this that works. It involves using this tool to update iOS to the latest version and perform a factory reset. Please note this will erase all data on your phone, which is why it's good to have a backup ready.
Choose the desired function and click "Next." You will need to enter the Recovery mode and enter the information about your iPhone or iPad.
The system will proceed to download firmware packages and restoring your software.
Recovering Screen Time Passcode
Screen Time passcode is a useful addition to iOS devices. If you forgot the code, you could recover it by choosing the desired function on the main screen.
The system will inform you that you need sufficient space because the tool will need to perform and analyze a backup.
If necessary, you might need to enter the password to decrypt your backup.
The system will start the scanning process and deliver you the code once it finds it.
Reasons Behind Our Reviews & Ratings
1. Effectiveness (5/5)
iMobie PhoneRescue is an extremely reliable and safe to use program. Whatever you want to do with it, the tool will listen and execute the commands flawlessly. During the testing, I haven't encountered a single error or problem. Additionally, the program is loaded with various functions. All that makes it exceptionally effective, which is why it deserves the highest rating in this section.
2. Price (4.5/5)
The cost of iMobie PhoneRescue is quite affordable, especially since you can buy a lifetime license for the software. That being said, we don't like that the free trial doesn't have any actual recovery functions. Instead, you can only scan and preview files. Fortunately, that doesn't change the fact that the tool provides plenty of bang for the buck in the premium version.
3. Ease of Use (4.5/5)
The interface is user-friendly and suitable for newbies. Anything that you want to do could be performed in several clicks. It shouldn't be a problem to find your way through the menus, and the learning curve doesn't take more than a couple of minutes. Although most processes are fast, some procedures like password recovery and factory reset could last longer than expected, which is why we knocked half a star.
4. Support (5/5)
The interface explains each function shortly so that you can get familiar with every feature quickly. If you need it, you can access a detailed guide by clicking the button on the main screen. The website is filled with valuable resources and guides. If you still need to ask the company anything related to the tool, customer support is available around the clock.
Alternatives to iMobie PhoneRescue for iOS
1. Tenorshare Ultdata
Tenorshare Ultdata is a reliable iOS data recovery software that supports more than 35 file types. That includes call history, contacts, SMS, photos, but also WhatsApp messages and other useful data. It is compatible with the latest iOS versions and devices like iPhone 11 Pro[Max].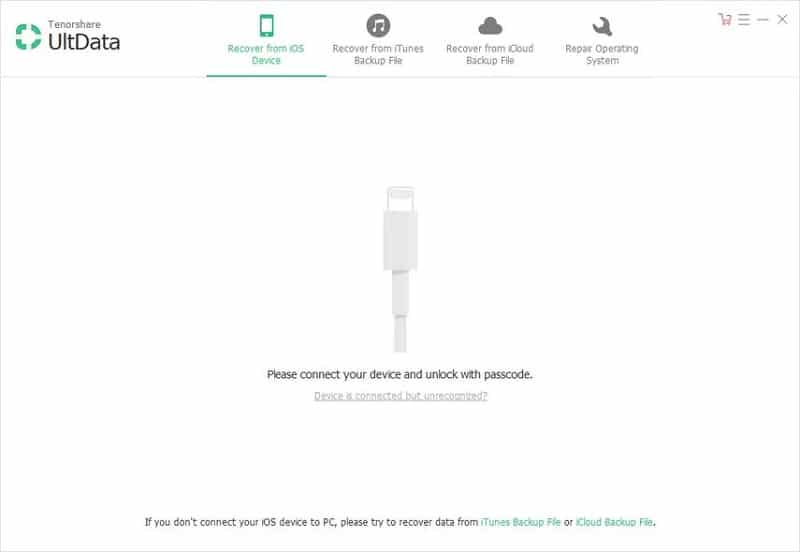 It has a similar working process compared to PhoneRescue since you can restore from your device, iCloud, and iTunes. Additionally, you can browse backups with Tenorshare Ultdata and pick the files to retrieve. The software is premium, and you need to buy a full version to unlock all its features. Learn more from our review of Tenorshare UltData here.
2. iMyFone D-Back
iMyFone D-Back allows you to restore data from various iOS devices, including iPod touch, iPad, iPhone, etc. it supports personal files, as well as app data from Viber, WhatsApp, We Chat, and so on.
The software is suitable for newbies and available for Windows and Mac. You can also repair the iOS system in several steps. The interface is easy to use, but the graphics aren't as attractive as in iMobie PhoneRescue. Read our iMyFone D-Back review here.
3. dr.fone – Data Recovery (iPhone Data Recovery)
dr.fone is another company with great phone solutions to try, and iPhone Data Recovery is one of them. The software seems reliable and fairly easy to use. You can try it for free, but only purchasing will open all its functions.
If you use the entire toolkit designed by dr.fone, you can also repair your system, unlock the iPhone screen, backup your iPhone, and use other features.
Conclusion
iMobie PhoneRescue is a reliable software that will provide consistent results in retrieving data from your iPhone, iPad, and other iOS devices. The tool can also recover files from iCloud and iTunes, as well as repair the system and update it to the latest version.
All those functions increase the versatility and ensure that PhoneRescue delivers a lot of value for the money. You will need to unlock its full features to feel the full power of the tool, but the software will exceed all expectations.