Like other mobile devices, the iPhone offers an in-built Music app to listen to all your favorite tunes. Users can either import music from their PC using the iTunes app or download/listen to songs from Apple Music or buy songs directly from the mobile iTunes app.
Now, if you mistakenly delete a certain song item from your iPhone music library, no need to panic! In this post, we cover "how to retrieve deleted music from iPhone."
Method 1. How To Recover Deleted Music From iTunes
When you purchase your music through iTunes, it is always stored in the Apple Cloud. This means that even when you delete the music from your device, you can always access it on iTunes. Here are two ways to retrieve deleted songs from the iPhone using iTunes.
1.1: Re-download Purchased Music
Purchasing music from iTunes Music means that the purchase record will always be attached to your Apple ID. Regardless of whether you change your device or delete the song from your phone, you can re-download the song item again without having to pay it.
Follow these steps:
Step 1: Launch the iTunes app on your device.
Step 2: Select "More," represented by three dots at the bottom of your iPhone screen.
Step 3: Tap on "Purchased" to get a view of the media you have purchased with your account.
Step 4: Select "Music" to see a list of all your songs.
Step 5: Go through your music listings for the deleted song you aim to re-download.
Step 6: Once you tap on the deleted song item, check if there's a cloud icon to the right of it.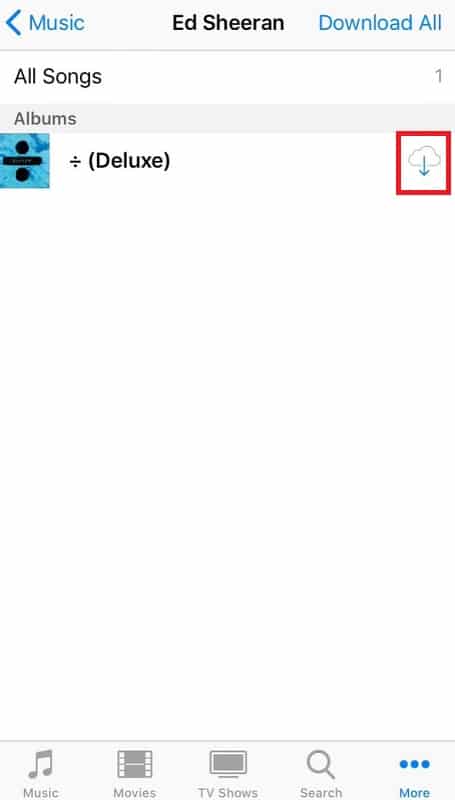 Step 7: Tap on the cloud icon to begin the re-download process.
1.2: Sync Your iPhone to iTunes from a Computer
Another way to retrieve deleted songs from iPhone using iTunes is by syncing your iPhone to iTunes using a computer. To use this method, you must have iTunes installed on your computer and synced your iPhone with your PC.
To use this method, you should take the following steps:
Step 1: Connect your iPhone to your PC using the data cord.
Step 2: Open iTunes on your PC.
Step 3: Select the phone icon at the top-left of the screen.
Step 4: Now, since the plan is to recover deleted music to your iPhone, then you should be syncing your iTunes library to your device. Select "Music" under the "Settings" menu.
Step 5: Tick the box beside "Sync Music" to confirm sync action. This will be followed by a pop-up asking you to confirm if you want to sync and replace items on your iPhone with those in the iTunes library.
Step 6: Select "Apply" for the sync process to start.
Method 2. How to Retrieve Deleted Music with an iPhone Music Recovery Software
If none of the options under Method 1 works for you or are unavailable to you, you can still try another alternative method to recover lost music on your iPhone. One of such methods requires making use of the third-party software known as Tenorshare UltData.
Tenorshare UltData is a data recovery software designed for iOS. You can make use of this software to recover several kinds of data, music files inclusive. Check the steps below to learn how to retrieve deleted music on iPhone using Tenorshare UltData.
Step 1: Download the latest version of Tenorshare UltData. Install the software on your computer by following the on-screen instructions.
Step 2: Connect the iPhone device to your PC using a USB cable, then launch the UltData software.
Step 3: Once the software window launches, select "Recover Data from iOS devices."
Step 4: Tick the "System Data" and "Third Party App" boxes on the next screen that comes up.
Step 5: After ticking, select the "Scan" at the bottom of the screen to begin a search of your lost music files.
Step 6: Select all the music files that you need to restore to your iPhone. Click on the "Recover" button located at the base of the window.
Step 7: Click "Recover to Device." Doing this will begin the process of restoring the music files to your iPhone.
That is pretty much all there is to recovering deleted music files using Tenorshare UltData. Learn more from our Tenorshare UltData Review here.
Method 3. How to Retrieve Deleted Music From iCloud
This is the final method of restoring deleted music on the iPhone that we will discuss. Apart from when you mistakenly delete items from your device, this method comes in handy when you lose your iPhone or your iPhone develops a fault.
It is important to note that you can only employ this method if you have backed up your music using iCloud. Here is how to retrieve deleted music on iPhone via iCloud in simple steps:
3.1: Go to iCloud.com
Step 1: Launch a browser on your PC and navigate to www.icloud.com and enter your login credentials.
Step 2: On the Home Page, select "Account Settings."
Step 3: When the new page opens, scroll down until you see the "Advanced" option.
Step 4: Select "Restore Files" under Advanced so that iCloud can run a check of deleted items.
Step 5: Once the scan stops, you can select the files you want to restore.
N.B: You can only recover items within 30 days of deletion.
3.2: Check iCloud Music Settings
Step 1: Open the "Settings" app on your iPhone device.
Step 2: Scroll down to the "Music" option.
Step 3: Check if the toggle for "iCloud Music Library" has been activated.
Step 4: Tap the toggle to ensure the green fill option shows.
Step 5: You should see the option to "Keep Music" or "Delete & Replace." Keep Music merges the content of your iCloud library with what is already on your device. Delete & Replace, on the other hand, deletes existing music from your device and replaces it with what is on the iCloud.
Step 6: Once you select an option you deem fit, the content on your iCloud should start downloading on your phone.
N.B: Using this method requires you to have Apple Music or iTunes Match
Conclusion
Great, you now know how to retrieve deleted music on your iPhone using several methods. We have also introduced you to Tenorshare UltData, an app that makes recovering files on iOS very easy. Do you have any questions? Drop them in the comments section.