Have you ever considered how many files that eat up your storage are duplicates? Useless clones of data that already exist elsewhere could add up to many wasted Gigabytes of space you could use for funny videos of kittens. You could reclaim all this lost storage space by locating and deleting them (no, not the kittens, the redundant files). Maybe it would be enough to postpone your next storage upgrade!
That "locating them", though, can be a problem.
Modern operating systems are ultra-complex beasts, and the software we install on them further multiplies this complexity. Trying to "manually" find file duplicates in the chaos of data will often end up a fruitless endeavor. Maybe you'd find two or three files by yourself, delete them, and earn back two whole MBs of space. Hurrah! They should be enough to save five JPGs of those kittens. Low-resolution, of course.
And that's where the duplicate file finders we'll see here enter the picture.
On a Mac? Also Read: Best Duplicate Finder for Mac
What Are Duplicate File Finders?
The most important question anyone could ever ask isn't related to the deeper meaning of life, the universe, and everything. At least, not in the quite targetted context of this article. Nay, instead, one should ask, just like we stated in this section's title, "what are duplicate file finders?". To that, we would promptly answer, "they are apps that find duplicate files for you."
There. That should do it. We provided a straightforward answer to the question and proved our technical prowess in one go. Mission accomplished.
If, however, the question asked was the less popular, "why use a duplicate file finder?". First, we'd have to point to this article's introduction and then provide a more well-rounded answer. Now that we mentioned it…
Why Use a Duplicate File Finder?
Duplicate file finders might initially seem redundant. Can't anyone locate file duplicates using a mere file manager? Why download, install, or even do the unthinkable, purchase a license to such a program?
Try this:
Fire up your favorite file manager, and pay a visit to the root of your C drive on Windows – the one where the OS and most of our programs are usually installed.
Select everything, right-click, and choose Properties.
Allow the OS enough time to go through the drive's contents to present you with actual stats.
In our case, we had 552,517 files and 116,363 folders (up to writing this article). And that was only on the C drive.
And that's why a mere mortal can't go through, literally, the hundreds of folders and files in a modern computer "to locate duplicates." A duplicate file finder, though, can, and this article is about the best of them. All of them enable you to locate all duplicate files, remove them, and reclaim the wasted space on your storage devices. OK, almost all of them.
Some of them are speedier. Others manage to locate more results. Some prioritize simplicity and a streamlined user interface, others control and customizability. And one or two could win the "Son, I am disappoint" award of them Internets.
That's why we've decided to put them to the test, to help you find the best one for you, depending on your preferences and priorities.
How We Tested and Picked the Best Duplicate File Finders in 2023
Our job would be easier if we could pick the best solutions based on their name – Easy Duplicate Finder, you win! However, we tend to be somewhat technical. For some obscure reason, we like testing the software about which we're supposed to write. Then, judging it based on what matters.
For this article, where we're dealing with apps that locate duplicate files, we prioritized their ease of use. They're not specialized software for professionals, and their target group is a generic "everyone". "Everyone", including their grandmother.
We considered equally crucial their feature set since not everyone is grandma and many like having control over their software. Similarly, their scanning speed and the thoroughness of their findings were the other two points that factored into our choices.
And that brings us to our choices. Which apps did we find better than their peers? Which duplicate file finder should you choose? What should you pick for a quick and easy cleanup, and what would find every single file that even remotely resembled another one?
Top 12 Best Duplicate File Finders for Windows in 2023
1. DupInOut Duplicate Finder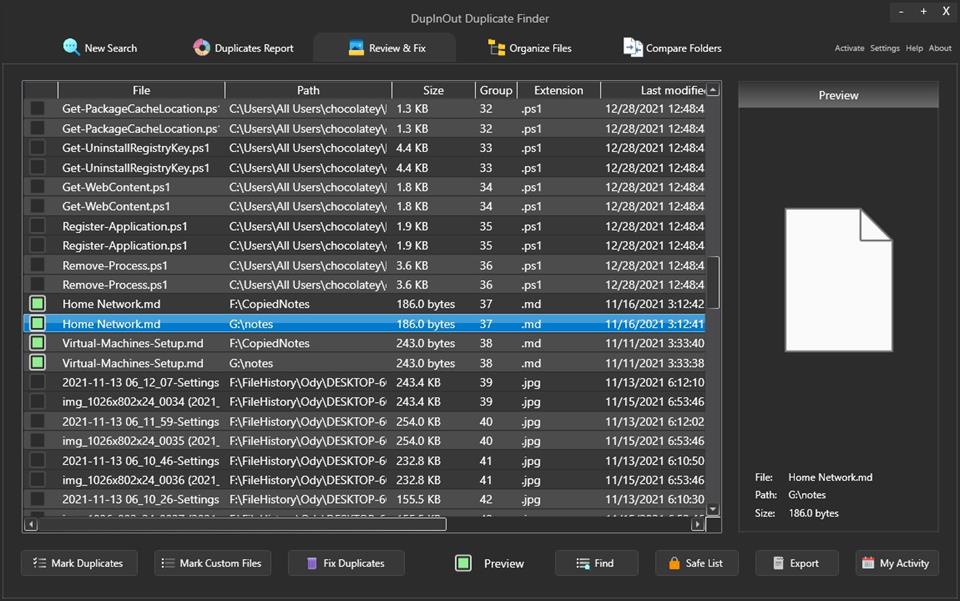 DupInOut Duplicate Finder manages to be feature-rich while still offering a pretty straightforward interface. It's also relatively speedy and managed to locate a lot of duplicates during our testing.
It's one of those rare cases of an app that's good in all regards, and you can't go wrong by picking this one up over the alternatives. Although it's "good", it also doesn't excel in any way.
And yet, one has to admire how DupInOut Duplicate Finder manages to include features advanced users will appreciate without over-complicating its interface.
Ease of use: 4/5
Features: 4/5
Scan speed: 4/5
Scan results: 4/5
Price: $19
Free Download: DupInOut Duplicate Finder
2. Wise Duplicate Finder
Wise Duplicate Finder doesn't prove true to its name in action. It's one of the most straightforward duplicate file locating apps you can find. It locates most duplicates you'd expect. As the cherry on top, it can also protect you (actually, your data) from an absent-minded move by backing-up everything you delete. Thus, you can undo your last action and undelete the files you removed. Sounds perfect, right? Well…
If Wise Duplicate Finder wasn't the definition of slow compared to many of its peers, it could be our top choice. But it is, and it isn't. Still, if you don't mind the wait and price, in all other regards, it's great. Especially as far as ease of use goes, since it has one of the cleanest and well-thought-out interfaces among all similar tools.
Ease of use: 5/5
Features: 3/5
Scan speed: 1/5
Scan results: 4/5
Price: $24.74
Free Download: Wise Duplicate Finder
3. CCleaner Professional
CCleaner is simply one of the best utilities you could ever install on your PC. Its primary purpose is locating redundant files from both the OS and other installed apps, allowing you to reclaim significant chunks of wasted space. "Wasted space" that's also outside the scope of the rest of the apps in our list, which means that, theoretically, with CCleaner, you can free up even more storage than with its competitors. It's also blazing fast and comes with even more extra features – at least, in the "Pro" version.
This isn't an article about "HDD cleanup tools", though, but specifically about duplicate file finders. In this regard, CCleaner is far from the best. During our tests, it didn't locate all the duplicates we expected. And, to clarify, by "duplicates", we mean byte-perfect clones of the same notes we've placed strategically in different spots of the file system, specifically for this article.
So, yes, you should try out CCleaner, but for its ability to clean up space eaten by temporary files, old logs, and installation remnants. It would probably be best to look elsewhere for the best duplicate-file-finding solution.
Ease of use: 4/5
Features: 5/5
Scan speed: 5/5
Scan results: 3/5
Price: Subscription plans: $24.95 for one year and one PC, $34.95 for one year and up to three PCs, $54.95 for two years and up to three PCs.
Free Download: CCleaner Duplicate File Finder
4. Auslogics Duplicate File Finder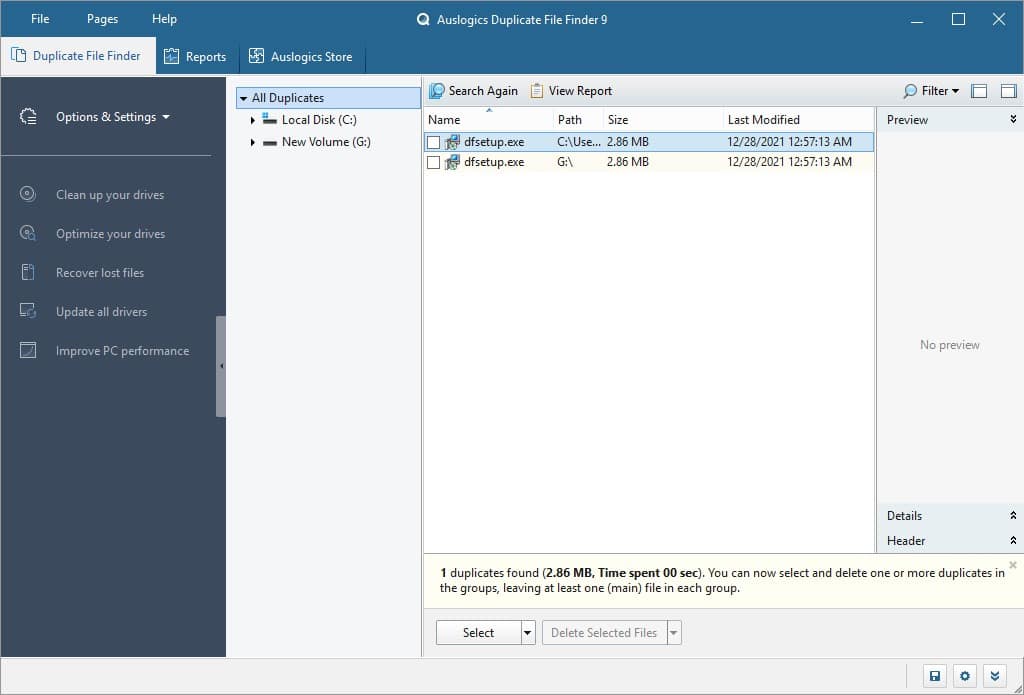 Auslogics Duplicate File Finder wouldn't look out of place among Microsoft's Office suite apps. Auslogics' solution borrows the same design approach, and that's why we can't vouch for its ease of use: some are familiar with Office and like its interface. Others hate it and believe it needlessly complicates even the simplest actions.
It's nice how it can also "optimize your drives", "update all drivers", and "improve PC performance". We admit, though, that we'd never trust it for those particular actions. For such tasks, it's better not to relinquish control to an automated app. But what about the very reason for its inclusion in this article, locating duplicate files?
Unfortunately, it's far from the best solution for the purpose. Auslogics Duplicate File Finder failed at doing what it specializes in and kept ignoring many files in our test suite. With its default settings, it located fewer duplicate files than almost all other apps in our list.
But hey, it's free!
Ease of use: 3/5
Features: 4/5
Scan speed: 4/5
Scan results: 1/5
Price: Free
5. Easy Duplicate Finder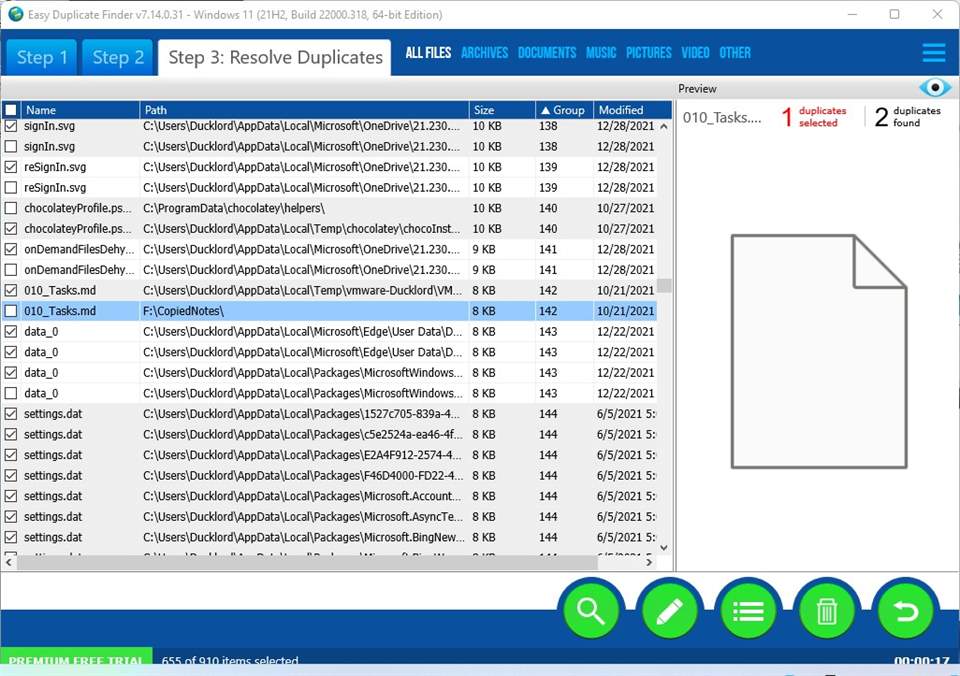 At last, an app that proves true to its name! Easy Duplicate Finder is easy to use and can, indeed, find most duplicate files. You choose the devices you want it to scan, you unleash it on them, and soon after, you can check the duplicates it locates and mark the ones you want gone.
By prioritizing simplicity, Easy Duplicate Finder doesn't offer extra bells and whistles like other apps on our list. Also, its interface is indeed "easy", but not in a positive way. Instead, it looks like a misinformed attempt at creating something even a preschooler could use, with big, round, colored buttons. And yet, it doesn't present the duplicates grouped, but as a long continuous list, which most people today would regard as "a wall of text".
Still, those aren't cons – unlike its speed. That's Easy Duplicate Finder's weakness. It's not the slowest of the bunch, but it also wouldn't win any awards for its performance.
Ease of use: 5/5
Features: 3/5
Scan speed: 2/5
Scan results: 5/5
Price: Subscription plans (yearly): $39.95 for one PC, $49.95 for three, $59.95 for five, and $69.95 for ten. You can extend all plans to two years with an additional $9.95.
6. Fast Duplicate File Finder
Another tool that fails to prove its name true, Fast Duplicate File Finder, was neither the fastest nor the slowest app in this list. Speed-wise, we'd place it somewhere in the middle of our list. It did locate most of the duplicates we expected, except a handful of files it insisted on ignoring. We could see them, right there, in Windows Explorer windows, waiting to be found. If it weren't for other apps on this list, they'd still be waiting.
We're stressing this because the tool's developers claim that other tools that locate more duplicates are dangerous, their results false positives. While that may be true for some, the files Fast Duplicate File Finder insisted on not finding were useless duplicates. We're sure of that because we placed them in different folders and devices for the needs of this article. Thus, no, dear MindGems, it wouldn't "be dangerous" if your app located them and offered to delete them.
Apart from that nitpick, we admit we love how straightforward Fast Duplicate File Finder's interface is, but that's if you're an intermediate-to-expert user. It's nice how you have access to all of the app's functionality from the same "clean" window, but don't expect any hand-holding.
Ease of use: 2/5
Features: 4/5
Scan speed: 3/5
Scan results: 3/5
Price: $39.95
7. Remo Duplicate File Remover
Although it might not look shiny or modern, Remo Duplicate File Remover rocks one of the most straightforward and on-point interfaces compared to its peers. It borrows enough elements from Windows Explorer to feel familiar. Still, it adds its own twists to the formula to assist in locating duplicate files.
As with most apps that go for simplicity, though, Remo Duplicate File Remover doesn't come with any extra features. It's also neither a speed devil nor the most thorough scavenger since it needed more time than many of its peers to locate fewer files.
Ease of use: 5/5
Features: 2/5
Scan speed: 3/5
Scan results: 2/5
Price: $19.97
8. Duplicate Files Fixer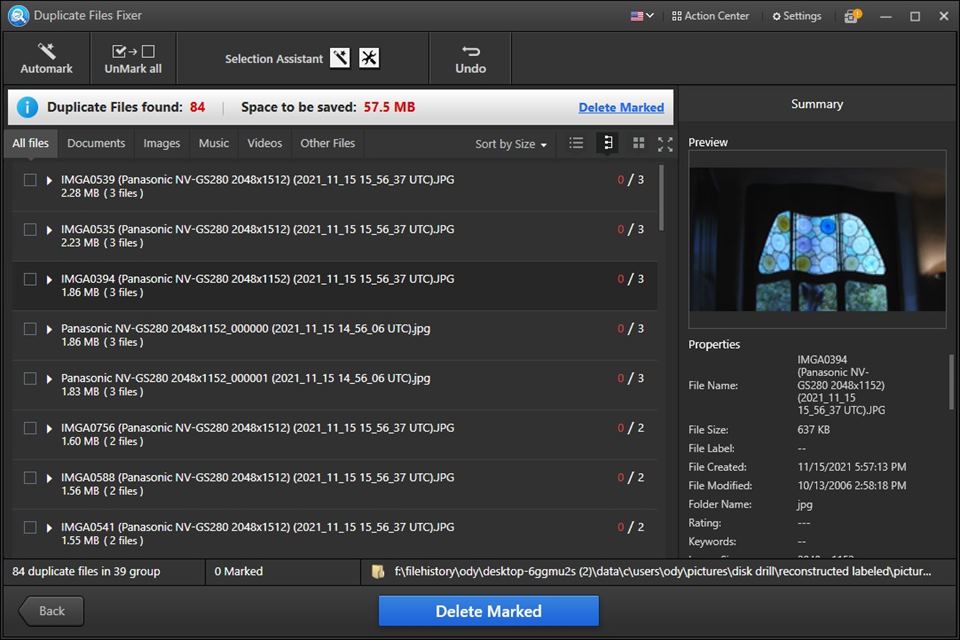 Duplicate Files Fixer is one of the easiest clone-finders in actual use, and we mean it in a grandma-friendly way. The app offers some control, but other solutions provide more options and better granularity if that's your priority. As is usually the norm, this also means no extra features worth mentioning.
Duplicate Files Fixer is quick but not leading the race. Unfortunately, its results are also somewhat lackluster. Like others, it missed many of the files in our test suite.
However, since it's one of the most effortless duplicate file locators, we consider it one of the best options for everyone who prioritizes simplicity over thoroughness.
Ease of use: 5/5
Features: 2/5
Scan speed: 4/5
Scan results: 3/5
Price: $39.95
9. Glary Duplicate Cleaner
Glary Duplicate Cleaner is dead-simple and has one of the leanest interfaces among all duplicate file locating apps. Unfortunately, during our testing, that's where the positives ended.
We wouldn't hold its lack of extra features against it since they'd add complexity. It also was among the apps that located the fewest duplicates. And took its time, too.
Still, it's worth a look, since we left its best feature for last: it's free.
Ease of use: 5/5
Features: 1/5
Scan speed: 3/5
Scan results: 1/5
Price: Free
10. AshiSoft Duplicate File Finder
In the case of AshiSoft's Duplicate File Finder, we'll have to keep it short. Unlike the app, which took the long road to success during our tests and still got lost in the woods.
Let's start with the minor problems: the flat design of its interface makes it look more confusing than it should. And like others, it doesn't come with extra features, specializing solely in locating duplicate files.
Still, the reason we aren't vouching for it isn't its lack of features. It isn't its slow scanning speeds, nor how it missed most of the files in our test suite. Nay. It's because it crashed when we tried merely changing the file filter. And then, it did it again. Repeatedly.
Ease of use: 3/5
Features: 2/5
Scan speed: 2/5
Scan results: 1/5
Price: $2.95. Per month.
11. Duplicate Sweeper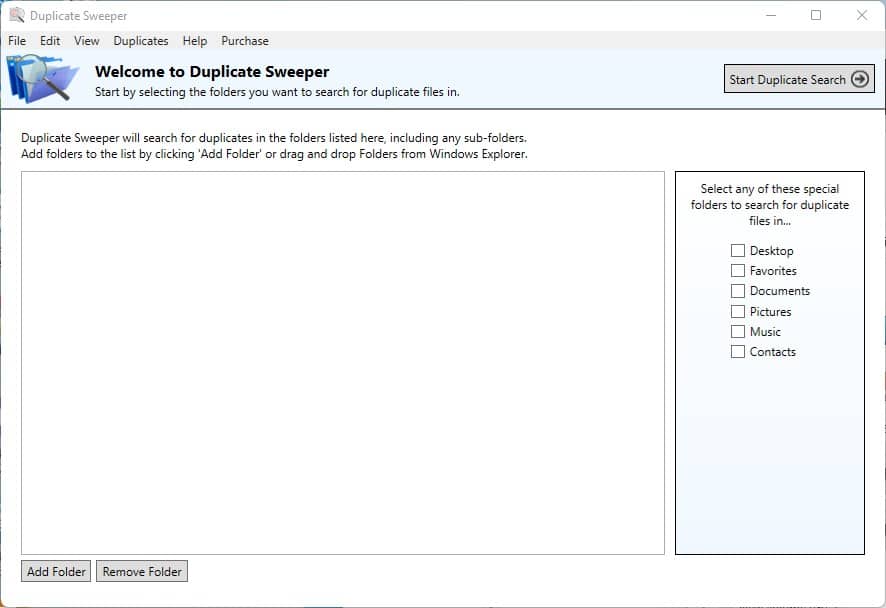 When someone said, "you can't simplify such an app's interface any further", Duplicate Sweeper's designers said, "hold my beer". And that's where the story ends, for Duplicate Sweeper is another app in our list we couldn't test. It bugs us, though, how it's all because of an artificial restriction:
It doesn't support drives. Only folders.
Yes, that means you can't select the drive's root folder to scan all of its contents. You can compare your Downloads and your Documents folders, but not Drive C to Drive D.
Since our test suite was spread across different folders, partitions, and devices, Duplicate Sweeper was useless in this scenario. So, no testing – or scores – for you, Duplicate Sweeper.
Ease of use: 0/5
Features: 0/5
Scan speed: 0/5
Scan results: 0/5
Price: $24.80
12. Duplicate Cleaner
Depending on your preferences, Duplicate Cleaner's interface may be the best by far or, at the very opposite end, nightmare-inducing. We'll let our screenshot speak for itself, and you'll have to decide for yourself on that.
In every other regard, Duplicate Cleaner managed to surprise us. It was one of the speediest apps on our list, but it also managed to locate all duplicate files in our suite, with no single exception. Then, it presented them in a nicely grouped list, in a way that made sense. Power users will love how it enables using multiple filters, re-prioritizing them, and even defining custom selection patterns.
However, if we'd have to give a not-for-grandma award to a single app in our list, Duplicate Cleaner would be the winner. Purely because of its interface (that we love).
Ease of use: 3/5
Features: 4/5
Scan speed: 5/5
Scan results: 5/5
Price: $35.10
FAQ
What are duplicate file finders?
They're apps that can help you locate file clones hidden everywhere on your storage media. You can reclaim the space they eat up by finding and deleting them, practically extending your available storage.
Why use a duplicate file finder?
Our computer doesn't only contain our files. Its operating system and the software we're using have their own hundreds of thousands of files and folders. Locating duplicates among them "manually" is like searching for a needle in a haystack. Duplicate file finder tools can perform the task with a single click.
Which is the best duplicate file finder of them all?
Unlike The One Ring in Tolkien's Lord of the Rings, there's no single app "to rule them all". Each excels in different regards, and some fail in ways that may or may not matter to you. Check our list above and choose the best one for you.
Conclusion
Duplicate file finders may be a niche software category, and the last tools you'd expect to download. Still, they prove ultra-useful and can help in reclaiming lost storage space.
They might seem useless on a spanking new PC. However, as you keep using it, files will keep accumulating in the last places you'd ever think to look. That's when a duplicate file locator can prove not merely helpful but truly necessary.