Does it seem like your computer has never been slower? Are you running out of space on your hard drive? It sounds like you need the best PC cleaner out there!
Finding a suitable computer cleaning software is not an easy task. That is why we gathered reviews of top tools currently available on the market. Look at the advantages and drawbacks of the best six Windows cleaning apps, and learn which solution fits your needs!
Quick Summary
Whether you are looking for the best free computer cleaner or need a professional cleaning software, Advanced SystemCare is at your service. The tool supports Windows 7 and later versions and offers a comprehensive set of functions focused on system cleaning, speed, and user privacy. The app will enhance computer speed, help to protect your PC, and resolve various system issues.
CleanMyPC is another great PC cleaning solution packed in less than 50MB of required hard drive space. It allows managing the Windows registry, uninstalling multiple apps at once, and optimizing startup items. The program promotes privacy and can erase files from your system permanently.
Piriform CCleaner is another all-around solution for cleaning up your PC. Apart from cleaning unnecessary files and protecting your privacy, the program comes with useful tools like an uninstaller and duplicate file finder.
Part 1. What Is PC Cleaner
A PC Cleaner is a cleaning software that removes temporary, unnecessary, and undesired files from your computer.
Windows cleaners can also promote user privacy. From removing spyware to deleting internet history and cookies, these tools utilize various functions to improve your protection level. PC cleaning software also allows for managing registry clutter, optimizing startup items, and performing other useful actions.
Learn more from our Best Mac Cleaner here if you need a Mac cleaner.
Part 2. Who Should Get A PC Cleaner?
Take a look at the following list, and see if these problems sound familiar:
Poor PC performance – it might take forever to load your system or an application, and using the entire computer seems slow overall.
Low disk space – if your hard drive doesn't have a lot of free space, it is important to handle the problem soon.
Internet privacy issues – you might suspect that your PC has malware or looking for ways to boost web privacy and protect sensitive data.
Anyone who would like to improve their PC performance and get rid of unnecessary files could use a computer cleaner. These tools are easy to use, so even beginners can benefit from them. PC cleaners are also suitable for professionals because most of them allow dwelling into details when cleaning your computer.
Part 3. How We Tested and Picked the Best PC Cleaner in 2023
We selected only the best PC cleaning software currently available. Here are the factors we considered when deciding which tools to include in the list.
Available features – the basic cleaning function is to remove unnecessary files. That could include junk items, invalid shortcuts, temporary files, etc. You can also expect additional functions like uninstalling apps, managing startup items, etc.
Ease of use – users that open the program for the first time should find their way around easily.
Customization level

– some users want a simple process and cleaning up their PC in a few clicks. Others prefer to customize each detail to ensure everything meets their preference. PC cleaners usually offer single-click fixes of current problems and customise everything to your needs.

Speed – the tool should scan the system and perform the desired actions at an optimal speed.
Reliability – the cleaning app should have a high success rate in identifying and cleaning unnecessary files.
Cost – the same tool might come in a free and pro version and have different functions.
Part 4. Our Picks: Best PC Cleaners in 2023
Advanced SystemCare is a tool you can rely on to remove potentially harmful and unnecessary files and boost your computer performance. IObit is the company behind the tool, and the developers do their best to release updates and improve the software constantly.
At the point of writing this review, the app already reached its 13th edition. You can use Advanced SystemCare on Windows XP, 7, 8, 10 and 11, which means it is compatible with the latest Windows operating system.
What Is the Difference Between Advanced SystemCare Free and Pro?
IObit offers the latest version of its tool for free, but with limited features. Here is what you can expect with the free version:
Basic optimization and cleaning of your computer and monitoring its condition
Spyware removal, protecting web emails by blocking suspicious senders and links
Using FaceID to capture intruders
These features only scratch the surface of Advanced SystemCare. It is the Pro version that makes this the best computer cleaner on the market.
Here are the additional features offered by Advanced SystemCare Pro:
PC cleaning and optimization – deep cleaning of the registry to avoid any system crash issues, hard drive data defragmentation, automatic RAM cleaning, scheduled maintenance tasks, single-click updates of vital programs, etc.
Improving PC speed – ensuring the machine starts up to two times quicker and speeding the internet up to three times.
Security and privacy features – complete protection and infection removal, disguising digital fingerprints, identifying and blocking security holes, and protecting your personal information from potentially harmful software.
Around the clock support – you have reliable customer staff available 24/7, and you get automatic updates.
The cost of an annual subscription for Advanced SystemCare Pro is $19.99. You can activate the computer cleaner on up to three PCs.
Does Advanced SystemCare Pro Really Work? Hands-On Testing
What makes Advanced SystemCare the best PC cleaner out there? The secret lies in the wide range of features the product offers, its speed, and its reliability. Here is a detailed overview of how the software performed during our testing.
Everything started with running the tool after downloading it from the official website. The installation was smooth, and this is how the main interface looks:
The default tab is the "Care" section, which allows you to optimize the performance of your computer. This PC cleaner software also offers four other tabs that group specific functions. That makes it easy to find your way around. If you want to activate Advanced SystemCare Pro, you can purchase it and enter the code in the bottom right section.
As for the Care tab, you will find 12 different functions available. The first one is "Startup Optimization," which allows you to pick the processes and programs to load once you start the computer.
It is a convenient way of speeding up your machine and getting rid of unnecessary applications initializing every time you turn on the computer. Everything is rather straightforward, and disabling the desired items only takes a couple of seconds. Don't forget to click the "Fix" button after picking the preferred settings.
The next module is "Privacy Sweep," which helps you get rid of sensitive data like internet cache, browsing, and download history.
This PC cleaner software will list data found in various browsers. You can choose which information to delete, and from which sources. That puts you under total control.
Advanced SystemCare also offers junk file cleaning. The system will scan for the files it considers unnecessary. However, make sure to double-check the items to ensure you don't delete something you might need.
Once you are ready, click "Fix."
You will notice that the Shortcut Fix screen works similarly to the previous modules. That means you can take a look at the scanned files and pick which items to delete.
"Registry Clean" is designed to improve the performance of your PC. It helps to erase non-existent file paths, obsolete history items, and other potential issues.
"Spyware Removal" is essential to keep the data on your computer safe from intruders. Advanced SystemCare does a good job of detecting spyware and helping you to erase it.
"Internet Boost" could assist you in optimizing web browser performance in a couple of clicks.
Make sure to pay attention to "System Optimization" utility, too. It will detect items that compromise PC performance and ensure that your system can utilize its full potential.
"Registry Defrag" is another method of getting the registry cleaned from redundant items.
"Security Reinforce" utility will help you determine the weak areas of your system. That could be location settings, letting apps use specific information, sending data to Microsoft, etc.
Advanced SystemCare will show all available options that could be a potential threat to your system. From there, you can pick the items to fix based on your needs.
"Vulnerability Fix" will ensure to keep your system updated by looking for and installing security updates.
Finally, "Disk Optimizations" is a convenient utility to optimize the performance of your hard drive. You can also use this function for SSDs.
Now, let's return to the basic Care tab. Here, you can choose which of the above utilities to activate. If you want to perform a thorough PC scan, the developers suggest selecting all functions. Once you are ready, click on the "Scan" button.
Scanning the system with Advanced SystemCare will take a couple of minutes, so make sure to be patient. The process length depends on the selected actions and system capacity.
During the scanning, the program will inform you about the progress. If you don't have time to wait, choose the "Automatic Fix" option. The tool can fix all problems and turn off, restart, or put your PC to sleep.
If you wait for the scanning to finish, you will see the following screen:
The program will show general scanning information. Use the left-side menu to browse through the items.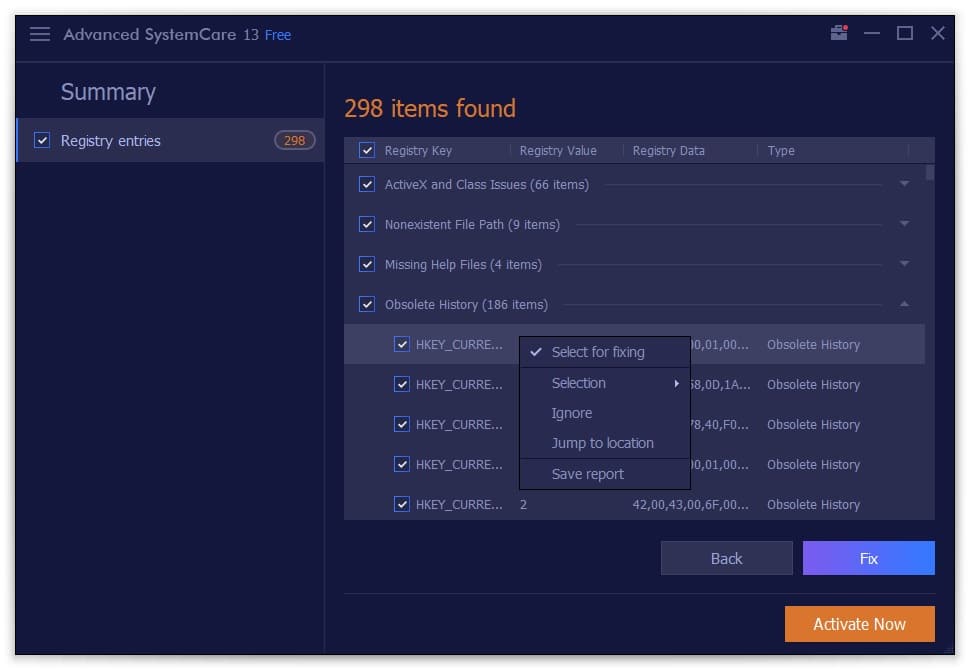 You can pick the categories and items you want to be repaired. Finally, click on "Fix" to handle all the issues and improve your PC performance.
Accelerating Your Computer
The next tab is "Speed Up," and it is focused on accelerating your machine.
The first function is Turbo Boost, which you can configure to your preference.
Advanced SystemCare offers three default Turbo Boost modes, including Work, Game, and Economy. They are all self-explanatory, and you can adjust each of them to your needs.
Once you return to the "Speed Up" tab, turn on the Turbo Boost by selecting the mode. Make sure to activate it at Windows Startup for optimal performance every time you run the machine.
Here are some details about other functions:
Hardware functions – it focuses on updating drivers that are outdated.
Deep optimization – it looks for ways to improve the system, hardware, and network performance.
App and toolbar cleaner – you can install plugins you haven't used for a long time to optimize browser speed.
Protect Your PC
The next tab is dedicated to protecting your PC with Advanced SystemCare.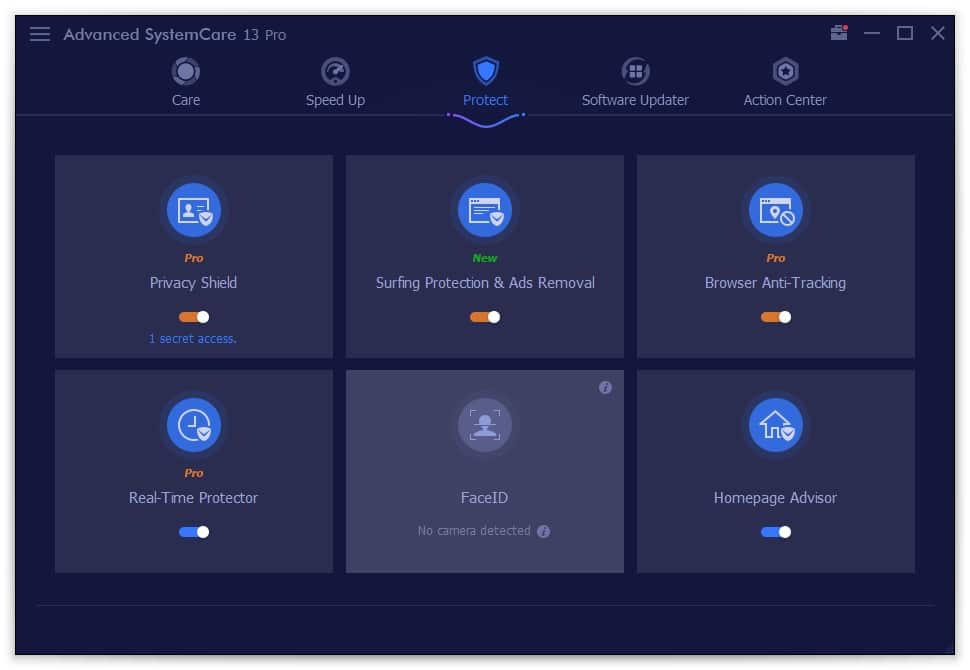 You have six available functions here, but FaceID is only available if you have a camera connected.
"Privacy Shield" allows you to protect sensitive information like browsing data, OneDrive, Dropbox, etc.
"Surfing Protection" supports multiple browsers and includes functions like email protection and ad removal. The entire interface is easy to use and involves navigating through screens to optimize system protection.
Please note that FaceID requires an additional download to activate this feature.
The software will guide you through the installation process, which includes three steps. You will need to use the camera, and ensure your face is in the frame.
The system will recognize that Face ID is active with the following screen.
From here, you can look at photos of the intruders who tried to enter your PC without permission.
Other Functions
The Software Updater tab allows you to easily install updates for your apps. You can also activate automatic updates, which is a convenient feature.
Overall, Advanced SystemCare might be both the best free PC cleaner, and the most reliable premium cleaning solution. It is easy to use and offers a variety of functions that keep your system safe and speed up its performance.
CleanMyPC will require at least Windows 7 to run, but it only takes about 40 MB of disk space. That makes it a small and powerful tool for cleaning up your PC. The manufacturer's website allows you to download the free version to test the product. However, the paid edition will unlock all features and allow you to clean your PC efficiently.
The premium version of CleanMyPC is available via a yearly subscription or a lifetime license. The price of an annual subscription for a single PC is $39.95, and a one-time purchase will cost $89.95. You can also pick deals for multiple PC licenses. If you are using a Mac machine, you can learn more from our CleanMyMac review here.
Here is an overview of the main features of CleanMyPC:
Clean the registry – get rid of various problems and deal with the clutter in the registry.
Uninstall unwanted apps – you can delete multiple programs with a single click.
Optimize startup items – choose which processes and programs to run to speed up the loading time of your PC.
Protect web privacy – clean up browser history, cookies, and other details easily.
Secure file deletion – the Shredder will take care of erasing your files so that they cannot be recovered.
Does CleanMyPC Really Work? Hands-On Testing
MacPaw is famous for designing user-friendly tools, and CleanMyPC is not an exception. From the home screen, you start by scanning the system. The scanning is fast, and once it is done, you get this screen:
You can Clean everything with a single click or take a look at detailed results by clicking "Show Details." That will reveal data grouped into categories. It should be easy to navigate your way around and pick which items to delete.
If you enter a particular category, you get specific options related to it. For example, "Registry Maintenance" will show the exact list of items for deletion.
Don't forget to confirm your action by clicking on "Fix Registry."
"Multi Uninstaller" is an incredibly convenient addition. It allows you to remove up to ten apps at once to save you time and effort. Feel free to experiment with other categories and functions. CleanMyPC is an incredibly fast and reliable tool that can repair various system issues. It also allows tailoring PC performance to the user's specific needs.
Overall, CleanMyPC is a powerful tool with everything an average user needs to maintain their Windows system and keep sensitive data protected.
The developers proudly specify that the free version of CCleaner has been downloaded over 2.5 billion times. The software supports both Windows and Mac, but you will need at least Windows 7 to run it.
CCleaner might be the best free computer cleaner for those looking for standard protection. However, if you want to take the protection and performance of your PC to the next level, you need CCleaner Pro.
The Pro version is available for €24.95 and offers the following features:
A thorough analysis of PC health – it includes identifying ways of improving your system.
Detailed cleaning – get rid of unnecessary files and registry clutter.
Eliminate internet trackers – the app is reliable in finding and deleting internet trackers.
The developers indicate that CCleaner can enhance PC booting time by around 50% and give the computer an additional 28% of RAM.
You start by running an analysis of your computer. If you use CCleaner Professional, you will get a screen similar to this one:
You will find that files for cleaning are grouped in categories, such as "Windows Explorer," "Internet files," "System files," etc. It is also possible to browse particular applications and potential files for deletion in those apps. You can pick which file types to delete by ticking the box next to the items you want to remove. Finally, click on "Run Cleaner" to initiate the process.
"Registry Cleaner" will get rid of unnecessary files and issues in your registry.
If you choose Tools, you will find a set of useful utilities, including:
Uninstall applications – delete the desired apps easily.
Startup items – choose the processes to run once you load the system.
File finder – look for duplicates and delete them in a couple of clicks.
System restore – take a look at restore points and remove any that you don't need.
Drive wiper – you can delete entire drives with this function.
CCleaner Professional is a handy tool and one of the best PC cleaner solutions out there. It might not be as comprehensive as some other cleaning apps, but it does an all-around job in optimizing your system.
Ashampoo WinOptimizer is an all-around tool that optimizes, accelerates, and cleans you Windows. The product supports Win 7 and later versions and offers dozens of different languages.
The main features include:
System maintenance – from using Internet Cleaner to get rid of internet traces to optimizing the registry and cleaning hard drives.
File tools – erase files permanently, remove them from the Recycle bin permanently, find non-working shortcuts, decrypt, encrypt, and split files.
System analysis – learn details about your PC and identify potential hard drive problems on time.
Enhance system performance – optimize startup items, delete processes currently running on your PC, and disable unnecessary services.
Customize Windows – use AntiSpy and improve privacy control, manage file associations, and perform other useful adjustments.
The interface might seem a bit complicated at first. However, you will get used to it quickly. Once you analyze the system, you get information on what could be fixed. Winoptimizer allows you to accelerate the process by optimizing all issues, or customize which problems to fix.
Glary Utilities is another widely popular PC cleaner. It features more than 20 tools that can help to optimize your system's performance. That includes clearing up Windows Registry, freeing up disk space, removing malware, handling privacy issues, and performing other useful actions.
Get Ashampoo Glary Utilities 5 Now
The interface features a clean layout, and the graphics are quite modern. The company releases updates for Glary Utilities regularly. Both users and professional reviews agree this is a useful PC cleaner software.
The first thing you notice about iOLO System Mechanic is its modern design. You quickly realize that a host of functions is packed with these amazing graphics.
The program can remove bloatware to ensure optimal starting of your machine, accelerate its speed and fix more than 30,000 issues your system might face. The software can also remove clutter and take web browsing speed to the next level.
Conclusion
Have you already found the best computer cleaner for your PC? It is nice that there is an excellent choice for cleaning software solutions. That allows you to pick the tool that suits your needs.
These apps usually make the process as simple as possible, but also don't hesitate to dive into customization. The only thing to discover is how involved you want to be in the process of optimizing your PC's performance. Either way, these tools are fast, reliable, and ready to exceed your expectations!