As technology evolves, voice recording seems easier than ever. Most smartphones even come with the ability to record your voice built-in. But what about voice recording solutions for your Windows or Mac computer?
Today, we're going to look at the best voice recording software currently available on the market, as well as their strengths and weaknesses so you know what to expect.
What Is Voice Recording Software?
As the name suggests, voice recording software is a specialized software designed to record your voice. It does this using an input device like a microphone. The recorded audio can be saved to a digital file. Some software even includes the ability to edit the recorded file using effects or transitions.
Who Should Get This?
It has a multitude of purposes. In a corporate environment, it can be used for narrating presentations or creating tutorials. For music artists, it is essential for capturing vocals. Students may want to take notes verbally instead of writing them down as it's easier and faster.
As it has such versatility, it can be incorporated into almost any setting.
How to Choose a Voice Recording Software in 2023
Before looking at the best voice recording software, let's take a brief look at what criteria we focused on when creating this list.
Price: Voice recorder software is available at varying price points. More often than not, the feature-rich solutions will come with a higher price tag than the basic and free-to-use options. However, when looking for it, you must take into consideration how much you'll be paying and whether you'll be paying once or on a subscription basis.
User Interface: What good is vocal recording software if it's not user-intuitive? A well-made application will always take the user experience into account. A streamlined interface ensures everything you need is accessible and easy to find instead of hidden behind a submenus collection.
Features: Features, in addition to voice recording, are what make some applications stand out from the rest. While some people just need the simple ability to record their voice, others may benefit from added features like sound effects and comprehensive editing tools.
Top 10 Best Voice Recording Software in 2023
Best for: Recording and editing music and voice recordings
Price: Free for non-commercial use, $39.95 for Standard Edition, $69.95 for Master's Edition
Wavepad is our top pick for the best voice recording software. Not only can it record your voice, but it also allows you to edit your audio files using a range of advanced audio effects. The built-in editor makes it great not only for audio recordings but also for music editing as well.
Home users can use it for non-commercial use for free. It does not expire and allows you to access a lot of the features included in the Master's Edition. It supports a range of audio file formats, including MP3, AAC, FLAC, WAV, and more. The included ability to batch edit audio files is also great, allowing you to edit a large number of files at once.
Pros:
Free for non-commercial use
Allows batch processing audio files
Includes audio restoration features
Easy-to-use user interface
Cons:
Multitrack recording requires downloading the extension MixPad
Best for: Professionally creating, mixing, and restoring audio files
Price: Free trial, $20.99/mo for individuals
Adobe is well-known for the wide array of refined applications in its creative suite. Adobe Audition is no exception. It is a toolset that equips you with the features necessary to record, mix, edit, and restore audio files. This is why we've included it on our list of the best vocal recording software.
The user interface, while clean, is very technical. This may prove difficult to use for casual users at first. Nevertheless, the application provides everything you need to adjust every part of your voice recordings to ensure they're clear and balanced. It can also be used seamlessly with other Adobe products, such as Premiere Pro if you need to edit the audio included with a video.
No matter what you're trying to do, Adobe Audition will equip you with the features necessary to make any changes to your voice recordings.
Pros:
Integrates with other Adobe products, like Premiere Pro
Allows for multitrack editing
Includes a waveform display
Cons:
The comprehensive user interface may be intimidating for non-technical users
Best for: Capturing input from local or online sources
Price: Free trial, $19.99/year, $29.99/lifetime
Leawo Music Recorder is a straight-to-the-point voice recording software that can record and organize your voice recordings and other audio files.
Its strong selling point is the ability to record audio not only from local sources but also from online ones. For instance, you can record audio directly from online streaming platforms like Spotify and YouTube and save them to your computer as an MP3 or WAV file for lossless quality.
The software also has a built-in metadata editor that allows you to edit the info for audio files, allowing for improved organizing across various devices instead of simply organizing everything by file name.
Pros:
Available on macOS and Windows
Record from local and online sources
Edit and organize within the application
Cons:
Lacks additional editing features
Best for: Free and open-source voice recording
Price: Free
Audacity is favored by users because it's completely free, open-source, and available on Windows, macOS, and Linux distributions. In addition to voice recording, you can edit your audio and combine multiple audio files into one.
The Plug-in Manager allows the installation and removal of sound effects if you're looking for next-level editing. The software is also very accessible, with the ability to control almost the entire application using just keyboard shortcuts.
The Spectrogram view mode allows you to see a visual representation of the frequencies used in your audio files. This is perfect when you want to isolate your vocals from any other noises that may be present.
Pros:
Open-source software
Available on Windows, macOS, and Linux
Completely free
Feature-rich
Cons:
Basic (but usable) user interface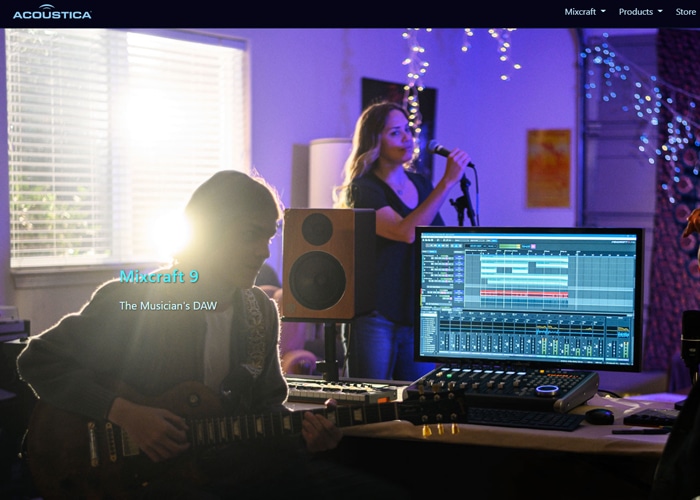 Best for: Professional recording, editing, and mixing
Price: Free trial, $75 for Mixcraft 9 Recording Studio, $149 for Mixcraft 9 Pro Studio
Mixcraft confidently claims to be unrivaled in the industry for its easy-to-use interface and robust features. It includes a large loop library featuring over 7500 loops, music beds, and sound effects, all recorded by professionals. You can import even more from the Freesound library if that's not enough.
Included in Mixcraft 9 Pro Studio is its award-winning Voltage Modulate Ignite, which includes a complete virtual modular synthesizer. You can create rich and deep patches using 45 modules and hundreds of presets.
Try out the software using the 14-day free trial to see if it's right for you. You can purchase the full version of Mixcraft from its website or directly from Amazon if you prefer.
Pros:
30-day money-back guarantee
Full of useful features
Impressive loop library
Full but intuitive interface
Cons:
Geared towards enthusiasts rather than casual users
Only available on Windows
Best for: Open-source and free voice recording
Price: Free
Ardour gets straight to the point. It allows you to record, edit, and mix voice recordings without all the extra fuss. It's an open-source collaborative project created by musicians, programmers, and recording engineers. Best of all, it's free! Therefore, you can always trust that the team behind it will always look out for your best interests.
The application gives you access to a wide array of tools that you can use to edit and enhance your voice recordings. Cut or attenuate certain frequencies to bring out the clarity in your voice while removing any distracting or intrusive background noises. Whether you're a Windows, macOS, or Linux user, Ardour will work for you.
Pros:
Available on Windows, macOS, and Linux
Open-source software
A lot of plugins and add-ons
Comprehensive audio editing
Cons:
Support is on a volunteer basis
Best for: Collaborative production
Price: Free trial, $29.99 for Pro Tools (9.99 for students and teachers), $79.99 for Pro Tools Ultimate ($29.99 for students and teachers)
Avid Pro Tools includes everything you need to record and edit music and voice recordings. If a voice recording isn't enough for you, include one of the many virtual instruments available to you to enrich and add life to your voice recordings.
Other features, like Avid Cloud Collaboration, allow you to work with other artists, editors, and producers over the internet. Work with other like-minded artists to learn more and create new connections. AvidPlay helps musicians and artists get their music on popular streaming platforms like Spotify and Apple Music to launch their musical careers.
Pros:
Full suite of creative products
Over 120+ plugins
AvidLink for collaboration
Cons:
More for artists than basic recording
Best for: Easy recording on a budget
Price: Free
Wavosaur has been around since 2006. Although it has a basic, early-Windows user interface, it's still a solid go-to for easy voice recording. It doesn't offer much in the way of additional features, which makes it great for those who aren't looking to do much more than simple voice recording.
The software is completely free, and the creators are even kind enough to allow users to request additional features on its forum. In addition to voice recording, users can edit, resample, batch edit, and convert their audio files.
Pros:
Free
Straight to the point
Easy to use
Cons:
Best for: In-browser recording
Price: Free, $34/month for Business
Cleanfeed is one of the easiest services to use on this list for free voice recording. It's all handled in-browser, allowing you to not only record your voice but also invite remote guests to join a call (without them even needing to create an account).
The super streamlined interface acts as a studio operator that displays the different audio sources currently coming through Cleanfeed. Start recording your voice at the click of a button and download the compressed file once you're done. Cleanfeed automatically optimizes the audio stream for quality, but you can also choose to manually control the bitrate if you want to ensure you're getting the best quality recording.
Pros:
Free, only requires an account
Streamlined user interface
No account is required for guests
Channel mixing
Cons:
Lacks additional features for editing and post-production
Best for: Recording with a digital audio workstation
Price: Free trial, $50/year
The podium includes a customizable user interface that allows you to create your layout for peak usability. It also allows for simultaneous recording of MIDI and audio inputs at the same time.
Audio tracks and recordings can be edited easy adding curves to the drawing bar. You can also splice audio tracks together and give recordings a fade-in/out for smooth transitions. As a modern digital audio workstation, Podium equips you with all the necessary features to record and refine your voice recordings.
Pros:
Record audio inputs and MIDI simultaneously
Loop recorded tracks
Gapless performance
Cons:
Honorable Mentions
Although we couldn't include the below voice recording applications in the list of our top 10, we think they still deserve mention.
FAQs
1. Which software is best for voice recording?
WavePad is our top recommended voice recording application because it's free for non-commercial use, offers a range of high-quality sound effects, and has the ability to edit your voice recordings straight after they're created.
2. How can I record high-quality audio from my computer?
Firstly, you will need an input device, like a microphone. Then, choose one of the voice recording applications from the list. Each application will include a voice recording feature, with some even allowing you to edit the recordings.
3. What's the best free recording software?
Audacity is often recommended as the best free recording software as it's open-source and community-trusted.
4. How can I record my voice at home?
Using a microphone and one of the voice recording solutions from our above list, you're just a few clicks away from the ability to record your voice at home.
Conclusion
Choosing voice recording software can sometimes be difficult. There are so many options to choose from, each with its own price and list of included features. Using our list of the best voice recording software for Windows and Mac, you can easily find the right one for you.
Also Read