Since its first release, the iPad has grown massively in popularity. However, like all other gadgets, it is not without faults. Occasionally, you may notice your iPad freezing up on your Home screen or when using an app.
Many iPad users get agitated at this point because they have no idea why. For this, we explain why the iPad keeps freezing and how to fix the problem. Ready to learn about this? Read on.
Why Does My iPad Keeps Freezing Up?
First, how do you distinguish a freeze from a lag? Here are some symptoms:
The device stops responding, no matter what you try.
Buttons cease to work.
The screen is static with nothing moving.
There are several contributing factors to the frequent freezing. Some of the prominent causes include:
Several apps open simultaneously.
Corrupted or low memory.
Low battery.
Operating system issues.
Malfunctioning apps.
It was overheating from excessive use.
Update or restore issues.
The above are the most common reasons why your iPad is freezing and running slow. With this out of the way, let's discuss how to solve the problem.
Top 6 Methods to Fix a Frozen iPad
Fixing the problem of iPad freezing up isn't such a big deal. Sometimes, the fixing process may take a few seconds, or it may take a little longer.
In this section, we explain the top 6 methods to fix your frozen iPad. Let's dive straight in.
Hard Reset Your iPad
It is the easiest method to solve this problem. If your iPad keeps freezing, you can try this method out first. It is pretty easy to run; check out the process below.
Step 1: Check for the Home button at the bottom-center and the Sleep/Wake button right at the top. Hold both down for 7 seconds until the Apple logo appears on the screen.
After this, the iPad should be fine. If this method doesn't work, try out the following method below.
Check for Faulty App
Like we stated above, faulty apps may be the reason your iPad freezes up. One way to discover this is when your device freezes after you download a new app or launch a specific app. If this occurs, then the app you opened or downloaded may be the culprit.
What do you do in this case? It would help if you removed the app. Here's how to identify a faulty app on the iPad and uninstall it:
Step 1: Tap the "Settings" app from your home screen.
Step 2: Scroll down to "Privacy."
Step 3: Tap "Analytics."
Step 4: Select "Analytics Data" and identify the apps listed multiple times, which signifies a potentially problematic app.
Step 5: Navigate back to the "Settings" main page.
Step 6: Tap on "General."
Step 7: Tap on "iPad Storage."
Step 8: Go through the list of apps and check for storage space it occupies. If your iPad has a total capacity of 16GB, yet you have heavy apps, this might be the reason why it stalls. Pick the app that you need to uninstall.
Step 9: Tap on "Delete App."
Step 10: You will get a message prompt asking if you want to continue with the process. Tap Delete App again to confirm.
Turn Off Apps Running in the Background
Put merely, background apps are those apps that you have used or opened without closing. When you do this, you leave these apps in standby mode. Doing this is great because it allows you to continue with them right from where you stopped.
The challenge is that they can also result in your iPad freezing and running slow. To be sure that background apps aren't the cause of the problem, you need to turn them off. Take the steps below to carry out this operation:
Step 1: Double press your Home button.
Step 2: Swipe to the right or left to check the different apps left in the background.
Step 3: Close each app by swiping up on the app preview. Do this for all the apps until your background is free.
Free Up Space
If you have tried all the methods above and they have proven abortive, then you should try clearing up your device's storage space. Lack of storage space on an iPad affects its ability to function properly.
Using the third-party software iMyFone Umate Pro can help identify junk files and free up space. The good part is that using this app doesn't lead to data loss, and it supports different iPad and iPhone models. Check out the steps below to free up your iPad space using iMyFone Umate Pro.
Step 1: Download iMyFone Umate Pro to your computer and install it.
Step 2: Plug your iPad into your PC using a USB cable.
Step 3: Launch the app and tap on "Free Up Space." The app should recognize your iPad. If it doesn't, follow the instructions on the screen to put your device into recovery or DFU mode.
Step 4: Click on "Quick Scan" for the app to identify space to free up.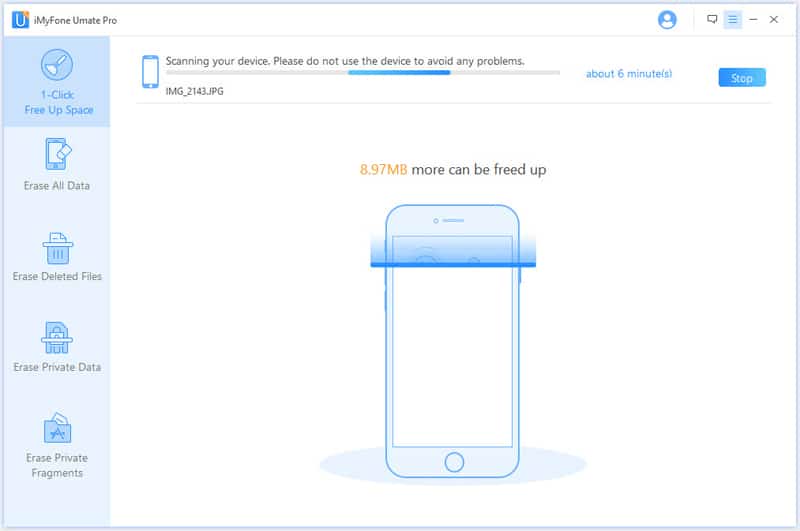 Step 5: Once the results show, select the ones you want to delete, then tap "Clean."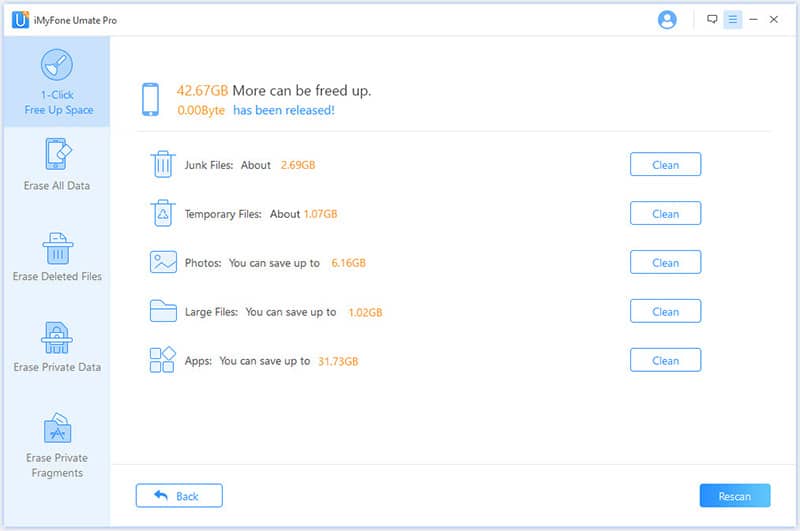 Also Read: Best iPhone Cleaner in 2023 | iMyFone Umate Pro Review
Fix iPad Keeps Freezing Up without Data Loss
It is another method that you can use when your iPad keeps freezing. It also involves the use of third-party software, this time, Tenorshare ReiBoot. This iOS repair tool can solve different iOS problems without losing your data in the process.
Here's how to use Tenorshare ReiBoot to fix your iPad.
Step 1: Download Tenorshare ReiBoot to your PC and install it.
Step 2: Connect the frozen device using a USB cable.
Step 3: When the app detects your iPad, click on the "Repair Operating System" option.
Step 4: Click on "Fix Now."
Step 5: The next window requires you to download the latest firmware for your device. Click on "Download" to begin the process.
Step 6: After downloading, click on "Repair Now" to fix your iPad. The process may also take some time. After this, your device will restart.
Also Read: Tenorshare ReiBoot Review
Restore Your iPad to Factory Settings via iTunes (Data Loss)
The last method we will be discussing requires you to restore your iPad to factory settings via iTunes. When you purchase a new iPad, customization is typically left to the owner. After a while, the factory settings of the iPad are replaced with preferred settings. These personal preferences may alter the operability of the iPad thereby leading to issues such as freezing.
By restoring the iPad to factory settings, you erase all the information and settings that might be the cause of the freeze. Since this method leads to loss of iPad settings and data, we suggest that you back up the device first.
Here's how to fix your iPad using this method:
Step 1: Launch iTunes on your PC and plug in the iPad using a data USB cable.
Step 2: Click on your device.
Step 3: Click "Restore iPad."
Step 4: A message pops up, asking you to confirm your decision. Click "Restore." It will reset your device to its factory state.
Conclusion
There you have it! 6 methods to try when your iPad keeps freezing. Among these solutions are two third-party software, iMyFone Umate Pro and Tenorshare ReiBoot. You can try using these methods and let us know if they worked for you.