macOS is one of the most powerful OS that pre-installs almost every tool you need. However, macOS is not perfect, and there are a few things you wish you had on Mac. One of them is a better set of options for burning CDs and DVDs. Like everything else, Apple has a built-in engine for CD burning, but that is barely enough.
So, it is completely normal if you are looking for a better CD/DVD burning software for Mac. However, there are so many options in the market, and you might have trouble making the right choice. In this article, we have compiled some of the best CD/DVD burning software for Mac out there. As always, you can count on this list for some versatile choices.
Quick Summary
Wondershare DVD Creator is an easy-to-use yet feature-rich CD and DVD burning software for Mac. A product from Wondershare, this tool also offers a powerful DVD creation toolbox. This reasonably-priced package comes with the right tools to help you easily customize your CD/DVD projects.
Cisdem DVD Burner for Mac is another trusted choice from the tech world. While this tool may not have all the features you see in the Wondershare product, the DVD burning experience is impressive. You can make a decent amount of customizations as well.
DVDFab DVD Copy for Mac comes from DVDFab, a developer known for its DVD-management tools. DVDFab DVD Copy is not a dedicated DVD burner software, but it gets the job done. When you purchase this tool, it gives you access to some professional-grade DVD copying features as well.
What is DVD Burning Software for Mac?
Here is a quick introduction to DVD-burning software for Mac.
As we mentioned in the introduction, macOS has a built-in engine for burning CDs and DVDs. By connecting an external optical drive or using the built-in drive, you can burn CDs and DVDs via macOS. The system even shows you the list of CD/DVD types you can burn. The problem? You don't have much control over how the DVD/CD will open or play the content inside.
This is where a dedicated DVD or CD burning software comes into play. These software solutions help you to have ultimate control over how a CD or DVD works on compatible devices. We are sure that you have seen those templates and playback menus on at least some DVDs. With the help of a professional DVD and CD burner, you can create DVDs and CDs like that.
Now, depending on the amount you can spend, the DVD burner software may have different features. Some tools allow you to copy content without fail, while others help you make creative menus and other attractive elements.
Who Should Get A DVD Burning Software for Mac?
Any Mac user may need a CD/DVD burner software. That is because the native CD burner utility on macOS is not up to the mark. However, if you can relate to the following scenarios, you may need one of the best CD/DVD burning software for Mac.
You want to create a CD/DVD that contains well-organized media content. Of course, you are making this disc for someone who uses legacy devices like a Blu-Ray player.
You already have a wonderful collection of vintage films and TV series. You want to copy all this data to a new disc, which is more durable and reliable.
You still find DVDs and CDs an effective way to store media! And, of course, you would like to have a well-crafted collection of these discs.
Alternatively, you could be someone who loves DVD and CD collections. And when you want to recreate an old DVD. In that case, you would love a DVD burner software with additional features like editing.
How We Tested and Picked the Best Disc Burning Software for Mac in 2023
We were looking at the following factors to filter out the best disc-burning software for Mac.
A Better UI — We wanted to find disc burners with a better User Interface than the one on Mac. This UI should offer you an easy way to control the entire DVD-burning process.
Control Options — The DVD burner software should allow users to control the burning process. The ability to customize the DVD menu and the interface is just one of the many options.
Multiple Burning Modes — A single mode of DVD burning is not enough for professional customers. So, we have chosen products that come with numerous burning modes.
DVD Menu Collection — This is an essential feature while creating an attractive DVD package. You should have a good collection of templates to pick from.
Compatibility — In the case of DVD burners, compatibility refers to the type of DVDs and CDs that a tool works fine with. We need broad compatibility here, due to obvious reasons.
Pricing — Of course, not everyone wants to spend the same amount on a DVD burner software, right? Keeping this in mind, we have included products that belong to different price brackets.
With these criteria as our creed, shall we check out the best CD/DVD burner coverage?
Best CD/DVD Burner for Mac in 2023
Wondershare DVD Creator is a fully-fledged DVD creation software available for macOS and Windows. It allows you to burn CDs and DVDs with fantastic control and customizability. Professionals do use this program for a variety of needs, including the creation of DVD video discs and one-click DVD burning. However, there are also other options for video editing and ISO conversion.
There are three options for burning contents to an optical disc — DVD Video Disc, One-click to burn DVD and CD Burner. While the first and second options are great for creating multimedia CDs and DVDs, the third is suitable for creating audio CDs. As you can guess, most noticeable features are in the DVD Video Disc mode, where you have ultimate control too.
Using Wondershare DVD Creator is pretty easy, regardless of your expertise. For instance, to create one DVD Video disc, you have to select the content that you want to burn first. This can be videos or photos, and you can arrange the order in which they appear. Wondershare DVD Creator also comes with a built-in player and volume controller.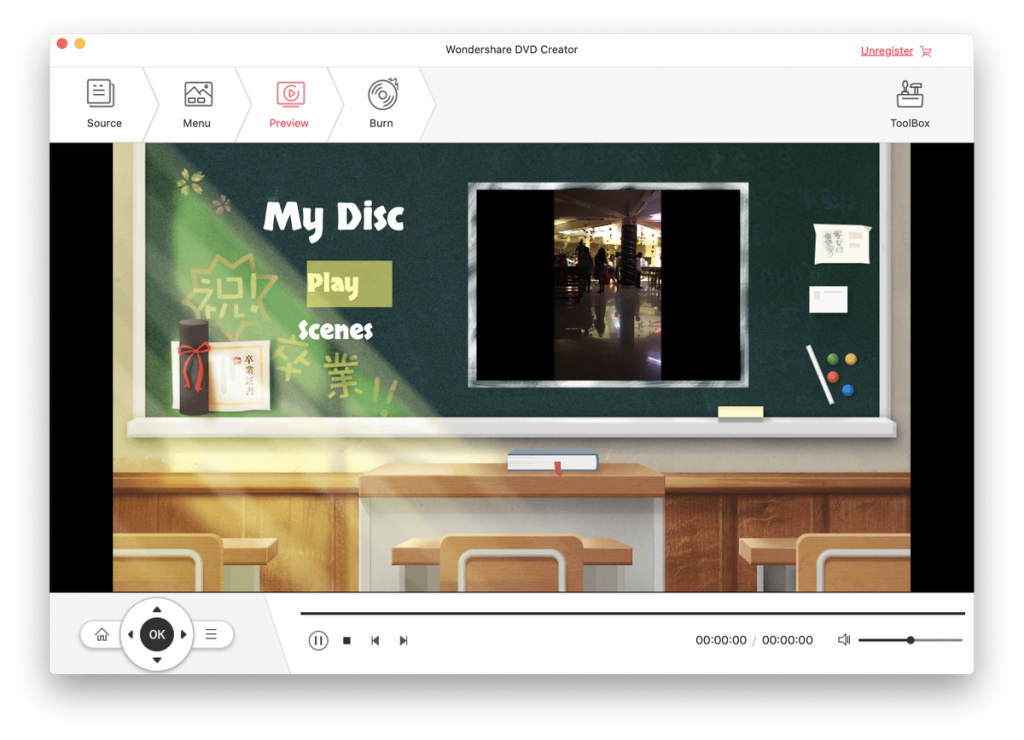 On the next page, you can choose the DVD menu from the available options. Wondershare DVD Creator has a built-in collection of 123 templates, and you can customize each of them. You can also control how the title pages look on a traditional DVD player. Once you have finished, you can move to the Preview page and see how the DVD plays in real life. There is also a fully-fledged DVD player menu to help you.
Even when it comes to burning the contents into a DVD, Wondershare DVD Creator offers you many options. You can burn the contents to an actual DVD, save the content as a DVD folder, save as .ISO file or even save the entire disc as a DVDMedia file. We should also mention that this program offers one of the best burning speeds as well.
At all times, you can access the Video Toolkit of Wondershare DVD Creator. This includes a one-click burner, video editor, photo slideshow maker, and data disc creator. All these features come in handy when you want to add some extra charm to the video content inside. The Audio CD burner offers a quick-and-easy interface as well.
Wondershare DVD Creator is available for macOS and Windows. There is a limited free trial, but a full license of the program costs $49.95.
Cisdem DVD Burner for Mac is another popular choice for professional DVD creators. In addition to being a better burner utility than what macOS offers, you can use this Cisdem product for improved speed and reliability. It also comes with a simple, 3-step DVD-burning process.
The first thing we noticed is that Cisdem DVD Burner for Mac takes us right away to the file selection process. It does not have multiple modes to choose from. In the first window, you can import various media files, including videos, audio files, and folders. As you add files, the tool will show you the amount of space left in the disc — in real-time.
There are some useful features, such as the built-in media player. You also get a variety of video-editing tools that you can use. The options include cropping, watermarking, subtitles, and rotation. Once press the Menu button, you can find a fully-fledged option to customize the DVD menu. Compared to our first pick, Cisdem DVD Burner for Mac offers better customizability here.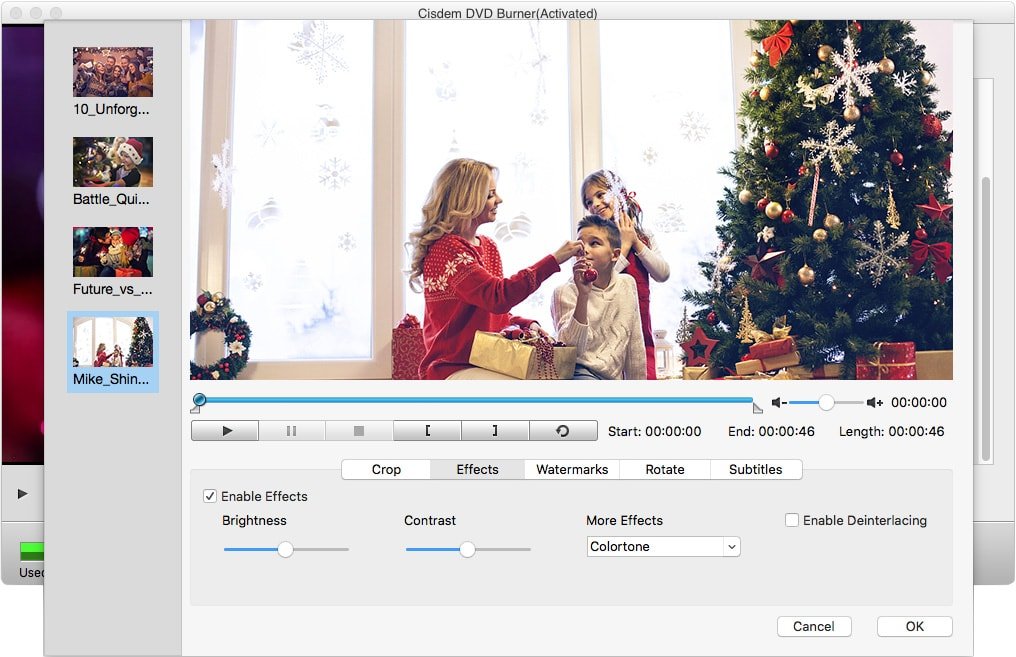 For instance, you can choose not only one of the templates but also particular elements. There are plenty of options to include elements like background music and navigation details. So, if you are planning to create the most creative DVD menu, you will love this interface and its features. Just to show you the amount of choice here, you can even choose the frames for individual video titles.
Cisdem DVD Burner for Mac also comes with a comprehensive DVD player interface. You can play the disc in preview and understand how the navigation procedure works. You also get a handy remote to control every possible choice. Now, once you have finished all the customizations, you can go ahead and burn the contents to the target.
Cisdem DVD Burner for Mac allows you to burn contents to a DVD, DVD folder or ISO file. Regardless of the option you choose, you can change aspects like aspect ratio, audio codec, and TV standard. This means you can ensure that the DVD works on every platform you want. These advanced options are quite handy for the professional community.
Cisdem DVD Burner for Mac offers a limited free license. But if you need full features, you can purchase the lifetime license for $49.99.
DVDFab DVD Copy is probably the most advanced DVD burner software for Mac. The point is that DVDFab is a full-sized DVD suite. You can use this single tool to copy, rip, convert, and create DVDs. In addition to the main options, you can access tools like DRM removal and file transfer to your portable devices.
Despite the wonderful set of features inside, burning CDs and DVDs using DVDFab DVD Copy is an easy task. Like we did on other tools, you can import the media you want to burn, and DVDFab will show you the necessary data. You can toggle between different modes, such as Full DVD and Customize.
Nevertheless, we think there are areas in DVDFab DVD Copy that could be better. For instance, you will have to shuffle through multiple modes to create an original DVD experience. This was somewhat easy on most of the tools we covered earlier. But you can also think of it as a necessary trade. That is, you are trading easily for some advanced features.
You can use the Blu-Ray analysis and BD Fix utilities to get rid of restrictions and playback issues. It's superb that you can use this single tool for removing region-based restrictions from a Blu-Ray disc. There are also a few options for file transfer and remote control. If you are not a Pro user, you may find these features not-so-useful, by the way.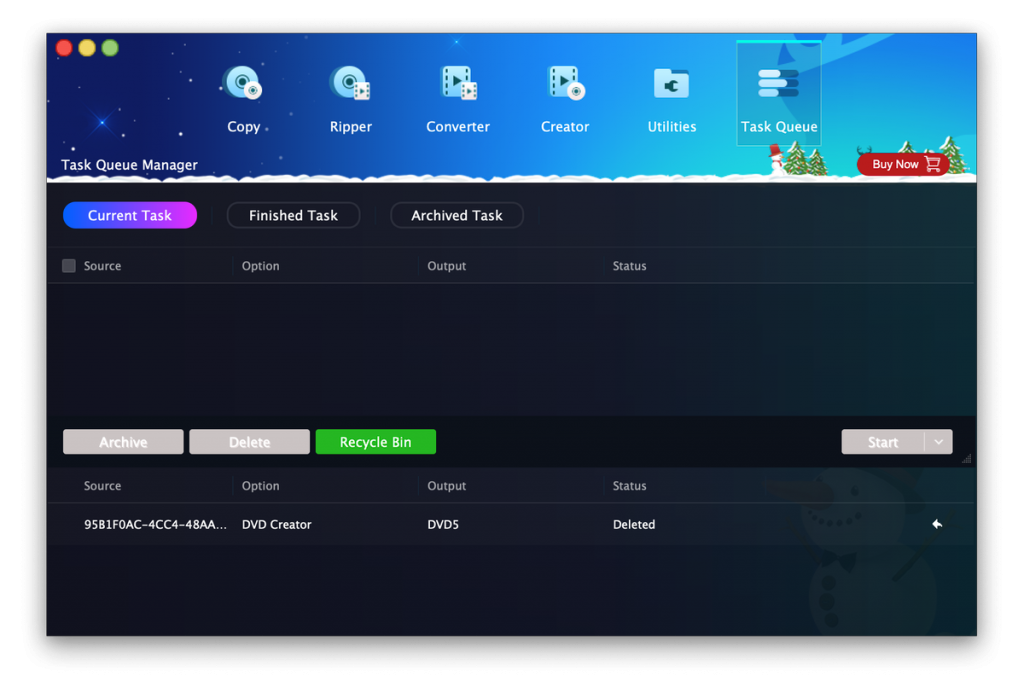 DVDFab DVD Copy is a paid DVD burner software that costs you $79.
A product from NCH Software, Express Burn Disc Burning Software is another popular DVD burner for Mac. Compared to previously mentioned tools, this one does not have many features or comprehensive interfaces in the package. Nevertheless, you can use this minimal tool to author DVDs, CDs, and Blu-Ray discs with the ultimate ease.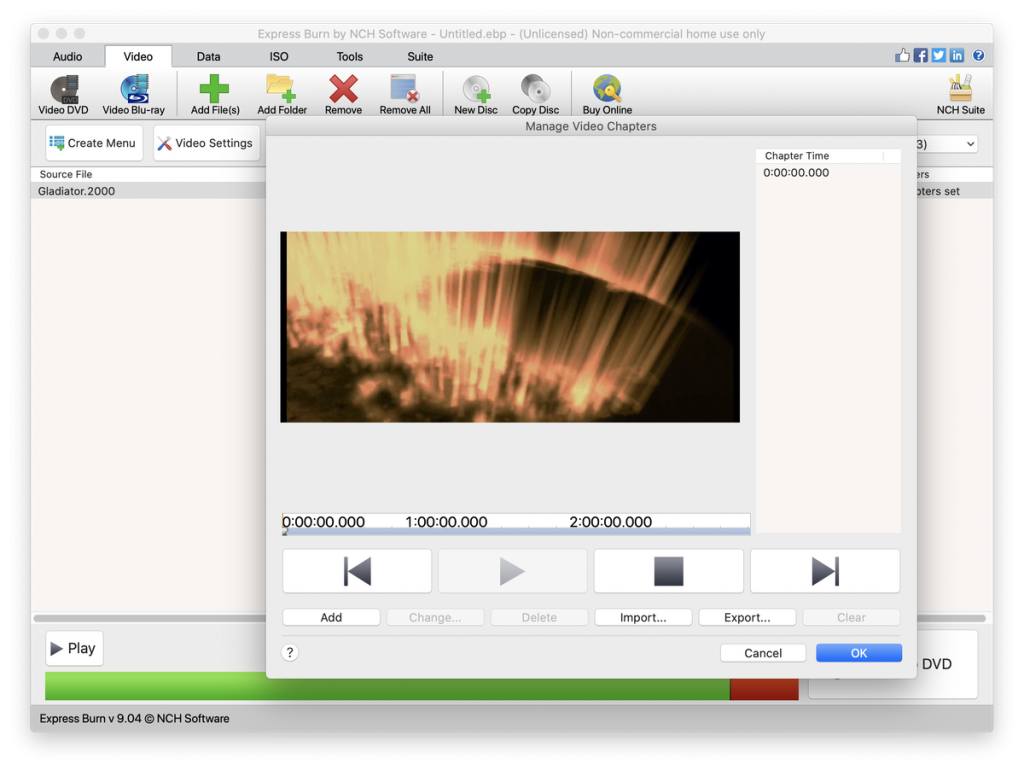 The User Interface of Express Burn is just impressive. As you can see, the software has many tabs for different sections. You can choose one according to the type of DVD that you want to author. If you select DVD Video, for instance, you can find options for managing chapters, creating menus, and adding a variety of content to the disc.
One thing we love about Express Burn Disc Burning Software is that it allows you to download new templates from the official website. This is a great feature for creating a good-looking DVD experience without much trouble. We also noted that Express Burn is pretty useful in optimizing the DVD content as you move between modes.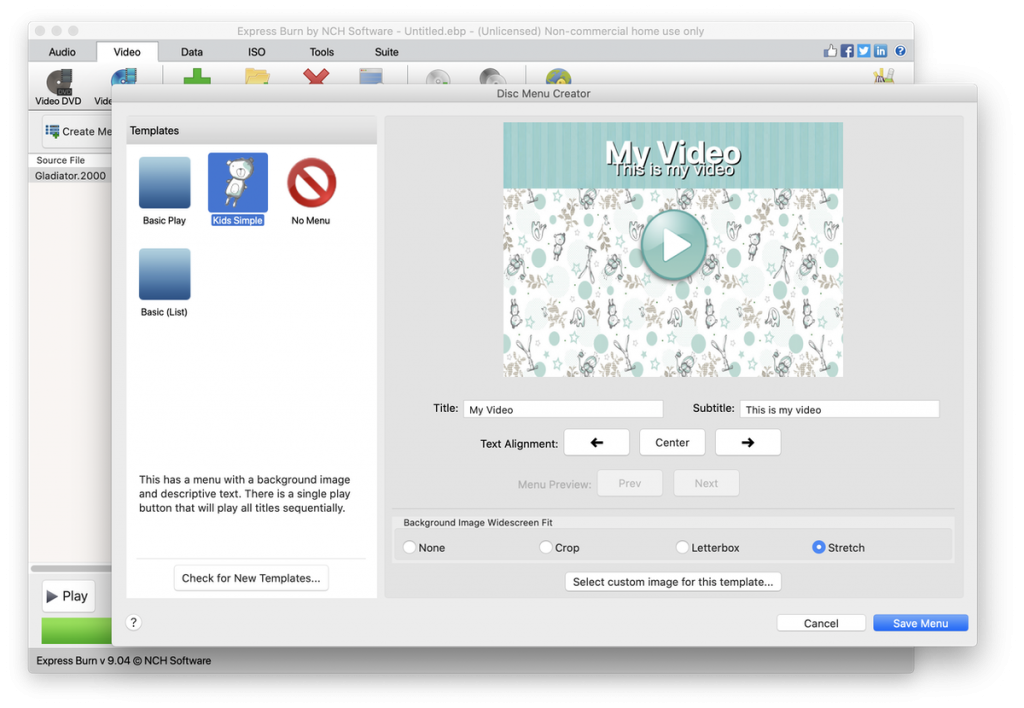 Express Burn offers multiple output modes. There is even a suite of software that you can check out if you are willing to pay. On that note, Express Burn offers most of the features free of cost. However, if you need constant, advanced access, you have to purchase the full version by paying $24.99.
Roxio Toast Titanium is a premium take on the best DVD making software for macOS. You should consider it only if you are looking for some of the most advanced features in DVD burning. On the other hand, if you just want a software to burn CDs and DVDs in a single click, you are better off without this rather expensive application.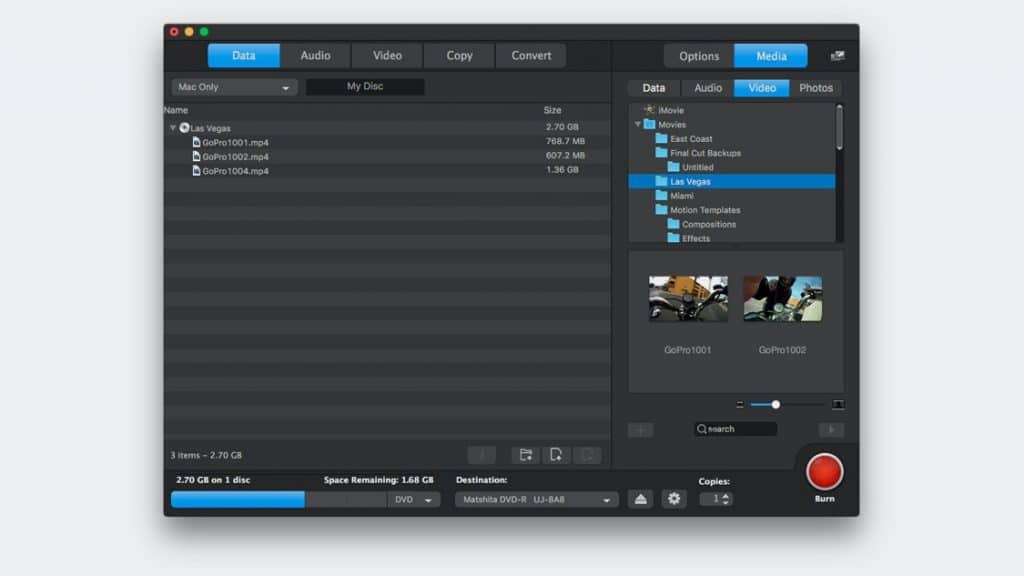 Some aspects apart, Roxio Toast Titanium is your regular DVD burning software with other basic features. It allows you to copy and catalogue various CDs and DVDs. However, unlike most other tools, Toast does not break copyright protection. But it also comes with a bunch of editing and organizing features.
Integration with third-party devices is a cool thing about this program. You can use Roxio Toast Titanium to deal with video output from your video recorder. Besides, you get multi-track editing and adequate controls as well. Once you have finished customizing the DVD experience, you can burn the contents to physical discs or an ISO file.
Even regarding DVD menu creation, Roxio Toast Titanium offers many templates. Although it is not as rich as the collections we have seen in others, Toast is a great place to start. Last but not least, the tool offers native support for almost every DVD format. The only problem is that you have to pay $79.99 for the Roxio Toast Titanium package, and there is no free trial.
Suppose you are looking for an affordable disc burning software with some premium-level features. In that case, you should consider what NTI Dragon Burn offers. One of the regularly updated tools in this set, NTI Dragon Burn provides almost every feature, including but not limited to video mastering.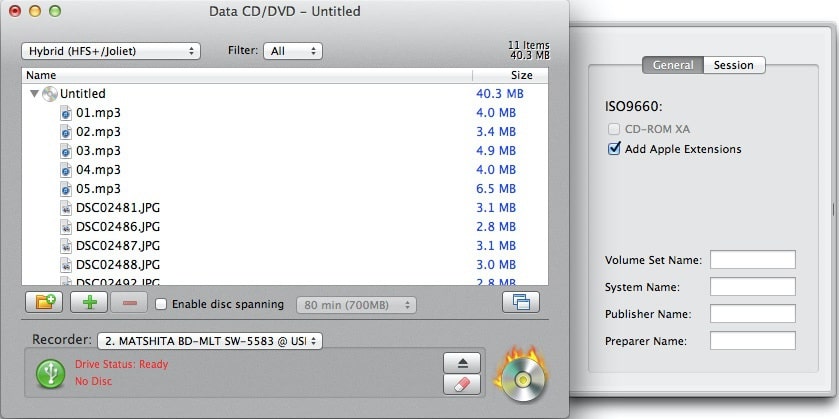 If you are creating a video DVD, you can have maximum control over how the DVD looks. But, if you want to make an audio CD, you will love the audio editing features in the package. The program detects the DVD type in both cases and chooses the best burning tech.
The Picture CD mode is quite impressive. When you want to create a good-looking DVD using your photographs, NTI Dragon Burn will be more than enough. Some additional features include the Disk Info and Recorder Info. All these come in handy when you are managing video resources from multiple sources.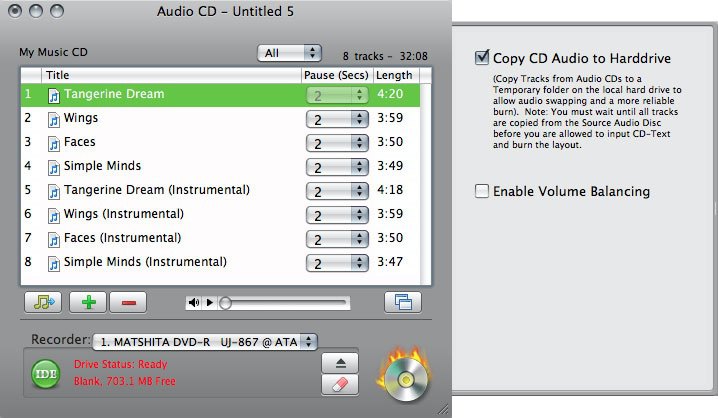 Despite the powerful and professional-grade interface, NTI Dragon Burn is easy to use. Moreover, the tool offers some of the best burning speeds we have seen on Mac. We would not recommend this tool over our top picks, but this deserves a spot. NTI Dragon Burn is a premium tool with a reasonable price tag of $19, but there is a free trial.
Tipard DVD Creator for Mac is another worthy consideration if you are looking for a simple but feature-rich DVD burning software for Mac. Like some top-end DVD creators we have covered, Tipard DVD also has the right features inside. You can use this single tool to create an entire DVD project, top to bottom. It's packed with some conversion/copying functions as well.
As you can see, the interface of Tipard DVD Creator for Mac is pretty straightforward. You won't have trouble getting started or finishing more challenging tasks. For instance, the tool lets you create a DVD menu interface yourself. Just as we had expected, there is a built-in video editing engine with cropping, trimming, and watermarking features.
Tipard DVD Creator for Mac checks all the other boxes for burning CDs and DVDs. Offering a standard level of convenience, the program lets you burn the files to a physical disc or something you'd virtually store. In either case, you won't have trouble navigating within the program or even the advanced features section.
Compatibility is also a strong forte of Tipard DVD Creator for Mac. It offers complete support for not just the popular DVD types and media files but also some unique export options. In the end, you can trust Tipard DVD Creator for Mac with all your heart. This easy burning software offers a free version, but you need the paid variant for the best results. The full license comes at $29.75.
Best Free CD/DVD Burner for Mac in 2023
Most of the CD/DVD burning programs for Mac we have seen above are either premium or freemium. However, at least a few of you would be looking for a completely free CD/DVD burning software, we have found a good collection for you.
Burn is an entirely free and open-source DVD burning software for Mac out there. And one of the best things about Burn is that it gets regular updates, thanks to the community. As you can guess, there aren't many advanced features in the package. However, you can use Burn to create audio, video, and data CDs/DVDs in no time.
It's also cool that Burn has multiple windows for each type of disc. This comes in handy when you are in a rush. You can download Burn from the official site too.
Disco is another free CD burning software for Mac. However, this one offers an advanced set of features and power tools compared to Burn. You can use this tool for professional-grade disc authoring, including music and video content. One problem is that its developers have discontinued the software, and you may have an issue while installing Disco on a newer device.
Even then, we have to include Disco in our list for the amazing set of features we mentioned.
iTunes is officially dead with the arrival of Mojave, but it is still an excellent way to burn CDs and DVDs. Of course, that is if you have an old Mac device that cannot run the latest version. The best part about iTunes is that you can enjoy the best speeds and a native Apple User Interface. Also, it will be easier for everyone to keep the right music in sync.
The Bottom Line
We believe this list of the best CD/DVD burner software for Mac clears all the doubts you have. Since we have added free, freemium, and premium products, you can easily find the right one for your needs. We do highly recommend that you give the highest priority to your requirement. For instance, if you are someone who makes DVDs for professional needs, you need a tool like Wondershare DVD Creator. On the other hand, if you're just looking for a better burner than the default utility on Mac, something like Cisdem DVD Burner would do the job.