After the advent of the first Karaoke machine, it soon became the staple source of entertainment at bars, pubs, and parties. Given the fun, it still has the same craze. Today, however, you do not have to purchase a karaoke machine to thread karaoke into your parties and get-togethers. You can install free Karaoke software on your Windows machine and host karaoke nights to have the same fun!
When it comes to Karaoke software — you'll have to opt only for the crème de la crème. And to save you time, we dove deep onto the internet and compiled this list of the best free karaoke software for Windows 11, 10, 8, & 7.
Scroll down to find the best Karaoke app for PC.
Short on time? Here's the list of the best Karaoke software for Windows 11, 10, 8, &7:
| | | | |
| --- | --- | --- | --- |
| Karaoke Software | Windows OS | Price | Suitable for: |
| PC DJ Karaoki | Windows 11, 10, 8, & 7. | Free trial. US$ 99.00 for a single license. | House parties and Karaoke venues |
| KantoPlayer | Windows 11, 10, 8, & 7. | Free, US$ 69.95 (Professional Version). | Hosting Karaoke Nights at home |
| Karaoke One | Windows 11, 10, 8, & 7. | Free; In-app purchases | Aspiring Singers who need Talent Show at your fingertips |
| Karaoke Builder Player | Windows 11, 10, 8. &7. | Free | Playing CD+G and MP3+G files |
| KaraFun Player | Windows 11, 10, 8, &7. | US$ 9.99/mo US$ 5.99/ | Offline sync and huge library of songs |
| Siglos Karaoke Professional | Windows 11, 10, 8, & 7. | US$ 99.00 | Hosting Professional Karaoke events |
| KJams | Windows 11, 10, 8, & 7. | US$ 40.00 | Hosting home events |
| ARIA | Windows 11, 10, 8, & 7. | Free | Good for new Karaoke jackets |
| Lyrx | Windows 11, 10, 8, & 7. | US$ 79.95 | Hosting house parties and Professional Karaoke events |
| Karaoke 5 | Windows 11, 10, 8, & 7. | Free; US$ 33 (1PC/1 Year) | Hosting House parties |
What is Karaoke Software?
Playing song tracks — (instrumental music) — without vocals, Karaoke machines synchronize lyrics with the song's timing. This combination of subtitles and background music presents the perfect setting and allows anyone to sing any song of their choice and entertain the audience with their singing skills.
Of course, today machines are replaced by lines of code — software. You do not need to purchase a machine and assign a home space to host a karaoke-themed party. Instead, all you need is a computer equipped with Karaoke software to spice up any party. You will also need additional gears like a microphone and a speaker. You can connect the microphone to the 'Line-in' port of the computer and get a regular Karaoke setup.
However, as mentioned, not all the software is right for you. Depending on the requirements like configuration, functionality, interface, and sound effects, you could choose a Karaoke software that satiates your request.
Who Should Get This?
Karaoke is prevalent for a reason: it lets you bond with friends, colleagues, family members and creates thrilling experiences. So, anyone interested in singing — be it for personal ventures or social functions can get one of these best Karaoke apps for PC and become a Superstar.
The reason to recommend ten Karaoke software is to help you find the ideal tool. Yes, all of these applications are wonders, but they may lack the functions you might be looking for.
And that is why we have compiled a list of the ten best Karaoke software for Windows 11, 10, 8, &7. And have also conveyed the best features, pros, and other aspects that will help you find the most suitable Karaoke application for your requirements.
Top 10 Best Karaoke Software in 2023
Here's the list of the best free karaoke software for Windows 11, 10, 8, &7.
1. PC DJ Karaoki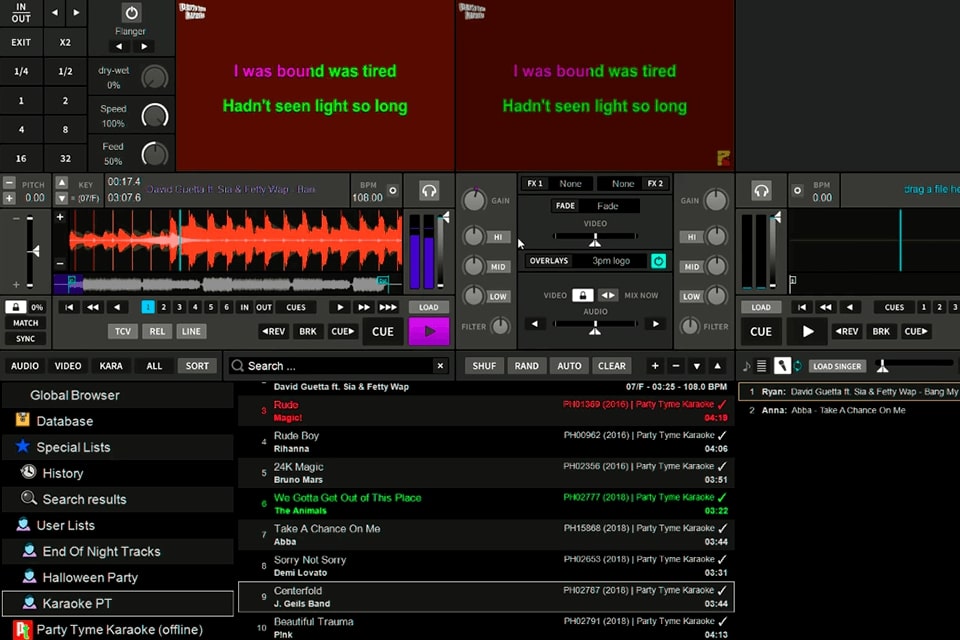 A comprehensive and easy-to-use Karaoke software, PC DJ Karaoki comes laden with features. Be it the support of a large variety of file formats or multiple output device configurations, PC DJ Karaoki will not disappoint you.
In terms of visuals, PC DJ Karaoki looks well-defined and offers you many customizable options, like changing the skin and personalizing it. The main interface does not overwhelm you with many features but has dedicated toggles to adjust the pitch, tempo, and other media control selections.
Therein you could also choose to view the lyrics or move them to another screen, like add an additional screen for the aesthetics of the party.
PC DJ supports all major file extensions, and you could import any audio file format like MP3, WAV, MP4, MPG, WMV, MP3+G, and WAV+G. You can add the files via scanning a directory or manually adding a track; plus, you will also find some organizing options, such as editing the details of the added music track.
All in all, given the affordable subscription costs and a free trial, PC DJ Karaoki is the best free Karaoke software for Windows 10.
Transport control areas like play, pause, fade-to-stop, key control (adjust in ¼, ½, and full Semitone steps), and tempo control (without key) to navigate smoothly.
You do not have to manage the Signer rotation as the PC DJ Karaoki does it automatically.
Full-fledged file manager to make professional songbooks; you can also export the songbooks as TSV to edit in Excel.
Free trial to test the application
Highly customizable and simple-to-manage interface — drag and drop features
Supports multiple audio formats
Cloud integration
Shows history
You will have to purchase each track for $1.99 if you do not have your own library of songs
2. Kanto Karaoke
A smart and reliable tool, Kanto Karaoke is another free Karaoke software available for Windows 11, 10, 8, &7 users. Featuring an approachable and understandable user interface, Kanto allows everyone to become KJ regardless of their knowledge of computers or applications.
On the main window, Kanto has options to render audio files and create a playlist of your favorite songs. While playing the songs, the tool provides you with options to adjust the tempo with simple-to-understands sliders. You will also find toggles for configuring the MIDI channelers or completely turning the Melody off.
Of course, KantoPlayer, like the PC DJ, supports all the multimedia formats, so you do not have to worry about compatibility issues while adding songs and creating a playlist. Besides all these, KantoPlayer also allows you to record the songs and save them for tuning later, making it one of the best Karaoke software, which you can free download for Windows 11, 10, 8, &7.
The application supports all multimedia formats: MP3, Mid, Kar, Kfn, Mp3 + Cdg, karaoke videos ( . Avi, Wmv, Mp4, etc …)
Record the voice over the music and save them in your desired format
Convert Midi to MP3 with or without melody track
Equalizer, Reverber, and Multiplex Vocal Remover
Sleek and minimalist user-interface
Lightweight application — so expect it to perform well even on typical systems
Web Browser to load music from the internet directly
Special effects like clapping or jeering
Not for professional KJ's — suitable for home experiences
3. Karaoke One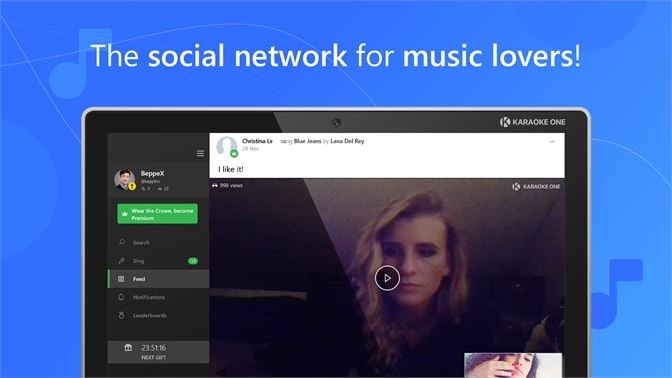 Price: Free; In-app purchases
Best for: Singers who want to share their talent with the World
Official Website: https://karaokeone.tv/
Available across all platforms, Karaoke One is not just a conventional Karaoke software for PC. But it also has social sharing options. So, you can record songs with your vocals and share them with your friends. But besides sharing them with your friends and the world, you could also view other users' recordings by accessing the 'Feed' menu. You can also share your views about their recording by liking (You Rock) and commenting on their performances. There are also features to Karaoke One's Social realm: you can create a profile, including a description, and share your clips; you can also monitor the likes, followers, and other statistics within the software.
Coming to the multimedia support, Karaoke One will not disappoint and take your time with conversions as it can render audio and video files of any format. Karaoke One's GUI is intelligently designed, so any user can utilize the application effortlessly and explore the tool to its full potential.
Once you visit the Sing menu, you will find a library with a massive collection of songs. You can also choose songs based on genre, as there are dedicated libraries like I Love Rock 'n Roll, Pop4ever, Back to the 80s, and more!
You can find Karaoke One on the Windows App Store and use it free. Karaoke One is ideal for anyone looking for the best karaoke app for PC — not only for personal use but also to interact with users interested in singing worldwide.
A large collection of songs from all genres — I Love Rock 'n Roll, Pop4ever, Back to the 80s
Social sharing options to share your talent with the entire world
Supports all file formats
Friendly competitions — to compete with others and see where you stand on the Leaderboard
A free platform
Allows you to connect and interact with other singers from all around the world
Cross-platform support
Not suitable for professional KJs — more of a personal tool.
4. Karaoke Builder Player
Build to be used alongside Karaoke Builder Studio, Karaoke Builder Player is a fast, free program for playing your CD+G and MP3+G files. The application features numerous audio control features and allows you to adjust the key, pitch, volume, and speed of the song. The lyrics of the song could be viewed via mini-player or in full-screen mode, plus there are also five preset windows for 1x, 2x, 3x, 4x, and 5x play.
The interface has a glim look and easy-to-use options. Almost all the critical options are present on the main screen, leaving no room for confusion or complexities in finding the needed toggles. To add a song to the player, you have to select from the computer and drop it on the software. It can also unzip .zip files on its own.
One of the best things about Karaoke Builder Player is it is entirely free to use. You can simply download the software and install it on your computer to utilize it. No registration is required whatsoever, making it one of the best Karaoke Software for free download on Windows 11, 10, 8, & 7.
Play CD+G (.cdg and .bin files) and MP3+G (a pair of files – .mp3 + .cdg)
Track slider to control any and all aspects of the track — key, pitch, speed
Take screenshots of the lyrics page with a click of a button
You can create shortcut keys
A free platform indeed — no strings attached whatsoever
Allows you to copy and play audio files hidden in the .zip case
Although easy to use, Karaoke Builder Player has an outdated interface
5. KaraFun Player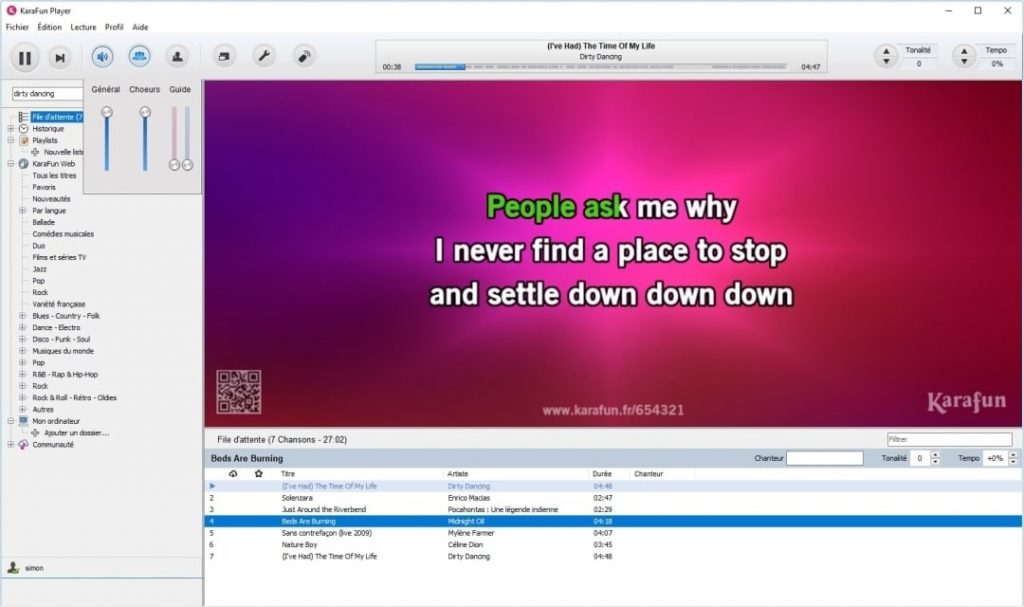 KaraFun is another reliable, user-friendly tool preloaded with 45000+ high-quality songs from various genres, including jazz, pop, rock, disco, and more. Plus, you do not need an active internet connection to keep the party going — the offline sync features enable you to download the song and load it on the computer. And, of course, like any other best Karaoke software for Windows 11, 10, 8, &7 — KaraFun allows users to add songs and create their own playlist. The application supports all popular media files, including CD+G, MPEG, KAR, or MID.
The application has integration to support dual-screen and permits you to display the lyrics on a second monitor while allowing you to handle the playlist from the primary computer. You will also find several climactic and tempo controls to adjust everything as per requirements. And in case you get bored with the usual singing — you can use the alternate vocals feature to sing in a deep voice and have fun!
KaraFun Player also has an integration to list Favorites — when friends and family have done singing — you can add all the songs to Favorites and visit them later.
Besides all the usual traits mandatory to be recognized as one of the best Karaoke apps for PC — KaraFun Player also has a cool-looking interface displaying all the essential options on the main screen itself.
KaraFun Player has over 45000+ with the premium subscription and supports numerous other extensions, including CD+G, MPEG, KAR, or MID.
Dual-screen display allows you to broadcast the lyrics on a different panel while enabling you to control the critical function from the primary machine.
Offline sync to download and save the favorite songs and access them without internet
Straightforward and manageable interface — everything about the software shouts about it being the best karaoke software.
Tons of tracks from numerous genres allow easy access to the favorite songs.
Regular updates!
Expensive subscription costs — in terms of features offered.
6. Siglos Karaoke Professional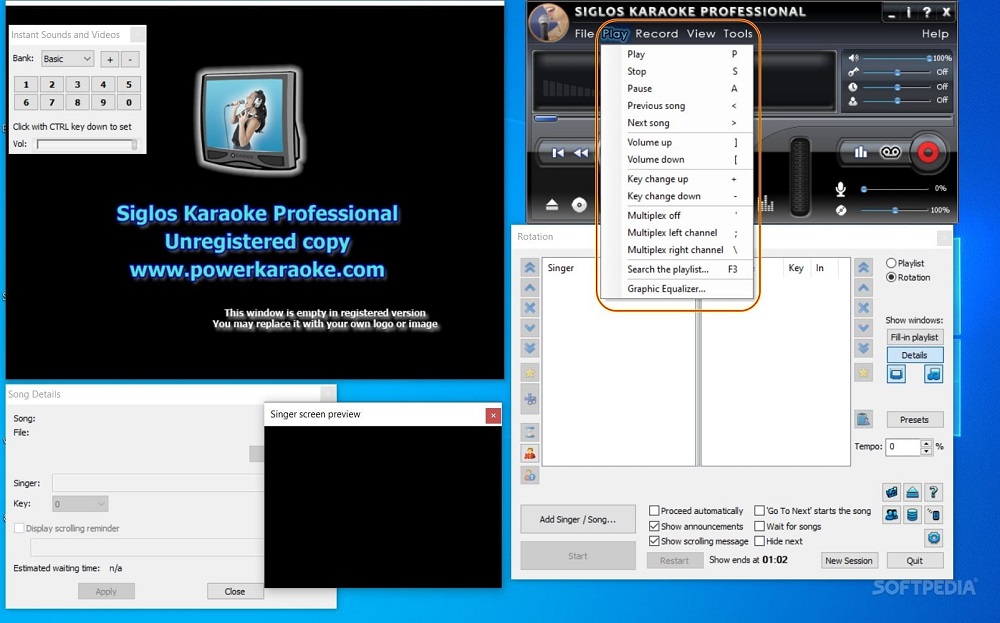 Able to play a wide range of audio formats like MP3+G, ZIP, BIN, MID, KAR, and KMA files, Siglos Karaoke Professional is a versatile application that can host professional Karaoke events with ease.
Given the above description, it is not hard to comprehend the capability of the Siglos Karaoke Professional application. However, the software does take a hit when it comes to the interface. Complex and bothering to utilize, Siglos is a tool made for professionals — by professionals. No, it is not something that you cannot master, but the sheer complexities will take your time. And when you are in a hurry, busy arranging the parties, Siglos will demand your time and energy in understanding the interface. But in case you have the time — you should totally go for Siglos Karaoke Professional tool. Because although the interface is a tough nut to crack — it is modern-looking and has a fantastic display menu — allowing you to view the lyrics in high quality.
You will find all the necessary controls — managing the key, tempo, pitch and can move the lyrics to an additional screen if need be. There are also other professional features like automatic singer rotation, a massive database to locate songs effortlessly, singer's name announcement, and so on.
If you have the time to figure out the software and look for professional features from a Karaoke player, Siglos Karaoke Professional is the software for you!
The integrated database allows you to locate songs easily
Advanced options include Singer Rotation, Singer Announcement, Track silence detector, and more.
Built-in internet server to connect to the internet via any wireless connection, even a smartphone.
Export the accessed songs and create a personal data sheet.
A real-professional tool with advanced options to host parties like a professional KJ
Multiple configurations to adjust the tempo, key, and pitch
Although a modern and futuristic interface — there is a learning curve
Heavy on computer resources — need at least 3GB RAM to work
7. KJams
Price: US$ 40.00 (KJams Lite Version); US$ 110.00 (KJams Professional Version)
Best for: Hosting house parties
Official Website: https://karaoke.kjams.com/
Looking for a tool simple as iTunes? KJams is just that. A simple tool neatly packed in an easy-to-use interface comparable to iTunes simplicity. Of course, there are also karaoke lyrics on the screen of your computer or TV (it has a feature to view the lyrics on Smart TVs while allowing you to manage from the computer.
The software includes a built-in media library that allows you to purchase and stream songs with a single click. You can also add your own media files as the applications support all media files, including the famous CD+G. Using an integration — you can also burn CD+G if need be.
KJams also includes audio adjusting features for tuning the tempo, pitch, and other variables. And to announce the next singer's name — you can use the custom-screen message function. KJams has both free as well as professional editions. However, the free version is limited to adding ten tracks, burning a couple of CD+G files, adding up to 3 singers only, and other restrictions. All in all, if you are considering KJams — it is best to opt for the professional version.
The software is designed like iTunes and works similarly
Optionally Burn CD+G discs with the Burning Plugin; additional price
Built-in Music Store that allows you to access songs with 1-Click
Users familiar with iTunes will find the application simple; those unfamiliar with iTunes could very well manage to utilize the application.
You can display on-screen messages to the other members.
Lacks advance options; thus, eliminating the possibility of being used by professional KJs
8. ARIA
Allowing you to play MP3+g, WAV+g, or .zip files right from your computer screen, ARIA is another best free Karaoke software for Windows 11, 10, 8, &7.
But before moving to what ARIA could do, let us appreciate the great design and futuristic look of the application. Although with the artistic look — ARIA is an utterly simple interface. You will only find valuable and the most necessary options on the screen like the control panel, the songbook, and toggles to adjust the pitch and tempo of the vocals.
Coming to the features, ARIA has various configuration options to personalize the playback. You will also find other options for adjusting the parameters of the songs and background music, like adding fade-in and fade-out effects when playing or pausing the songs. The configurations allow you to alter the size and color of the text as well as the aspect ratio of the display screen.
In brief, ARIA is suitable for both beginners looking to host karaoke marathons with friends and professionals looking to host endless contests. The modern-yet-simplistic interface will suit users of any tech intellect.
Key Features:
Supports multiple file formats, including MP3+g, WAV+g, or .zip files
Configurational options allow you to personalize everything — from the vocals to text
Intuitive functions like an option to add fade-in and fade-out effects to the music during play, pause, and replay
The simple interface makes it straightforward to utilize the software
Manage every aspect of the vocals — dedicated options to adjust the pitch, tempo, and other parameters
The Built-in library of ARIA has over 12000 songs for you to utilize
Absolutely free for the Windows users
You will have to download ARIA from third-party vendors like CNET, Softpedia — as the official website has been taken down
9. Lyrx
Formerly available only for Mac users, Lyrx is now available for Windows and has the same functionality as its Mac counterpart. It supports all major file formats — MP3+G, Zipped MP3+G, MP4, AVI, DIVX, MOV, MKV, and Flash (including HD versions). Plus, you can play usual audio and audio tracks like mp3, m4a, wav, aiff, ogg, cda, flac, and more! And while the built-in library of Lyrx already has over 13500 commercially-legal Karaoke tracks — Lyrx also permits you to add songs or import directly from third-party tools like iTunes. But that is not all — Lynx allows you to manage over 1,000,000 files, and do not worry about locating the track — its robust browser authorizes you to discover any added song with lightning speed.
Of course, what is great about adding songs but not controlling its variables. That is why Lyrx detects the music key automatically and provides you with a key-stepper to regulate every tone of the track. There is also an independent Tempo function. That allows you to speed up/down the tracks without altering the pitch, tempo, and other aspects. And you will also find other worthwhile functions like — singer rotation, displaying overhead text, recording, and more.
To sum in brief, Lyrx is a blessing to Windows users. The software has a meager license cost. And can do a lot compared to the price of other best Karaoke apps for PC.
Create Text, Image And Video Overlays And/Or Backgrounds
Send lyrics output to secondary display ( like a Full Screen)
A lot of customization options like Key Detection, Key Control, and Independent Tempo
LYRX Supports all High-Quality Karaoke file types: MP3+G, Zipped MP3+G, MP4, AVI, DIVX, MOV, MKV, and Flash
Benefit from all the advanced Karaoke managing options
Well-designed user-interface
Singer/Song History, Next Singers Display allows you to manage easily as a host
Heavy on system resources — 4GB RAM, Intel HD 4000 Series Graphics Card is the minimum requirements
No free version
10. Karaoke 5
Price: Free; US$ 33 (1PC/1 Year) — Updates for additional year costs more!
Best for: Hosting House parties and managing it easily
Official Website: http://www.karaoke5.com/
There are two variants of Karaoke 5: freeware and paid. The freeware comes at no cost and has decent features, enough for hosting exciting Karaoke nights. So, in a way — you can count Karaoke 5 as one of the best Karaoke software for free download on Windows 11, 10, 8, & 7. With the free variant, you will find all the usual functions like Control panel, Fade-in/Fade-out effect options, and options to add unlimited tracks. You can import file formats like MIDI, KAR, KFN, MP3, WMA, MP3+CDG, WMA), CD+G, VS (Virtual Score), and VIDEO ( MP4, FLV, etc.).
Coming to the 20-year-old, fully-featured Professional Karaoke 5 — it's exciting. The software comes with a text synchronizer to create Midi, MP3, K5, and MP4 files. And there is an option to display the lyrics on an additional screen. The advanced control function allows you to manage every aspect of the song — equalizer, transposing, and an instant messaging option to applaud or deliver a message over the screen.
All in all, Karaoke 5 will not disappoint you.
The advanced tool has excellent song-controlling features like an equalizer, options for transposing and sending instant messages to the additional screen.
The Explorer option can control internal and external hard drives to access the songs.
The Karaoke windows display the synchronized lyrics.
Dual-screen options to view the lyrics on a bigger screen
Simple and manageable interface
Lacks advanced options like a built-in library or third-party integrations to find songs easily
FAQs
1. How do I plug a Mic into my computer?
Most PCs have audio jacks with mic cards — you can plug in the Microphone straight into the mic cord. If your computer does not have a mic cord — you could purchase a USB microphone. Or a USB adapter with microphone jacks.
2. How can I sing karaoke on my computer?
Install any of these best free Karaoke software for Windows 11, 10, 8, & 7. If you do not have songs in Karaoke file formats — you could use software that has built-in libraries to access the songs. Once installed, simply connect a microphone and start singing.
3. Can I use my Smartphone as a Mic?
Yes. The smartphones have a microphone to exchange calls. All you will need third-party tools like WO Mic from WirelessOrange. The WO Mic will guide you to connect with the computer on which the Karaoke software is installed.
4. What is the best alternative to Karaoke software?
The old-fashioned Karaoke machines. Yes, you will have to invest in full-fledged hardware if you are looking for an alternative to Karaoke software.
Conclusion
You can download any cited free Karaoke software and host a fun karaoke night! As mentioned earlier, all these applications are excellent in their own rights — but the ideal karaoke app for you is one that meets your requirements. So, read the key features, evaluate the pros and cons of all the karaoke software mentioned — and decide which one of the best karaoke apps for PC best suits your needs.