Do you store important data on your iPhone? Is your phone full of precious images, critical chat conversations, and sensitive files?
If yes, consider protecting your data by backing it up. Many tools on the market offer this opportunity, and we are focusing on Tenorshare iCareFone in this review. Here is what you should know about this iOS manager software!
Quick Summary of Tenorshare iCareFone Review
Tenorshare iCareFone offers an easy way to manage iPhones, IPads, and other devices that run iOS. The application is available for Windows and Mac, and it features a simpler alternative to iTunes, especially when it comes to backing up data and restoring it.
The tool allows you to back up various files, from photos and videos to music and contacts. You can also manage backups to restore only the selected files. The software even supports transferring WhatsApp data from iOS to Android.
Our Tenorshare iCareFone review confirmed that the App is compatible with the latest iOS. The tool is also suitable for the newest devices, such as iPhone 11 and 11 Pro.
You can download iCareFone for free to test the tool. However, the free version comes with restrictions in moving files. The full version unlocks all features and confirms that this app is incredibly useful for iOS owners.
What I Like (Pros):
A very reliable tool you can count on for backing up and restoring data
Supports eight different file types
Quickstart features are very helpful
An all-around tool that provides plenty of bang for the buck
What I Don't Like (Cons)
The Mac version is pricier than the Windows edition
You need to download an additional app for moving photos to the Camera Roll on your device
What Is Tenorshare iCareFone?
Tenorshare iCarefone is a specialized tool for iOS devices, including iPad, iPhone, and iPod. The software focuses on providing a chance to back up and restore your data. You can backup files from WhatsApp and transfer photos, music, videos, and other files without restrictions.
The tool was developed by Tenorshare, which is a reputable manufacturer in the smartphone industry. They are also famous for their data recovery tools, password unlockers, and system repair solutions.
The crucial features of iCareFone include:
Moving files without restrictions – you can transfer images, videos, music, SMS, and contacts.
Backup and restore functions – back up WhatsApp and other data and browse backups to restore.
iOS system repair – the software can resolve issues by updating to the latest version of iOS.
Move WhatsApp data to and from Android – the app is compatible with Android and allows you to move WhatsApp data between Android and iOS.
Who Should Get It?
Are you a proud owner of an iOS device? You can benefit from this tool whether it is an iPhone, iPod, or iPad. Although its primary function is backing up data, the iCareFone review confirms that this is a versatile app providing comprehensive iOS benefits.
If you are a business owner or an employee storing work-related files on your phone, backing that data up is crucial. It will ensure the files stay protected if something happens to the device. Thanks to Tenorshare iCareFone, you can restore sensitive files efficiently.
That is beneficial for both businesspersons, as well as those storing valuable photos on their devices. Imagine if you visited a cousin in another country and stored all images on your phone. It is a memory you want to keep, which is why backing up those photos is recommended.
Professionals could benefit from backup and restore functions and a simple system repair. The option to update iOS to the latest version and repair all issues is convenient. You can quickly transfer WhatsApp data to Android, which is great.
Is Tenorshare iCareFone Safe?
Tenorshare is a reputable manufacturer that designs amazing tools. Although they have established a prestigious reputation, it doesn't hurt to test the software yourself. That is why we ran iCareFone through two different antivirus programs. The list included Avira and Kaspersky, which many consider the most reliable antivirus software. They didn't recognize any issues and deemed iCareFone safe.
Is Tenorshare iCareFone Free?
Tenorshare iCareFone is free to try the tool. You can download the app and give it a shot for free. You can see how the interface looks and browse the contents of your phone. However, the actual functions of the free version are limited. iCareFone is a powerful tool, but if you want to unlock its full potential. You need to buy a premium version.
Several options exist when it comes to buying this software. The price varies depending on the platform that you choose. Here is the overview of available editions:
1-month license – a license to use the tool for a single month costs $34.95 for Windows and $49.95 for Mac.
12-month license – if you want to extend your license to an entire year, it will cost you $39.95 for Windows and $59.95 for Mac.
Lifetime license – with a lifetime license for a single computer, there is no need to worry about the expiry of your subscription. The deal is available for $49.95 on Windows and $69.95 on Mac.
Once you purchase the software, you will receive an iCareFone download link or the activation key. Activating the full version is simple and doesn't take more than a minute or two.
Does Tenorshare iCareFone Work? Hands-On Testing
Tenorshare iCareFone sounds like an extremely versatile tool. Before confirming that, we wanted to check its functions and test if we can trust it.
>> Get Tenorshare iCareFone <<
After installing the program on our computer, we connected our iPhone using the original USB cable. It is always best to use original equipment to ensure everything works properly.
The tool greeted us with the following screen.
The app's interface is simple, and it was easy to find our way around for this Tenorshare iCareFone review.
At the central part of the screen, you will notice shortcuts to the most popular functions. The tool will confirm that your device is connected. At the top, you will find subcategories to access various utilities.
The offered quick start functions can be useful. For example, if you want to add device media to iTunes, choose the corresponding feature.
You can also go the other way around and add files from iTunes to your device.
In this case, you will get to choose from filters like recently played, top-rated tracks, and other parameters.
Exporting all images to your computer requires only clicking the "One-Click to Export Photos to PC." The program will immediately start transferring photos.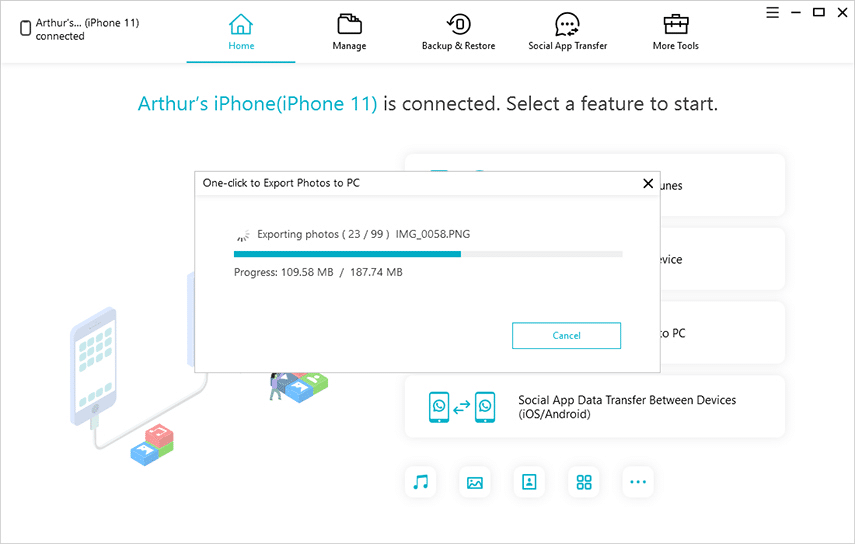 However, this doesn't give you the freedom to choose the files that you have to transfer. That is why we continued exploring other functions of the tool.
Is It Easy to Manage Files with iCareFone?
We started with the "Manage" subsection at the top of the screen. As soon as we opened it, we got access to files on our device.
You can see the types of files available on the left. A total of eight file types is available, ranging from photos and videos to messages, apps, and even bookmarks.
In the middle of the screen, you will see the files listed in the selected category. Tenorshare iCareFone showed us thumbnails of photos, which is a nice touch.
If you take a look above the thumbnails, you can see three functions – Import, Export, and Refresh.
Let's say that we want to import files to our device. Click on "Import," and the tool will open a browse pop-up. Pick the photos in the desired folder and click on open.
Here is where we encountered a small setback. The app warned us that you would need to install the iCareFone app on your device. The good news is that the tool will do the job itself.
The only downside is that we had to wait for an additional couple of minutes before the photos were imported. The process of importing photos is fast. If you want to confirm the success of the process, you can always click "Refresh."
What if you want to export images to your computer? You can use the left-side menu to browse between photos and albums. Once you select the desired files, click on "Export." You will be prompted to choose the desired destination.
We tested the import and export functions multiple times, and Tenorshare iCareFone performed all actions flawlessly.
You can feel free to browse other categories listed on the left. Some screens will offer additional functions. For example, if you choose contacts, you will notice the New Contact command appearing on the top.
That is an excellent way to manage contacts while on your computer. If you don't like entering new contacts on your phone, this is a simple alternative.
Apart from importing and exporting, you can also delete files on your device.
We picked the Videos section and selected two files for deletion. After clicking "Delete," the program prompted us to confirm. It is a great way of protecting you against deleting needed files accidentally.
The Apps section allows you to manage Apps, as well as uninstall them. To do that, you can click the "Uninstall" on the right or at the top of the screen.
Tenorshare iCareFone will prompt you to confirm the action and perform the function quickly. If you need extra space on your device, this is a convenient method of securing it.
How to Backup and Restore WhatsApp Conversations?
The next utility set is under the "Backup and Restore" tab at the top.
You will notice the available options. Apart from the standard device backup and restore, which we will focus on later, you can also pick WhatsApp and Line. For the purpose of our Tenorshare iCareFone review, we picked WhatsApp.
The process of backing up your conversations couldn't be simpler. In the screen that opened, pick the desired function. The system will immediately start performing the action.
Once the backup is finished, you will receive a confirmation message.
How to Restore WhatsApp Backup Files?
The restoring process is a bit more complicated, but still easy to complete. Everything starts by choosing the "Restore" option from the WhatsApp backup screen.
You will need to have an active backup to recover data. For our iCareFone review, we used the backup we made a while ago with this tool.
The tool will now detect whether your Find My iPhone feature is active. It should be turned off so that you can restore data.
The App will show you how to deactivate the feature on your device. Once you do that, click on "Try Again." If you did everything properly, the tool would take you to the next screen.
You will also need to confirm that you are logged into this WhatsApp account on your iPhone.
Finally, you will need to confirm that you will be overwriting the existing WhatsApp data on your device. This can be a bit inconvenient because you will lose conversations between the moment when you made the backup and the moment when you restore the data. You can resolve that by making additional data with current files.
Once you confirm, iCareFone will start with the process.
We tried restoring and backing up WhatsApp several times. Everything was fast and flawless, which is why we can confirm Tenorshare iCareFone is reliable.
How to Restore and Backup Other Files?
If we return to the Backup and Restore section and choose "Device backup and restore," we will get the following screen.
Here, you can choose the desired types of files to backup. Additionally, you can pick the destination folder for the backup. Once you are ready, start the backup. The time required for the process will depend on the selected backup size. However, iCareFone is fairly fast, and everything should be done swiftly.
Once the backup is completed, you can view its data immediately or browse among available backups.
As for restoring the files, you will first need to choose the desired backup. You can choose from all backup files, either created by iTunes or iCareFone. Don't forget that you can encrypt backups, but you will need to enter the password before accessing the files.
Tenorshare iCareFone will now scan for all available files in that backup.
You can browse these files and choose which to restore. You have two options – exporting to a computer and restoring to a device.
If you choose to export to a computer, you will get to choose the destination path. Everything is quite simple and user-friendly. The program is not prone to crashing, which ensures you manage files easily.
Repair & Optimize iOS
Tenorshare iCareFone also offers System Repair. You should go to the "More Tools" tab on the home screen. You will notice the following:
Click on "iOS System Repair" to enter the options for downloading firmware. The program will confirm your phone model and offer to choose the destination path of the iOS to install.
You also have the option to import the firmware manually in case you have problems with the automatic download. As soon as it recognizes the firmware. iCareFone will start the repair process.
Please note that you can't use this for repairing hardware. If your device is jailbroken, it will be restored to non-jailbreak conditions.
If you continue having problems, try the Advanced repair mode. That will surely resolve all system issues, but it also involves erasing all data on your device.
You will receive a confirmation message once the process is completed.
Reasons Behind Our Reviews & Ratings
1. Effectiveness (5/5)
As you've noticed in our hands-on testing, iCareFone does all its functions flawlessly. We tested one feature at a time to confirm that, and the product passed every test. You can count on this tool whenever you need to back your files up, transfer WhatsApp conversations, or restore sensitive data from existing backups.
The tool is also reasonably fast, especially for demanding operations. It won't take a minute longer than necessary to update your iOS to the latest version or transfer large files. Tenorshare iCareFone didn't have any problem with crashes or other glitches. Everything works flawlessly, which maximizes the effectiveness of the tool.
2. Price (4.5/5)
When it comes to the cost of Tenorshare iCareFone, the price of the lifetime license is acceptable. It is at an affordable range if you think that you can use the tool as long as you need it. That is also the most tempting deal for this app.
Other offers don't seem nearly as attractive. The prices of a single and 12-month license are similar, but that is probably intentional to demotivate users from purchasing only a one-month license. However, if you compare the cost of a yearly subscription to a lifetime license, you realize that the 12-month activation is a bit expensive. That is why we knocked down a star.
Despite that, the crucial thing is that the program has a tempting deal for a lifetime subscription. Additionally, you can try the software for free, and its' great the developers allowed that.
3. Ease of Use (4.5/5)
Not everyone is a tech geek, but that shouldn't stop them from using advanced tools. That is the approach accepted by Tenorshare and applied in iCareFone. The software offers an extensive list of functions, and none of them requires tech knowledge.
The interface is clean and simple, although the screen can contain plenty of text at some points. However, all the text is there to ensure you make the right move, which is why we don't see it as a drawback. The only reason why we knocked down half a star is that the tool has a small learning curve.
However, you will learn how things work in a matter of minutes. The app is user-friendly, and there is no way of doing anything wrong as long as you follow the instructions on the screen.
4. Support (5/5)
It doesn't come as a surprise that Tenorshare has amazing customer support for users of their software. The manufacturer secured a large knowledge base for iCareFone in case you want to know how to perform a certain function. Guides and resources are incredibly helpful, and the agents are there for any dilemma you might have regarding the app.
If you have any questions, you can contact the company around the clock. You will receive the answer within 24 hours, and the manufacturer will do anything to give a detailed reply and resolve your dilemmas.
Where to Download Tenorshare iCareFone?
You can download Tenorshare iCareFone from many tech-related websites online. However, only one location guarantees that you will get the latest version of the software. It also ensures that you get a legit app free from dangerous files.
If you want to stay safe, you should download the setup file from the official website of the developer. The developers placed the Tenorshare iCareFone free download link at the homepage of the tool to ensure everyone can find it easily.
The download and installation process depends on the speed of your internet. However, it shouldn't take more than several minutes before you can start using the tool.
Alternatives to Tenorshare iCareFone
1. iMazing
iMazing is a comprehensive iOS management tool. It is available for both Windows and Mac, but you have to purchase the full version to unlock all features.
The developer of this tool is the DigiDNA team, which keeps perfecting the app with new occasional updates. Among other functions, iMazing also allows you to backup iOS data in a couple of clicks. The software features attractive and modern graphics, and the interface is easy to navigate.
2. AnyTrans for iOS
iMobie is the company behind AnyTrans for iOS. The tool features comprehensive data management. It allows you to transfer photos, videos, music, and other content to back those files up on your PC.
The entire process is simple and user-friendly. You can choose from a wide range of functions, including restoring files safely. AnyTrans for iOS also allows migrating files from iOS to Android and managing iCloud and iTunes. Additional functions include downloading videos from the web and even acting as a screen recorder. The tool is rich with various utilities, and transferring files is done efficiently. Read our AnyTrans for iOS review here.
3. WALTR 2
WALTR 2 uses a different approach than other data managers for iOS because it enables you to drag and drop files that you want to transfer. If you want to add files to your device, choose them on your PC and drag it into the program's screen.
The tool won't only transfer the files, but also convert them to a format supported by iOS. That way, you can play the files as soon as the transfer is done. WALTR 2 supports videos, audios, but also ringtones and e-books.
Conclusion
Tenorshare iCareFone is an extremely helpful tool for all iOS owners. Whether you have sensitive files or precious photos to backup, this app will help. The entire interface is suitable for newbies, and it comes with a wide range of available features. The free trial allows you to test the tool, so don't hesitate to try it. Thanks to its numerous functions, you might find it a crucial asset for managing iPhone data!