Driver Easy is a software that lets you easily update the drivers for all your computer hardware. This includes hardware already integrated into your PC like network card, graphics card, and hard disk, as well as externally connected hardware like printers, keyboards, and mouses.
Before any driver update, Driver Easy automatically backs up all your current drivers so that you can revert to a previously working configuration if something goes wrong with the update.
And you don't have to worry if your computer has network driver problems and can't connect to the internet. Driver Easy has an offline scan feature that you can use to find the best network driver for your computer and download them on another computer that has internet access.
Also, if you have any stubborn drivers that have refused to be uninstalled normally using Windows device manager, Driver Easy has an uninstallation tool you can use.
This driver updater also comes with a scheduler, allowing you to schedule automatic scans and updates in the background.
Lastly, Driver Easy also serves as a system information tool. It provides useful and advanced information about your CPU, motherboard, RAM, and graphics card.
The software works on all versions of Windows, starting from Windows 7 to Windows 11.
On paper, all this sounds perfect. But does Driver Easy fulfill all its promises? Well, that's what we will be finding out in this review.
Follow as long as we do an in-depth analysis of the software and answer any questions you might have regarding its usage. We will also recommend some other tools you can use if Driver Easy can't find all the updates.
What is Driver Easy?
Every function on your computer is controlled by drivers.
I'm able to write this post because there is a keyboard driver that senses every keypress and transmits it to the Windows operating system. You can scroll through this review because a mouse driver senses your mouse movement and communicates it to Windows OS.
You cannot listen to music on your computer unless there is a speaker driver because you won't get any sound.
Now, all versions of Windows, starting from Windows 8, come with in-built drivers for your computer, but it's not enough to just have drivers installed. Most of these drivers by Windows are outdated and basic drivers that don't guarantee the optimum performance of your computer.
For instance, when installing Windows 10, it comes with Microsoft Display drivers. Yes, these drivers are enough to ensure your display is working, but you will have trouble playing high-definition videos.
This is where Driver Easy comes in. With over 8 million drivers in its database, the software lets you update your device drivers with the latest version that guarantees the best performance. And the best part is these drivers are straight from the hardware manufacturer and, therefore, work flawlessly.
How fast does Driver Easy scan and update your drivers? Is it safe to use the software? Is Driver Easy legit or a scam? You will find the answers to these questions in this review.
What I like (Pros)
Simple to use
Fast scans and driver download
Supports offline scan
A comprehensive database of drivers
Provides useful system information
Has a free version
What I don't like (Cons)
The free version is very limited
Is Driver Easy Safe?
To start with, Driver Easy is not a virus, nor does it contain any malicious components that may harm your computer. I know because I tested it using a third-party antivirus before installation. Also, the company has been operating for over a decade, and its reputation is clean.
On the question of whether it's safe to update your drivers using this software, I used it to update all my outdated drivers, and I'm yet to experience any problems with my PC. It's still functioning normally, if not better.
All the drivers in their database have been tested and certified to be safe and reliable. That said, make sure to download Driver Easy directly from their official sites because that is the only place you are guaranteed legit software.
Is Driver Easy Legit?
Driver Easy promises to help you update your drivers, and it does exactly that. After scanning your computer, the software will give you details about your currently installed driver and the new driver that can be installed. You can compare them to confirm that you are installing an updated version of the software.
The software also includes many other tools, and all of them perform as promised. That's to say, Driver Easy is as legit as they come.
Is Driver Easy Free?
Driver Easy comes with both a free version and a premium version. However, you will have to use the premium version to get the best out of it.
Driver Easy free will scan for outdated drivers, but you can only update one driver at a time. Also, the installation process is manual. The software downloads the driver files into your computer, and you must use the Windows device manager to finish the update process.
Moreover, the free version does not create an automatic backup you can revert to if the update process goes wrong. You have to create a restore point manually.
Driver Easy also limits the download speed for the free version.
On the other hand, Driver Easy Pro offers unlimited download speeds and lets you scan and update all your drivers with a simple click of a button.
Driver Easy Pro is available as an annual plan, and the price will depend on how many computers you have.
Driver Easy also provides a business plan that will be especially useful for people who run a computer repair shop. The price also depends on the number of PCs you will be operating on.
Does Driver Easy Work? Hands-on Testing
And now to my favorite part. How does Driver Easy perform in real-life scenarios?
Driver Easy Driver Update
The first great thing about this software is its simplicity. You never have to guess which button to press because everything is perfectly labeled. The first step after installing the driver updater is to Scan your computer.
The process took less than a minute to complete, and we found 15 outdated drivers.
Once the process is complete, Driver Easy takes you to the next section, where you are prompted to update the drivers.
If you are using the premium version, all you have to do is click Update All and follow the onscreen instructions to begin the update process.
However, if you are using Driver Easy free, the process is a bit more complicated.
How to update your drivers using Driver Easy Free
Step 1. Go to the specific driver you want to update and click on the Update button. You will be prompted to create a restore point. Click on the option to Create and continue Manually. The process will continue even if you have not created a restore point, but you won't have a point to return if something goes wrong with the installation.
Step 2. Wait for the driver download to complete.
Step 3. Once the driver is downloaded, it's time to install it. Click on the option to install and continue Manually. This will automatically open the folder where the driver is stored on your computer.
Step 4. If the download folder did not open automatically or you closed it accidentally, click the drop-down arrow next to the driver's update button and open the file location.
Step 5. If the driver is a .exe file, the process becomes easier because you install it like a normal program. If it's not an application, you must install it using the Windows device manager. To do that, copy your driver's location path as highlighted below.
Step 6. Now, open the device manager and expand all the categories until you locate the device you want to update drivers for.
Step 7. Right-click on it and click the update option. Now, choose the option to browse my computer for drivers and paste the location path you copied in step 5. Click Next to complete the update process.
Step 8. You are done. Depending on the driver, you may be prompted to restart your computer.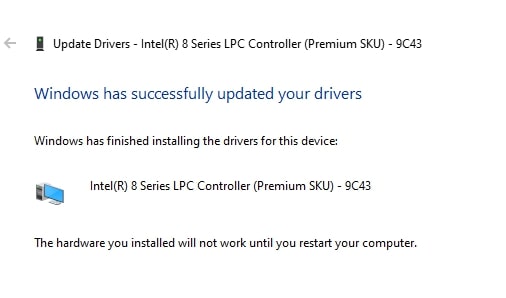 Driver Easy Driver Update Verdict: I would definitely recommend this tool for anybody looking for an easy way to update their drivers. It may have missed some outdated drivers, but this is a common trait across all driver updaters. And while it's true that the update process using Driver Easy Free is long and tedious, It's still better than other alternatives that automatically update the driver for you but limit you to just a single update per day.
Rating: 9/10
Driver Easy as a system information tool
Let's say someone asked you how many cores and threads your CPU has. Is this a question you can answer? You probably wouldn't even know where to look. Well, thanks to Driver Easy's hardware info feature, you can find out almost anything about the hardware components in your computer.
If you want general information such as your computer's model type, memory size, operating system, motherboard, and processor type, you can find it in the overview sections.
The CPU, motherboard, RAM, and graphics card get dedicated sections where you can find additional information about them.
For instance, by going to the memory section, I was able to determine that I'm using a DDR3 RAM with a DRAM frequency averaging 798.4MHz, CAS latency of 11 clocks, and a cycle time of 28 clocks.
Driver Easy offline scan
This feature is quite useful if your computer has network driver issues and thus can't connect to the internet. Instead of blindly scouring the internet to find the best network driver for your computer, you can use Driver Easy offline scan for better results.
How to use Driver Easy Offline Scan
First, download the program on another computer with internet access and then transfer it to your computer.
Once you have successfully installed Driver Easy on your computer without internet access, go to tools and click on Offline scan.
Now, click on Continue, choose the location where you want to save the offline scan file, and initiate the scan. The scan only takes a second.
Next, copy the offline scan file to the computer with internet access. Again, go to tools and click Offline scan but this time, choose the option to upload offline scan.
Once the file has been uploaded, Driver Easy will determine the best network drivers for your computer and prompt you to download them.
After they have finished downloading, transfer them to your computer, install them, and your internet problem is fixed. Now, you can proceed to scan for other outdated drivers on your PC and update them.
Driver Easy Offline Scan Verdict: I've been in a situation where after installing Windows, I couldn't access the internet to download the required drivers because the network drivers were missing. It's seriously infuriating. It's, therefore, amazing that Driver Easy thought it necessary to add this feature.
Rating 9.5/10
Alternatives to Driver Easy
It's not uncommon for a driver updater to miss some drivers. Of course, the only way to tell is if you were looking to update that specific driver. And, if that's the case, and Driver Easy misses a specific update you were looking for, here are some other driver updaters to consider.
Driver Booster by IOBIT is a great Driver Easy alternative with over 8 million drivers to choose from.
It has a free and premium version, but unlike Driver Easy, its free version does not require the manual installation of drivers. It also creates a restore point automatically and backs up your drivers. On the downside, you can only download one driver per day.
Other additional tools you get with Driver booster include a game booster to smoothen your gaming experience and a system optimizer to improve PC performance by clearing junk and privacy traces.
I should mention that after scanning my PC with Driver Booster, I found 18 outdated drivers compared to the 15 outdated drivers I found with Driver Easy.
Another great driver updater you can try is Ashampoo Driver Updater. Although not as fast as the alternatives, the software does a great job of scanning your device for outdated drivers.
They also have a generous free version that automatically creates a restore point and installs the needed drivers.
The only downside is that you can only update one driver at a time. Also, you have to rescan your computer after each update, and the scan speed is not as fast.
Ashampoo Driver Updater allows you to schedule updates so that they can be processed in the background. The tool does not include any other extra features.
After scanning my computer using Ashampoo Driver updater, I could only find 9 outdated drivers as opposed to the 15 drivers found by Driver Easy.
AVG is another excellent alternative to Driver Easy for quick and safe driver updates. The best part is that AVG gives you a 30-day free trial to use all its premium features.
You can, therefore, use it to update all your drivers at once.
On the downside, the tool does not boast a wide functionality as the other alternatives. You cannot schedule automatic updates, and it does not include any extra tools.
FAQs About Driver Easy
Is it necessary to use Driver Easy for driver updates?
It's not necessary that you use a driver updater. You can opt for other options such as Windows update, Windows device manager, or searching for the drivers from their vendor sites.
However, none of these methods are as effective as a dedicated driver updater because they don't guarantee the latest drivers for your devices. They also involve long processes as opposed to tools such as Driver Easy, which only require a click of a button to update your drivers.
Which is the best driver updater?
Every driver updater has its strengths and weaknesses. Some feature more drivers than others, while others boast of a wider functionality. Driver Easy, for instance, also serves as a system information tool, which is a feature that distinguishes it from other updaters. Ultimately, it's up to you to decide the best driver updater.
Conclusion
After testing Driver Easy for a while, we can conclude that not only is it a legit driver updater, but also, it's one of the best in the market. Still, if you are not sure it's the right software, here is what you can do. Download the free version, scan for outdated drivers, and if you find the drivers you are looking for, go ahead and purchase the premium plan for quick and easy installation.
And if you can't find the drivers you are looking for, you have three great alternatives to consider.
Also Read