An annoying scenario is deleting a document mistakenly. Have you ever accidentally deleted your voicemail message on your iPhone before? A voicemail you'll love to have back? This article is right for you.
If you've been searching for a way to retrieve permanently deleted Voicemail on iPhone or should I say "Undelete" Voicemail on iPhone, search no more?
When you permanently delete a voicemail on iPhone, technically, it isn't gone completely. It gets marked for deletion and is only accessible using professional software.
Aside from losing a voicemail due to accidental deletion, you could lose your Voicemail due to iPhone lost, memory corruption, damage, iOS upgrade failure, etc. No matter the reason, this article will show you how to recover deleted Voicemail on iPhone.
Method 1: Best Way To Retrieve Permanently Deleted Voice Mail On iPhone Without Backup
Yes, you can undelete Voicemail on iPhone, it might be invisible to you, but we will show you how to get it back. I presume you don't have a backup of your voicemails? That won't be a problem. Using Tenorshare UltData, you can retrieve deleted Voicemail on iPhone with or without a backup.
Tenorshare UltData is a data recovery tool for iOS devices. With UltData, one can retrieve contents, including messages, voicemails, contacts, camera rolls, photos, etc. This program is compatible with the iPhone 3gs and above.
What sets Tenoshare UltData ahead of the pack is, it saves you the stress of scanning to find lost files; it makes data recovery easy and efficient. All you need to do is specify the data you need and allow it to do its thing. Read our Tenorshare UltData review here.
Steps To Retrieve Deleted Voice Messages On iPhone Without Backup Using Tenorshare UltData
Step 1: Get Tenorshare UltData
Visit the Tenorshare official website and download UltData. UltData is available for both Mac and Windows PC. Install this program on your computer and continue with step 2.
Step 2: Connect your iDevice
Using a working USB cable, connect your iOS device to your computer. Your iDevice should be switched on before connecting. Launch UltData on your computer. The default mode is "Recover From iOS Device." UltData will automatically detect your device if it is well connected and trusted.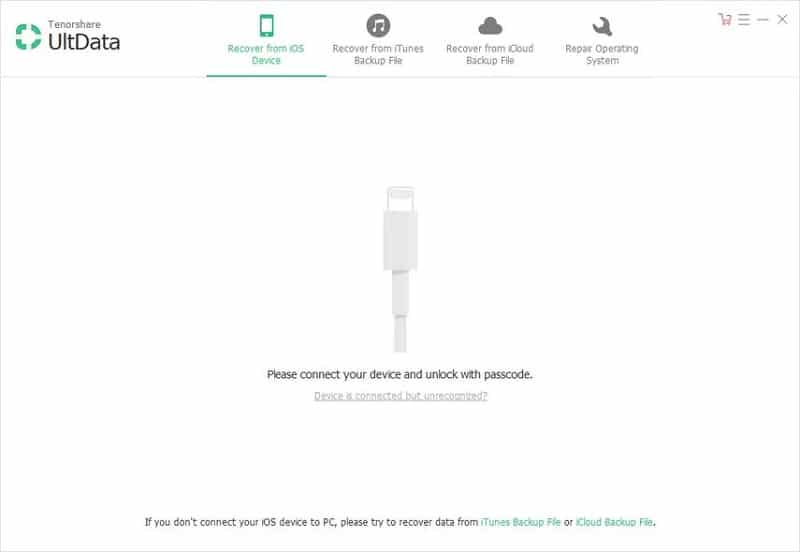 If prompted, click the "Trust" button. Unlock your iDevice if it has a passcode. If UltData doesn't recognize your device follow the on-screen instructions to rectify that.
Step 3: Start Scan
When UltData recognizes your device, it will display a screen showing all the files and formats that could be recovered. You can tick what you want back or select all for a complete recovery. Next, click the "Start" button at the bottom of your screen.
Step 4: Preview Data
UltData now displays all scanned data according to their categories. You can click "Show All" or "Only display deleted items" to recover. Select the files you need to save time, such as Voicemail.
While here, UltData gives you the feature to print data like messages, contacts, notes, etc. It also allows you to enlarge pictures to see their full sizes.
Step 5: Recover Data
After selecting the voicemails you need, click "Recover" to commence recovery. UltData offers you two options to store your recovered files; To your computer or your iDevice (support messages, notes, and contacts).
It takes things further by giving you a feature to choose a file format to save your just recovered file.
Method 2: Best Way To Recover Permanently Deleted Voice Mail On iPhone With iTunes Backup
This method shows you how to retrieve deleted Voicemail on iPhone with an iTunes backup. We will go about this with Tenorshare UltData. Visit the Tenorshare official website to download and install the Ultdata app. Though you can recover your data directly from iTunes, using UltData is preferable because it can recover deleted voicemail selectively.
Step 1: Launch UltData and select the "Recover from iTunes Backup File" tab. UltData now displays all iTunes backup for your device. Click "Scan" after choosing a backup.
Step 2: When the scanning process is over, the program lists all contents found according to its category. Choose the "Show Only Deleted" option to filter deleted voice mail.
Step 3: Tick the voice mail you wish to retrieve then click the "Recover" button. You can recover contacts, messages, and notes directly to your device or computer. Connect your iDevice with a USB to recover this data to your phone.
Method 3: Best Way To Recover Permanently Deleted Voice Mail On iPhone With iCloud Backup
If you have an iCloud backup, this is how to retrieve deleted voice messages on iPhone with iCloud backup. Download and install Tenorshare UltData from its official site.
Step 1: After installation, launch the UltData program and select the "Recover From iCloud Backup File" tab. When prompted, sign in to your iCloud account with your Apple ID.
Step 2: UltData displays all your iCloud backup associated with this Apple ID. Choose the backup you want then click "Next" from the bottom of your screen.
Step 3: In the next window, you are given the option to select the file type you wish to download. Select the Voicemail, then click "Next."
Step 4: UltData displays your data in categories. Select "Show Only Deleted" from the bottom to view only deleted Voicemail.
Step 5: Choose the voicemails you wish to recover by marking them. Then choose a recovery option, either "Recover To Device" or "Recover To Computer."
Tip 1. How To Retrieve Recently Deleted Voicemails On iPhone Directly
This tip only works when the deletion was recent. It is possible to undelete Voicemail on iPhone from the delete folder by following these instructions.
Steps To Recover Deleted Voicemail On iPhone
Step 1: Open your iDevice's phone app. It is mostly at the bottom of your phone's screen.
Step 2: At the bottom right corner of your phone, tap the "Voicemail" button. It then opens a list of all your saved voicemails.
Step 3: Scroll down and select the "Deleted Messages" button. This option will show if you have deleted voicemails.
Step 4: Tap the message you intend to recover; it will expand the message's details.
Step 5: At the lower-right corner is the "Undelete" button, tap on it, this then moves the deleted message to the usual voicemail folder.
Tip 2. One-Click To Backup Voicemails On iPhone
To avoid the hassle of searching for how to retrieve deleted voice messages on the iPhone, it is better you backup your Voicemail. We will be introducing an app called Tenorshare iCareFone.
iCareFone is a management software for iOS devices. With iCareFone, you can backup your iOS device completely. It also offers you features to transfer music, photos videos, and many other files without a limit. iCareFone takes things further by allowing you to transfer WhatsApp messages between your iPhone and Android phones. It is a highly resourceful tool.
Conclusion
We all make mistakes, accidentally deleting our Voicemail is part of this mistake. If you were wondering, "how do I retrieve deleted voice messages on my iPhone?" This guide has shown you four methods to go about this. Three of these methods could be effectively carried out using Tenorshare UltData, an excellent iPhone data recovery tool.
Deep into the article, we showed a way to retrieve Voicemail that had been deleted recently and introduced Tenorshare iCareFone to help back up your iDevice ultimately.