MDM locks are standard in businesses and are considered an essential element in company management systems. Where this is used to control access to devices used by employees, it is a great technique to protect the device from being stolen. Although this prevents unauthorized access, MDM locks can be a menace under specific circumstances.
This article will introduce the readers to MDM lock and its removal through the 3uTools MDM bypass tool. Follow through with all the directions to remove the MDM lock properly from your iOS device.
Part 1: What is MDM?
MDM, or Mobile Device Management, is a security mechanism companies and businesses adopt to protect access to company-operated devices. MDM locks can be easily applied for remote management from smartphones to tablets and laptops. The primary reason for practising such operations is to protect the device from being stolen or accessed illegally.
There are many reasons for applying and practising the MDM lock on the devices. From their remote management and monitoring, MDM locks can be used to implement multiple security policies to avoid data theft and unauthorized access. Following this, the software can be easily dispersed through devices, and corporate data can be remotely accessed and controlled through this lock.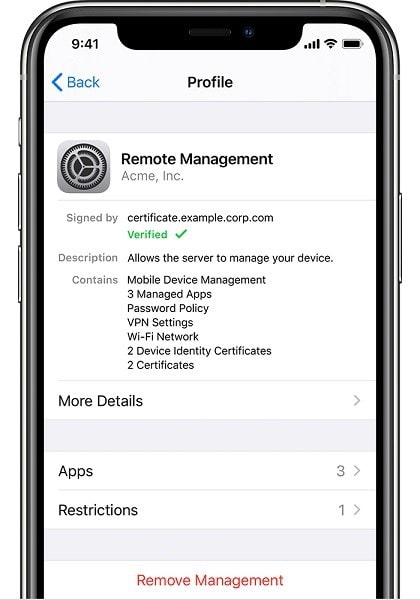 All in all, MDM locks can be beneficial for many reasons. Similar to implementing MDM locks, it is essential to realize that devices owned by employees need to be revoked with such locks under certain situations.
Part 2: When to Remove MDM?
Before understanding more about the 3uTools Remove MDM function, it is necessary to learn the ethics of removing MDM locks. While surviving within a company, removing MDM locks without supervision is unethical. Thus, when you are bound to secure your private space, it is considered optimal to remove MDM locks.
When the device is no longer needed by the company or the employee intends to leave the company for good, MDM should be removed through authorized personnel. Under conditions without authorized personnel, you might have to take decisive actions to secure the device.
Part 3: What is 3uTools?
3uTools is known for providing all-in-one software for managing multiple functions for iOS devices. An iOS data management system is necessary to manage various issues for such devices, from managing files and downloading new applications to resolving iOS system errors. 3uTools is a great option for flashing and jailbreaking iOS devices to bypass all security protocols.
3uTools MDM bypass is one specific feature the platform offers to bypass MDM locks on iOS devices. Bypassing the supervision locks from the iOS devices made 3uTools a base for many iOS users. With simple operation, the users can easily bypass their Io MDM locks using 3uTools.
Part 4: How to Use 3uTools for MDM Bypass?
With a basic knowledge of 3uTools for bypassing MDM locks, it is time to figure out the simple step-by-step procedure for using this tool. Follow the steps guided below to use the 3uTools remove MDM tool:
Step 1: Download the latest version of 3uTools on your computer and install it. Continue to launch the tool and connect your iOS device with a USB cable after leading to the "iDevice" page. After the device is detected, its details are displayed on the screen.
Step 2: Select "Skip MDM Lock" from the Toolbox section once you have confirmed the details.
Step 3: A confirmation pop-up window appears on the screen, asking the user about the execution of the process. Click "Skip Now" to proceed with removing the MDM lock.
Step 4: A new pop-up appears on the screen, asking to deactivate the device. Click "Deactivate" to initiate the removal. This will remove the MDM lock from your device; however, keep in mind that resetting the device will re-activate the MDM lock again.
Part 5: Pros & Cons of 3uTools MDM Bypass
If you plan to remove the MDM lock from your iOS device, it is essential to know the minor details about the tool you are considering. For the case of the 3uTools MDM bypass tool, we have outlined some pros and cons to help you out in the selection:
Pros
It is a complete iOS management tool, giving you bigger and better options than removing MDM locks.
You can execute the entire process of bypassing MDM lock in a few steps.
You are not bound to pay a single penny for executing the process.
Cons
The MDM bypass is not permanent, revoking the lock if the device is reset.
Part 6: The Best 3uTools Alternative to Remove MDM on iPhone
When it comes to providing outstanding services, Tenorshare 4uKey is a great tool that can be used to remove MDM locks on iPhones. It is an excellent alternative to 3uTools MDM bypass iOS 16 with dedicated support for the latest iOS versions. While being a fast tool to operate, it ensures a secure environment that does not put your device under threat.
You can instantly remove MDM locks from your iOS device and get complete control of the device. To know how you can remove the MDM lock from the iPhone using this service, look into the steps below:
Step 1: Launch Tenorshare 4uKey after installing it on your computer. Continue to select "Bypass MDM" from the options and connect your iOS device using a USB connection.
Step 2: Once the device is detected, a new window appears where you have to click the "Start" button to initiate the process.
Step 3: The process of bypassing the MDM lock will take a while, and the screen will show the completion of the process. Click "Done" to conclude bypassing the MDM lock from your iPhone.
Frequently Asked Questions About 3uTools MDM Bypass
This article has also focused on a few critical questions involving bypassing MDM locks that need to be adequately answered. Look into the questions below to know some other details about the 3uTools MDM bypass tool:
Can MDM lock be removed?
Yes, you can have the MDM lock removed from your iOS device. This can be done through third-party services like 3uTool Bypass MDM and Tenorshare 4uKey.
Is there any official method to bypass MDM?
No, there is no official method provided by developers of Apple to remove the MDM lock from the iPhone. However, it can be done through third-party services like 3uTools bypass MDM or Tenorshare 4uKey.
Does jailbreak remove MDM?
Although not a preferred procedure, jailbreaking an iOS device removes the MDM lock. There are many other risks of jailbreaking iOS devices, which should be considered carefully.
Conclusion
This article has focused on a comprehensive review of the 3uTools remove MDM tool and its guide. With an overview of how this tool removes the MDM lock for you, all benefits and criticisms were looked upon. Furthermore, Tenorshare 4uKey was recognized as a great alternative to this bypass MDM tool.